Star Ratings
| | |
| --- | --- |
| | Amazing |
| | Well good |
| | Fun |
| | Meh |
| | Rubbish |
| | | |
| --- | --- | --- |
| LFF Review: Let the Bullets Fly | | |
Written by Selina Pearson
Sunday, 23 October 2011 06:16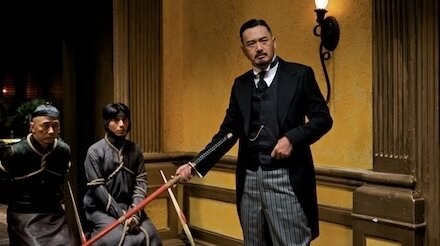 Director: Jiang Wen
Cast: Jiang Wen, Chow Yun-Fat, Xiaogang Feng
Showtimes
Let the Bullets Fly is a wacky mix of comedy action and shooting things. And by wacky I mean you'll spend the film shouting "Really? Really? Reeeeeeeaaaalllyyyyy?" It also happens to be China's highest grossing film, which is worrying, because it doesn't appear to work for a Western audience.
A bunch of bandits led by "Pocky" Zhang (Wen), pick up Ma (Feng), a con man, during a train robbery. Then, they attempt to claim the governorship of Goose Town to cash in on bribes and taxes. Unfortunately, Goose Town is already under the thumb of Huang, a powerful and sadistic warlord (Yun-Fat).
Zhang and his crew wreak havoc on the town, subverting Huang's authority through an unlikely series of stunts, moronic set-pieces and incessant table thumping. In the chaos, any story gets lost, and although there is the odd laugh, it's more likely to be at the appalling delivery than any actual wit in the dialogue. And that's assuming you can read the subtitles - at least half the subs are white lettering on a white background, or fly by so fast that they're unreadable.
Worst of all, it's too long. If one were being charitable, you could say it's 30 minutes too long. In fact, it's more like an hour too long. At a face-punchingly dull 132 minutes, Let the Bullets Fly attempts to be an amusing foray into cowboy-gangster territory, but winds up just being a mess.
Even at gunpoint, it should be avoided.