Star Ratings
| | |
| --- | --- |
| | Amazing |
| | Well good |
| | Fun |
| | Meh |
| | Rubbish |
| | | |
| --- | --- | --- |
| LFF Review: Terri | | |
Written by Selina Pearson
Wednesday, 19 October 2011 16:05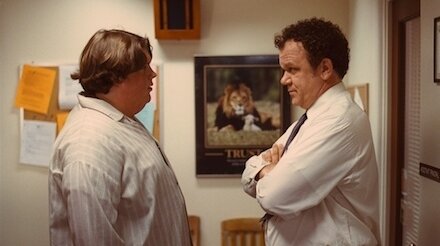 Director: Azazel Jacobs
Cast: Jacob Wysocki, John C Reilly, Bridger Zadina
Showtimes
It's the London Film Festival, so it's time for another low-budget American film about an outcast. In his first scene you make conclusions about Terri (Wysocki) - he's overweight and sitting in the bathtub while his Uncle James is asking him to clean the tub.
But these assumptions are turned upside down when he proceeds to spend the next 10 minutes dressing and feeding Uncle James, and then shows up to school. In his pyjamas. He's a good kid, and it is essentially this that keeps you going through this laid back, loosely-woven tale.
The standout in the film is John C. Reilly as the slightly odd but caring parental Vice Principal Mr. Fitzgerald. He manages to be patronising and pally at the same time as he forms a bond with the school's freaks. Socially awkward, he finds common ground with most of them, even the batshit crazy Chad (Zadina, channeling Ali Sheedy in The Breakfast Club), who spends his time pulling out his own hair.
The film follows Terri from his nadir, while he starts to form friendships and explores the caring role he provides to his Alzheimic uncle. But the film starts to stumble towards the end - the last twenty minutes is essentially disposable - treating us to the sight of a bunch of teens getting drunk and taking their clothes off. But it's a credit to the cast, specifically Reilly and Wysocki, that the film is as likeable as it is.