Star Ratings
| | |
| --- | --- |
| | Amazing |
| | Well good |
| | Fun |
| | Meh |
| | Rubbish |
| | | |
| --- | --- | --- |
| Review: Black Pond | | |
Written by Selina Pearson and Ivan Radford
Thursday, 10 November 2011 12:58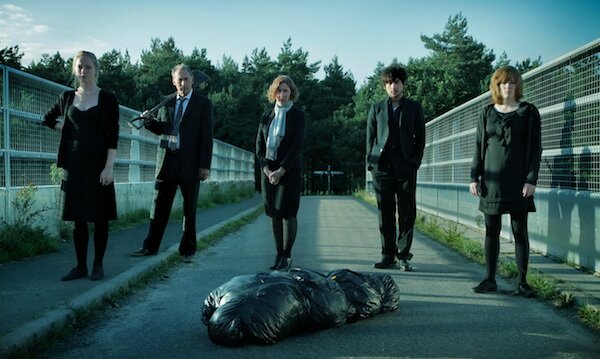 Directors: Tom Kingsley, Will Sharpe
Cast: Chris Langham, Simon Amstell, Sophia Di Martino, Will Sharpe
Certficate: 15
Black Pond is a bleak, off-kilter, faux-documentary drama about life, death and media treatment of suspected criminals. The set up is like a TV show where they show you the aftermath of a murder, but darker and funnier - it's way better than Crimewatch.
The accused are Tom (Chris Langham) and Sophie (Amanda Hadingue), a middle-aged couple whose family is being held together by their three-legged dog, Boy.
The film follows the events following Tom's meeting with the oddly disconnected but endearing Blake (Colin Hurley), while walking near the titular Black Pond. Interviews with family members are intercut with events leading up to Blake's death, and there's lot of soul-searching and bits of marital guidance. Even their daughter's friend, Tim (Will Sharpe), ends up talking to unscrupulous supposed-psychoanalyst Eric Sacks (Simon Amstell).
"You're going to die, have some cake!" Amstell's shrink shouts, enjoying his chance to torment poor Tim, before leaking details of the family's dead guest to the police and the press.
At home, the family are awkwardly natural and distant from each other. In between the uncomfortable silences, Tom tries to solve it all by being overly polite. At an unfortunate funeral, he pauses in the middle of a eulogy. "Should we put the dirt on? Tim, you're a guest, would you like to go first?"
Black Pond's success lies in its cast, and the characters all feel very real. Langham is likeable but flawed, while Burley is surprisingly empathetic as the stranger invited into the dysfunctional household. Unfortunately, the film drags in parts and although the subtle visuals are striking, Black Pond lacks the pull required to draw you in - until the moving, bittersweet end.

Tags:
amanda hadingue
black pond
chris langham
colin hurley
simon amstell
tom kingsley
will sharpe