Star Ratings
| | |
| --- | --- |
| | Amazing |
| | Well good |
| | Fun |
| | Meh |
| | Rubbish |
| | | |
| --- | --- | --- |
| Raindance Review: Heaven + Earth + Joe Davis | | |
Written by Ivan Radford
Sunday, 02 October 2011 07:59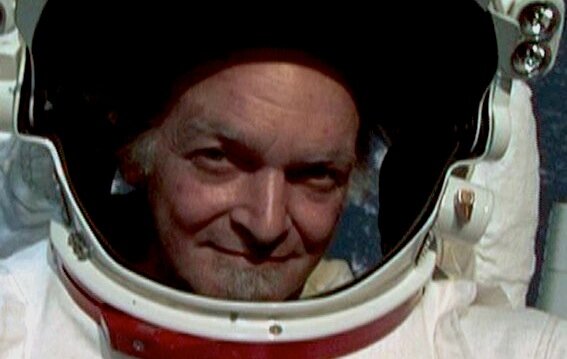 "Sometimes the things that are absurd make sense, and the things that make sense are absurd." So speaks Joe Davis, the man who once genetically modified a pink apple to tempt the Devil.
We first come across him at a bar in Massachuetts, washing up the dishes for free chicken and beer. And although he looks like a lunatic, from his bright yellow mac to his sprawling white hair, you suspect there's something more to him. An artist who uses science to explore humanity and himself, he realises the two aren't separate disciplines, but tools that can ask and answer each other's questions.
From his unconventional application to join MIT to his bad luck with housing and repeated evictions, Davis rushes through life from one crazed idea to the next. He recreates Carl Sagan's Arecibo message of 1679 binary digits sent into space in the form of water bottles in an MIT library, where intelligent people might be best placed to understand it. No one does.
Then he constructs radio and audio microscopes to listen to the sound of paramecia and stentors – an excellent project (reminiscent of Semiconductor's superb Black Rain), which director Peter Sasowsky captures with colourful close-ups and deep, booming sound waves.
These seem like the creations of a madman, but as his friends and colleagues tell the camera, Davis is a genetics pioneer and his plans are all based in hard science or (wonderfully warped) logic. Why broadcast a recording of vaginal contractions to extra-terrestrials in the universe? Why create a light stethoscope using a torch, a naked woman smeared in honey, and a thin layer of gold dust? Why design and build a laser that can neutralise natural weather and potentially save the world from storms? A quiet shot of Davis standing at the wreckage of his brother's home, torn apart by a Hurricane Rita is as revealing as it is moving.
Sasowsky's portrait gently probes the chaotic world of Davis, who lost his leg in an accident. "I hugged an alligator," Davis says, smiling wistfully at his poetic reconstruction of events. The line between insanity and genius is definitely thin, but as a man who pursues his passion as a bioartist without worrying about money or commercial gain (he hasn't patented any of his ideas – including a "super code" to map data underneath DNA and literally give life added meaning), Joe's dedication to his work is fascinating and inspirational to watch.
The documentary's uneven editing, layered soundtracks and lack of narrative structure make his vision of the universe even more engrossing. We see confusing data flash across the screen, hear poetry recited in between cigarettes, and then return to the kitchen from more free chicken and beer. An evocative exploration of a fascinating artist and scientific genius, Heaven + Earth + Joe Davis is absolutely absurd. And makes perfect sense.

(Image stolen from the Heaven + Earth + Joe Davis Facebook page - for more on the film, visit http://joedavisthemovie.com) 
Tags:
heaven + earth + joe davis
joe davis
peter sasowsky
science