Star Ratings
| | |
| --- | --- |
| | Amazing |
| | Well good |
| | Fun |
| | Meh |
| | Rubbish |
| | | |
| --- | --- | --- |
| LFF: Mars | | |
Written by Ivan Radford
Saturday, 16 October 2010 17:30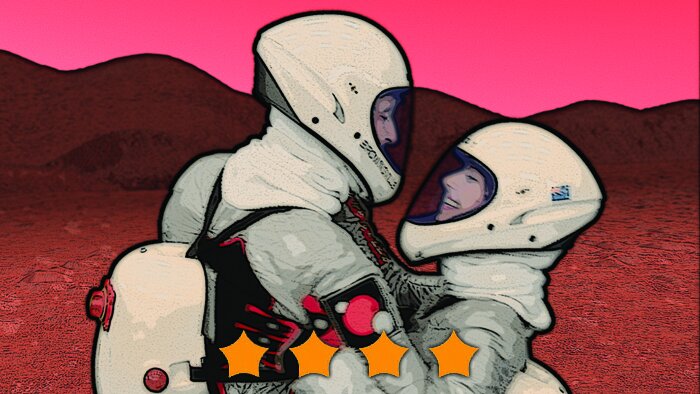 Director: Geoff Marslett
Cast: Mark Duplass, Zoe Simpson, Paul Gordon, Howe Gelb, Liza Weil
Showtimes
Note: the text will refer to "rotoscope animation" later, if you don't know what it is, ask someone to write my discussion post online on this topic with all the requirements.
Watching rotoscope animation always has that other-worldly feel to it. But here Geoff Marslett uses it to take us to the surface of that red planet next door. After the disappointment of Beagle II - a space probe that got dropped, sneezed on, and shipped off to Mars without us ever hearing back - NASA are launching the first manned mission to Mars. Along with their baby cousin the ESA, they're on the lookout for intelligent life in the universe. Because there certainly isn't any on Earth.

Charlie Brownville (Duplass) is an astronaut. He's also a loser. He used to be famous for some space thing or another. Now he's expendable: a monkey in a jumpsuit. A jumpsuit which has rhinestones on it. You can't blame him for wanting to look classy: the mission is part-funded by a TV show, whose dimwit presenters beam up vacuous smiles and airhead questions every 48 hours.

Also on board are Captain Hank Morrison (Gordon) and Dr Casey Cook (Simpson). They're real astronauts. She's a scientist too. Fighting off his inferiority complex, Charlie tries to stay sane in a mission plagued by a cigar-chomping President (a hilarious Kinky Friedman), a hungover mission controller, and a gaggle of other retards. The only smart one is artificially intelligent robot ART. And even he has weird trippy robot dreams (displaying equations like "2 > 1" next to pixels shaped like cows). 

Balancing oddball imagination with a deadpan delivery, Marslett's script is a stellar burst of silliness. It's like a slacker comedy set in space. Complete with really cute blue and green aliens. A gentle satire of man's scientific ambition, it soars into black depths to find intelligent life. And then shows that search is little more than a profound failure.

VERDICT

A slacker sci-fi with a warped drive that goes up to 11.
Your rating
( 1 Vote )