Star Ratings
| | |
| --- | --- |
| | Amazing |
| | Well good |
| | Fun |
| | Meh |
| | Rubbish |
| | | |
| --- | --- | --- |
| LFF: Everything Must Go | | |
Written by Selina Pearson
Monday, 18 October 2010 15:07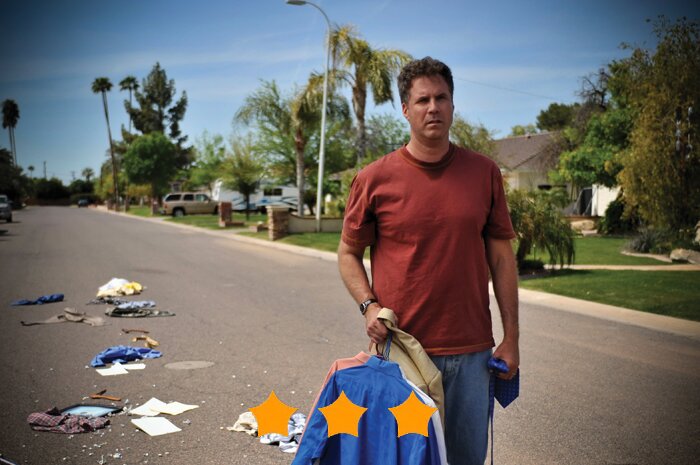 Director: Dan Rush
Cast: Will Ferrell, Rebecca Hall, CJ Wallace, Laura Dern
Showtimes
Recovering-relapsing alcoholic Nick Halsey (Ferrell) has just lost his job and all his worldly possessions are lying on his front lawn. To top it off, he's got a note from his wife telling him she's leaving him. Luckily, in amongst his armoury he has one of those big comfy chairs, a rotisserie cooker and a George Foreman grill. And beer. Ridiculous amounts of beer. Completely off the wagon, the police tell Nick that the only way that he can legally leave all his crap on his lawn is to have a yard sale. He has five days.
During the five days, Nick starts to sober up (he runs out of beer money), teaches a kid (Wallace) to play baseball, befriends new neighbour Samantha (Hall) and tracks down old school mate Delilah (Dern). In this time, he gradually pulls himself together; the cathartic purge of his possessions allows him to take control of his life.
This subtle bittersweet comedy-drama feels very underplayed, not least because Will Ferrell plays his role completely straight; restraining his improv impulses, you really do feel Nick's frustration, even though his redeeming features only emerge late on in the film. The other characters are real, sympathetic and flawed too - particular Rebecca Hall's lonely housewife. But things sometimes feel a little too understated, leaving events coasting along without much of a pulse. Still, Everything Must Go is a testament to both the cast and writer-director Rush's abilities. A strong debut.
VERDICT
With a slow script and sympathetic cast, Everything Must Go is a charming and subtle drama.
Your rating
( 0 Votes )
Tags:
cj wallace
dan rush
everything must go
laura dern
rebecca hall
will ferrell