Star Ratings
| | |
| --- | --- |
| | Amazing |
| | Well good |
| | Fun |
| | Meh |
| | Rubbish |
| | | |
| --- | --- | --- |
| LFF: Carlos | | |
Written by Selina Pearson
Saturday, 16 October 2010 11:52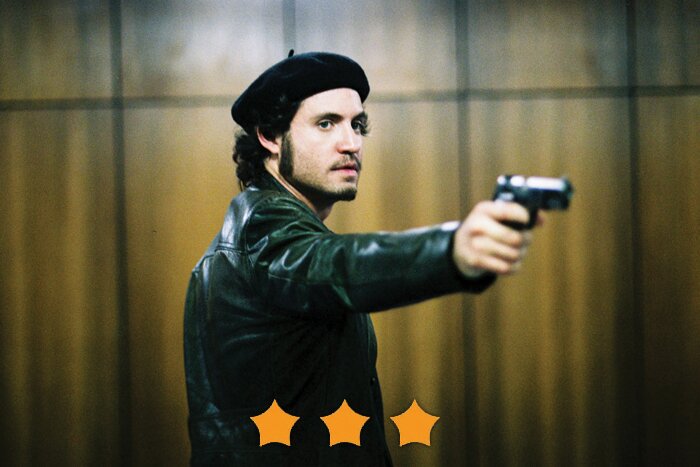 Director: Olivier Assayas
Cast: Edgar Ramirez, Alexander Scheer, Nora von Waldstatten, Ahmad Kaabour
Showtimes
The great thing about the London Film Festival is that the BFI are able to put on screenings that would be unlikely in your regular multiplex. The LFF screening of Carlos is such an example. It's the culmination of an ambitious project to bring to the screen an extensive biopic of Ilich Ramirez Sanchez, better known as Carlos the Jackal. It involves an international cast and features locations from London to Budapest. It's also five and a half hours.

The vision of French director Olivier Assayas, Carlos has already been broadcast as a three-part mini-series on French TV. The LFF are showing it in its entirety - with one interval.

Born in Venezuela to Marxists, Carlos (Ramirez) achieves a smidgen of notoriety during Black September; he journeys to Beirut to persuade Haddad (Kaabour) of the Popular Front for the Liberation of Palestine to take him on. He begins by targeting those with Zionist leanings, as the film builds up to an hour-long sequence focussing on the PFLP hostage-taking of the Vienna OPEC meeting; an epic, exciting mid-point.

After losing the respect of his superiors in the PFLP, Carlos throws his lot in with other pro-socialist revolutionaries, notably the Germans in the Revolutionary Cells. The film goes on to follow Carlos as he moves from country to country, woman to woman and terrorist target to terrorist target.

The vast scope of the project is a testament to its writer's interest in its subject matter. Spanning 22 years, the film has been intently researched. Although the writers concede that many of the conversations are dramatised, and that many of the incidents with which Carlos had been linked are still under investigation, it is still an impressive and engrossing biopic.

Having seen it in its entirety, it is difficult not to compare it to the two-part French-made Mesrine from last year. Edgar Ramirez shoulders the burden of the eponymous protagonist admirably; his multilingual skills and charisma put him in a class of his own. The rest of the cast are also outstanding, but there are so many of them and the film is so long that they're hard to keep track of.

VERDICT

Everything anyone ever wanted to know about Carlos the Jackal compiled in a five-and-a-half hour epic. See it at the LFF on Saturday, or catch the easier to swallow condensed version in theatres later this month.
Your rating
( 0 Votes )