Star Ratings
| | |
| --- | --- |
| | Amazing |
| | Well good |
| | Fun |
| | Meh |
| | Rubbish |
| | | |
| --- | --- | --- |
| LFF: Africa United | | |
Written by Ivan Radford
Sunday, 17 October 2010 08:05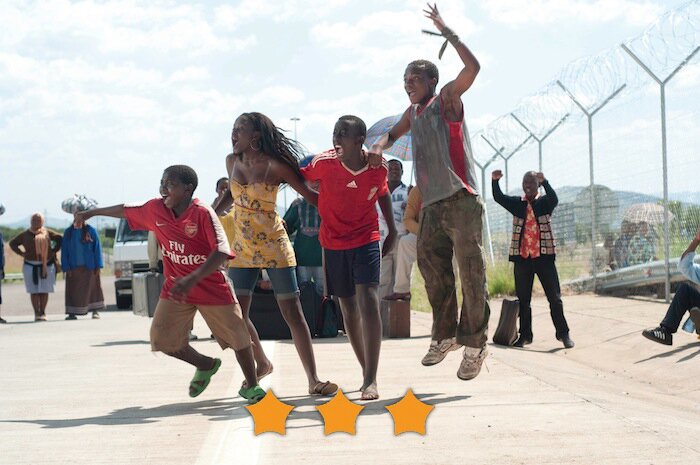 Director: Debs Gardner-Paterson
Cast: Eriya Ndayambaje, Roger Nsengiyumva, Sanru Joanita Kintu, Yves Dusenge, Sherrie Silver
Showtimes
Anyone looking to top Slumdog's feel-good formula of Who Wants to Be A Millionaire? can't do much better than the World Cup. And so we get Africa United, the tale of three kids travelling across the continent to make it to Soccer City for the opening ceremony.

Dudu (Ndayambaje) is a football fanatic. Orphaned when he was young, he lives for kicking inflated condoms around the park. So when his talented friend, middle-class Fabrice (Nsengiyumva), gets invited by a FIFA scout to perform at the start of the tournament, Dudu jumps on the nearest bus with his sister Beatrice (Kintu) in tow.

The trouble is, the bus is going in the wrong direction. So instead of South Africa, the wannabe team end up in the Congo. Taken under the wing of young fugitive Foreman George (Dusenge), the trio soon find themselves with a bag full of a money, a truck full of angry men on their tail and a whole heap of trouble.

The escapades continue in breakneck fashion, shot on stunning locations across the continent. They sail across rivers, get tested for HIV, and pick up young sex worker Celeste (Silver). All the while, they wear football shirts, tell stories, and carry around a briefcase of rubbers ready to make their next ball.

Mixing the grit in with the gooey sentiment, Rhidian Brooks' writing addresses serious issues with small-talk, flashing a smile at the seedy side of society. But sadly it can sometimes be a little too happy. There's even an animated interlude that pops up throughout, complete with stop-motion children and cardboard cut-out beasts.

But despite the contrived and cloying positivity, this is only the first feature for debut director Debs Gardener-Paterson and her young unknown stars. After walking through plot points both natural and forced, they'll soon be treading the red carpets of Leocester Square. And in that respect, this is a journey you're glad they completed. Which does make you feel pretty damn good.

VERDICT

A lightweight City of God, Africa United has all the charm of Slumdog, if not quite the same energy. Colourful fun.
Your rating
( 1 Vote )
Tags:
africa united
debs gardner-paterson
eriya ndayambaje
lff
roger nsengiyumva
sanru joanita kintu
sherrie silver
yves dusenge