Star Ratings
| | |
| --- | --- |
| | Amazing |
| | Well good |
| | Fun |
| | Meh |
| | Rubbish |
| | | |
| --- | --- | --- |
| LFF: Let Me In | | |
Written by Ivan Radford
Thursday, 14 October 2010 13:39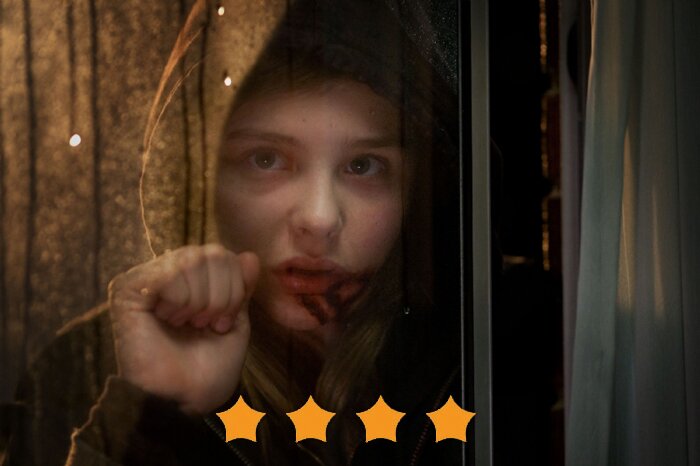 Director: Matt Reeves
Cast: Kodi Smit-McPhee, Chloe Moretz, Richard Jenkins, Elias Koteas
Certificate: 15
Showtimes
Eat some now. Save some for later.

Life is hard when you're a loner in Los Alamos, Mexico. Bullied at school with only sweet wrappers for company, you reach out into the darkness for any kind of connection. When the darkness reaches back, you latch on for life.

That's what seems to have happened to Matt Reeves, who helms this horror remake. He's attached to the Swedish tale of frozen innocence, so much so that his version of events isn't just an American retelling. It's something more personal.

Owen (Smit-McPhee) is 12 years old. So is Abby (Moretz), his new neighbour. She's been 12 for a long time. She doesn't get cold. She doesn't appear in the daytime. And she has an older man (Jenkins) who goes out for her and butchers teens for blood. When the two young souls meet on an icy climbing frame in Owen's apartment complex, their relationship rapidly evolves.

Letting each other into their own isolation, it's an unsettling bond to witness up close. And Matt Reeves makes sure we do: his camera often stays at Owen's eye level, to the point where we feel as distanced from his faceless mum as he does. Bringing out the emotions from his naturally awkward cast, Reeves keeps things tense and tender with a keen sense of balance, if a little less subtlety - Michael Giacchino's intrusive score doesn't help with that. 

It's hard not to compare this to Tomas Alfredson's original, but the Cloverfield director matches up well. Let Me In never reaches the delicate heights of the Swedish love story, but makes up for it with more gore and explicit blood spilling. Stalking through the snowy streets, Richard Jenkins' serial killer has a rhythm to his movements, an ominous sense of momentum. At times, it's almost more of a crime thriller than a horror; it's telling that Reeves emphasises the role of Elias Koteas' bewildered policeman. 

Removing supporting characters (and the infamous cat attack), Reeves sticks to the story's overall structure, but a mid-point entry mixes things up, recasting the tale as a more conventional conflict between good and evil. Does it take away some of your sympathy for the young 'uns? Perhaps. Does it work? Absolutely.

It's all thanks to the child actors, who nail their formative feelings without fudging the fear. The only misstep is a questionable use of CGI, meaning that Abby's transformation is now more terrifying, but less tragic. Going all Linda Blair with her face and vocals, it's a nice contrast to Chloe Moretz's angelic presence, but one that almost overshadows it. As for Smit-McPhee, his longing and loneliness carry a pang of naivety, making him a believably vulnerable target for Abby's clutches.

Together, the pair's passion makes this more than just an American retread of John Ajvide Lindqvist's novel. Bringing the story to a new audience, Let Me In is something more personal than a remake; it's Reeves' own meditation on innocence and survival. 

VERDICT

Not as haunting but still horrific, Let Me In's remade romance keeps its chilling heart beating. Surprising. Sinister. Sweet.
Your rating
( 1 Vote )