Star Ratings
| | |
| --- | --- |
| | Amazing |
| | Well good |
| | Fun |
| | Meh |
| | Rubbish |
| | | |
| --- | --- | --- |
| LFF: Glorious 39 | | |
Written by Ivan Radford
Tuesday, 27 October 2009 20:59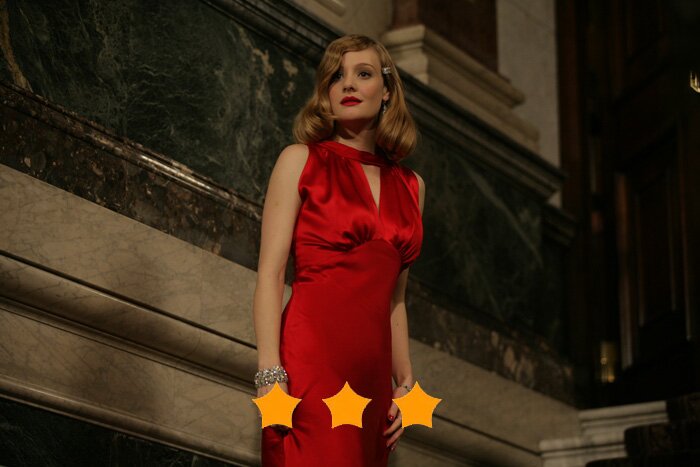 Director: Stephen Poliakoff
Cast: Romola Garai, Bill Nighy, David Tennant, Jenny Agutter, Jeremy Northam, Eddie Redmayne
Certificate: TBC
England. 1939. Hitler is advancing across Europe. The nation is on the brink of war. Unease is growing in government; Churchill is contesting Chamberlain's passive response to the rise of the Nazi Party. But for the rich family of adopted Anne (Garai), life continues as normal. Dinners, picnics, night-time soirees - there's no sign of conflict at all. Until the mysterious Mr Balcombe (Northam) turns up.

The unrest starts with a few words over supper, as Hector (Tennant) voices his strong support of Churchill's men. For many at the table, including Anne's mother (Agutter), this is mildly inappropriate. For her father, Alexander (Nighy), it's completely wrong; having fought in the Great War himself, the last thing he wants is to endanger his family all over again. But the discord soon disappears in the haze of an evening's entertainment. Then Anne uncovers hidden recordings in their outdoor shed, just as word reaches them of Hector's suicide.

It's a traditional mix of private life and politics, one that easily entertains. Beautifully framed and elegantly composed, Stephen Poliakoff's return to feature films is an impressive treat for the eyes; conjuring up the period with convincing precision, it's a enjoyable old-school outing.

But while the topic is Hitchcockian, the suspense is far from it. Eerie music and a suspicious supporting cast work well to an extent, but the script's twists and turns are as straight as they come. The secrets Romola Garai races to reveal are clear from the outset, removing any real sense of danger or surprise.

But thanks to her superb starring turn, the intrigue comes from watching her reactions; quivering with fear, she snoops around the family house with a tremorous air. Then, when confrontations arise, she spits swear words at them with fiery fury. You can't fault her range or passion. Indeed, all the ensemble are excellent, from Bill Nighy's weary patriarch to Anne's actively minded brother, Ralph (Redmayne). Yet, for all their talent and Poliakoff's panache, the script's the thing that cools down Stephen's potboiler.

VERDICT

Transparent from the start, Glorious 39 is an obvious, diverting vintage thriller; what it has in star wattage, it lacks in tension.