Star Ratings
| | |
| --- | --- |
| | Amazing |
| | Well good |
| | Fun |
| | Meh |
| | Rubbish |
| | | |
| --- | --- | --- |
| LFF: A Serious Man | | |
Written by Ivan Radford
Tuesday, 27 October 2009 23:50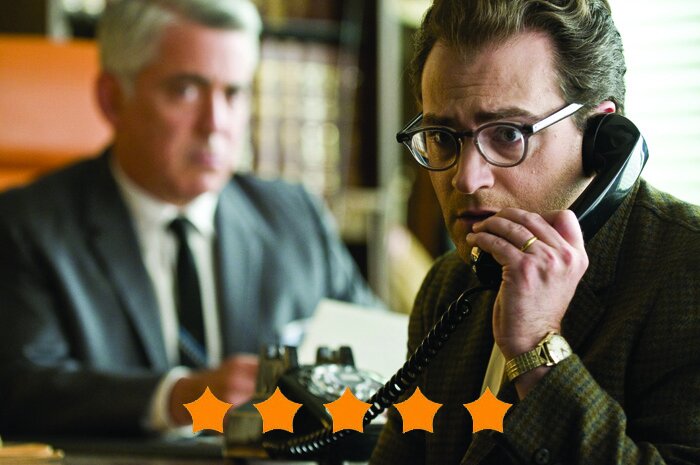 Directors: Ethan Coen, Joel Coen
Cast: Michael Stuhlbarg, Fred Melamed, Sari Lennick
Certificate: TBC
Translating Homer's Odyssey into a mid-Western road trip. Turning to a barber for some monochrome melodrama. These are not the acts of one auteur. They're the act of two. The Coen Brothers are cinema's most idiosyncratic couple. Who else would jump from Burn after Reading's FBI farce to the Jewish suburbs of 1967? Let alone start the film with a 10 minute fable, entirely in Yiddish. Crazy and creative, they started out mature all those years ago and only get better with age. A Serious Man, their latest, just might be one of their best.

Larry Gupnick's (Stuhlbarg) life is going off the rails. Or at least, the rails are rapidly disappearing. His wife, Judith (Lennick), is leaving him. His son is soon to come of age, but is too busy stealing money to smoke pot. One of his students wants to bribe him for a pass grade. And his colleague, Sy (Melamed), will be the one joining Judith once they're separated. Up for tenure and down on his luck, Larry is lost. And so he turns to his faith for help.

Consulting three rabbis - one young, one old, one useless - with his questions on life, he hopes to find the answer to it all. Why is he here? Why is he suffering? Why are the police after his brother, Arthur? But this is Coen territory, and solutions are scarce. In place of explanations, we get humour; finding the folly in everyday awkwardness, the Coens trip out their usual absurdities with polished precision. Magazine subscriptions, student-tutor relations, dental work; everything is fair game. In their hands, even a man sitting silently in a chair is laugh-out-loud funny. Pounding it all out against the sounds of Jefferson Airplane, this is them at the top of their game.

Also on form is Michael Stuhlbarg. Weathering the storm of stupidity, his struggle for significance automatically inspires sympathy. Not just because of the superb script, but because Stuhlbarg's screen presence is so strong; another actor could easily come across as whiney or self-centred. Here, he's neurotic, mad and frustrated, but always likeable.

Surrounded by idiots, most of whom talk in wonderfully mannered ways, Larry's the one guy we can root for as he falls in and out with religion. The other cast members all give quality performances, with Fred Melamed's "serious man" a real stand-out, but their characters aren't explored to the same dark depths. Teaching chaos mathematics in world with no meaning, Larry's existence is laughable. Hilariously so.

At times ringing with Woody Allen-esque angst, A Serious Man is a witty, intellectual look at the universe. Why does God give us all these problems? And if God wants us to ask the questions, why doesn't he give us the answers? "He hasn't told me that yet," says one rabbi, too busy talking about teeth to see the bigger picture. Packed with existential enigmas, the Coen Brothers have painted a personal portrait of the world they grew up in. Maybe that's what gives this that extra edge. Tracking through a child's ear canal out into the wider world, they explore the known unknowns with an engaging intelligence. But when it comes down to it, they know that no-one can explain what they find. Not even themselves.

VERDICT

Who needs answers when you're so busy laughing? Maddeningly mystifying, A Serious Man is a mature and amusing masterpiece.
Tags:
a serious man
burn after reading
coen
coen brothers
comedy
crisis
dark
ethan
fable
film
god