Star Ratings
| | |
| --- | --- |
| | Amazing |
| | Well good |
| | Fun |
| | Meh |
| | Rubbish |
| | | |
| --- | --- | --- |
| LFF: Don't Worry About Me | | |
Written by Selina Pearson
Saturday, 24 October 2009 20:10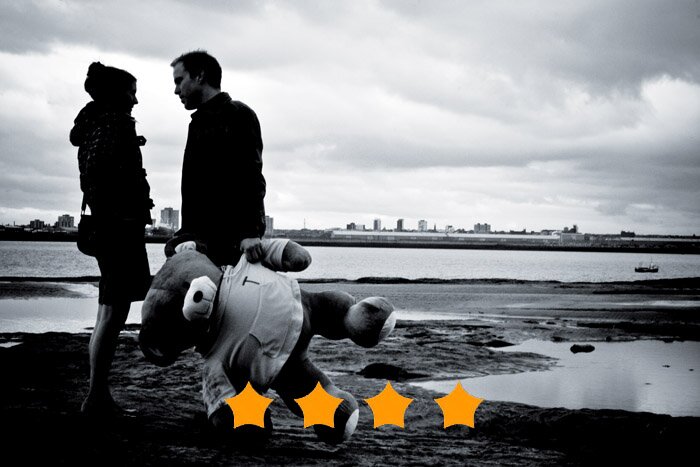 Director: David Morrissey
Cast: Helen Elizabeth, James Brough
Certificate: TBC
This is the big screen directorial debut from David Morrissey. Better known for his acting (State of Play and Blackpool), Morrissey has already cut his teeth directing for TV. Based on the play The Pool written by Elizabeth and Brough, it's been elegantly adapted for the big screen by all three of them.

Londoner David (Brough) follows a girl up to Liverpool after a one-night stand, ending up stranded with only a handful of loose change. He meets Tina (Elizabeth) in a bookies, trying to win his bus fare home on the dogs. David convinces Tina to show him the sites of her hometown, taking us on an impromptu tour of Liverpool

The two complete strangers form a complex relationship over the course of 24 hours, falling out briefly before opening up and exchanging their darkest secrets. The Scouse city is always in the background, both bright and modern, bleak and aged. It's a loving portrait painted by the director of his homeland. The film is in turn sweet, poetic, sad and funny, both in terms of the script and visually. Don't Worry About Me is a charming tale that draws you in. You'll worry about its central couple no matter what the title says.

VERDICT

A simple story of complicated people, Don't Worry About Me is memorable and bittersweet.
Tags:
david morrissey
debut
film
helen elizabeth
i-flicks
iflicks
james brough
lff
liverpool
london film festival
premiere