Star Ratings
| | |
| --- | --- |
| | Amazing |
| | Well good |
| | Fun |
| | Meh |
| | Rubbish |
| | | |
| --- | --- | --- |
| LFF: Chloe | | |
Written by Ivan Radford
Saturday, 24 October 2009 16:52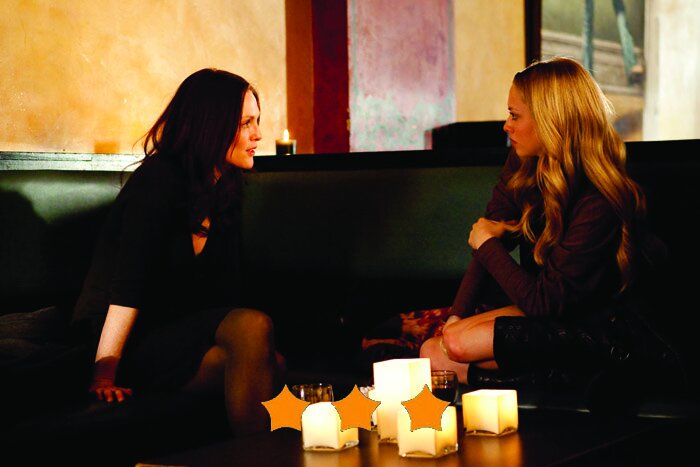 Director: Atom Egoyan
Cast: Julianne Moore, Liam Neeson, Amanda Seyfried
Certificate: TBC
We all do it. Get a little paranoid about our partner's promiscuity. And we all take the logical step of hiring a prostitute to seduce said spouse. Right? Well, that's what Catherine (Moore) does. Concerned about David (Neeson) and his flirty ways with women, she calls up Chloe (Seyfriend) - your friendly neighbourhood strumpet - and pays her to pick up her husband. Can you say mentally unbalanced? Catherine can.

So begins the suspense, as Chloe starts up the affair. It's a classic tale of sexual suspicion, taken from Anne Fontaine's film Nathalie. Adapted by Erin Cressida Wilson, this steamy drama knows precisely what buttons to press. Mostly it's the buttons to make everyone's clothes fall off. Yes, there's a lot of nudity here, from Liam Neeson's receding hairline (credit to him for remaining believably attractive) to the token lesbian love scene halfway through. As if we didn't see that coming.

But the triumph here is the acting - never once gurning at the melodramatic material, they invest themselves in their characters, making everything that bit more serious. Seyfried and Moore, in particular, make such a gorgeous pairing - not just genealogy wise, but chemistry wise too. As legs, wires and emotions get crossed, it's not long before Catherine's clever idea becomes incredibly dumb. Dangerously so.

And that's the point at which it all falls down. Atom Egoyan's elegant direction keeps everything pretty and well paced. Drawing the emotional conflicts out of his cast (along with various bodily fluids), he's unafraid to get stuck in. But as the heady drama draws to its climax, Chloe's smart premise falls apart, just for 10 minutes, blowing the earlier tension. Like its titular tart, Chloe is 90% perfection, and 10% pants.

VERDICT

A sensual, intense piece, Chloe is a perfect one night stand. It gets hotter and hotter, and then goes all flopppy at the end.
Tags:
affair
amanda seyfriend
atom egoyan
chloe
film
i-flicks
iflicks
julianne moore
lff
liam neeson
london film festival