Star Ratings
| | |
| --- | --- |
| | Amazing |
| | Well good |
| | Fun |
| | Meh |
| | Rubbish |
| | | |
| --- | --- | --- |
| LFF: The Men who Stare at Goats | | |
Written by Ivan Radford
Thursday, 15 October 2009 18:21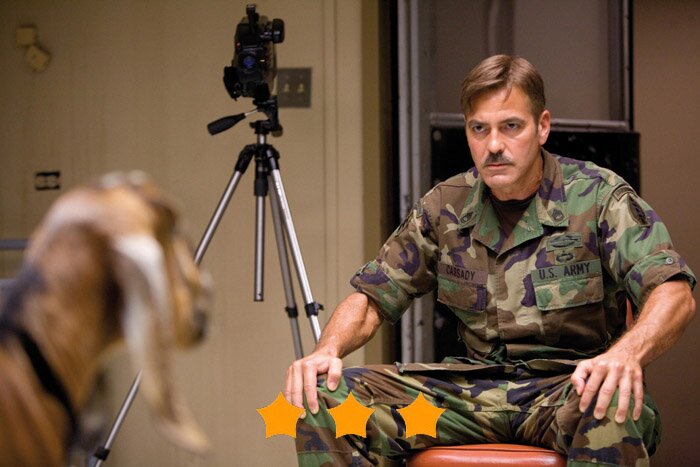 Director: Grant Heslov
Cast: George Clooney, Ewan McGregor, Jeff Bridges, Kevin Spacey
Certificate: 15
Showing: Sunday 18th October 3:15pm
Be all that you can be. The slogan for the American army. Guts, courage, loyalty, patriotism. That's the kind of stuff they're talking about. Not staring at a goat until it keels over sideways. But there's a secret unit out there. A platoon of psychic soldiers. Trained to harness mother nature (and their own latent telepathic powers), they wage war in the battlefield of the mind. Full-on Jedi Warriors. Rock and roll.

This is the world Bob Wilton (McGregor) stumbles into when he heads to Iraq. Devastated by the departure of his wife, he throws himself into the conflict, looking to find some meaning in life. What he finds is completely bonkers. Bumping into Lynn Cassidy (Clooney), star pupil of the psy-soldiers school, Bob ends up accompanying him on a black-ops mission. Where is it? No-one knows. What it is for? No idea. But one thing's for sure: Cassidy's mental prowess is good for nothing. He can't even read a road sign.

Catapulting crazy into your face, The Men who Stare at Goats is a weird film. It's a comedy, clearly - and you'll laugh out loud a lot - but it's based on fact. Yes, Jon Ronson's same-titled book is a work of non-fiction, detailing the daft ambitions of the American Army in the 80s; they really did trip out on LSD, look for deeper meanings, and stare at goats. Adapting this into a work of fiction, Grant Heslov's humorous escapade is only too happy to go with it. And how.

And so we meet colourful characters such as Colonel Hooper (Spacey), whose inner eye is only out-matched by his competitive brutality ("Congratulations on the marriage. I'm sorry it doesn't work out.") Keen to exploit the Dark Side of the Jedi way, he's the pseudo-villain of this twisted world - not that that means much. And the Obi Wan of it all? None other than Jeff Bridges. Hamming it up with spot-on comic timing, the cast are all too willing to run into walls for the sake of our entertainment. And it's good entertainment.

The only trouble is the nature of the tale itself. It's so strange and warped that once things start to be taken (semi-) seriously, it's a little disconcerting. Despite excellent production design (Mexican deserts are a well-shot stand-in for Iraq), it's hard to feel comfortable with a film that's so far-flung. Between Barney the Dinosaur, the dead goats, and Ewan McGregor's terrible accent, there's no real plot here. But in a way, that's the inspired truth of the whole thing: military money actually funded such research, and some of this stuff really did take place (as the titles warn, "More of this is true than you would believe"). How much? Well, you'd have to be psychic to work that one out.

VERDICT

You'll scratch your head until it falls off from laughing. The Men who Stare at Goats is completely barmy. But mostly in a good way.
Tags:
america
army
channel 4
ewan mcgregor
film
goats
i-flicks
iflicks
jedi
jeff brides