Star Ratings
| | |
| --- | --- |
| | Amazing |
| | Well good |
| | Fun |
| | Meh |
| | Rubbish |
| | | |
| --- | --- | --- |
| LFF film review: Dheepan | | |
Written by Ivan Radford
Friday, 16 October 2015 16:56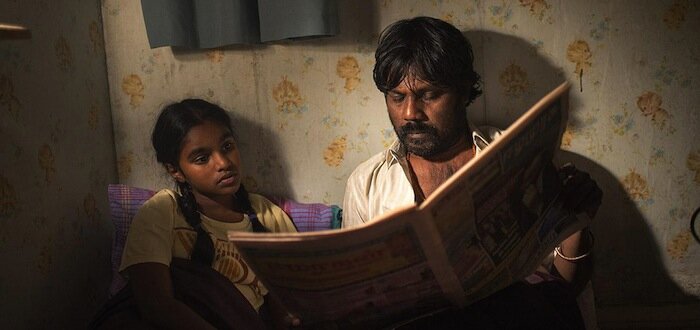 Director: Jacques Audiard
Cast: Antonythasan Jesuthasan, Kalieaswari Srinivasan, Claudine Vinasithamby
Showtimes: 18.30, 16th 14.15, 17th
Immigration has never been a more pressing issue for the world at large, but it's something that has always been a part of civilisation: the need for the booming human population to move elsewhere, whether by necessity or desire, and make a new life. Jacques Audiard's Dheepan explores the issue, but never in the way that you expect.
The film follows a family who relocate from Sri Lanka to Paris, where they must learn to fit in with the unwelcome locals. The twist? They're not a family at all: one's a Tamil Tiger (Dheepan - Antonythasan Jesuthasan) and the other can't speak a word of French (Yalini - Kalieaswari Srinivasan). Both are strangers, including their daughter (Claudine Vinasithamby). Shacking up in a shed on a housing estate, they're surrounded, respectively, by gangsters in the neighbouring block and bullies at school - hardly the escape they hoped for when fleeing the Sri Lankan Civil War.
The ensuing tangle of human relationships carries all the unpredictable mess of real life, from the challenge of sorting mail in a foreign language (Dheepan is a caretaker for the estate) to the haunting memory of being a soldier. There's even time for unplanned bonding with a gentle hoodlum.
Audiard has a knack for empathising with outsiders. Here, his film is full of them. "We're not from here," the French kid tells Yalini of their callous attitude towards drug-dealing. "That stops us giving a shit." She replies in her own tongue; a meaningful conversation in which neither can grasp the full meaning of what they're saying.
As the family struggle to connect with each other, things boldly wander from romance to violence and back again. Between Jesuthasan's shell-shocked, intimidating male to Srinivasan's heartbreakingly loyal wife (a scene-stealing study in silent nods, smiles and shrugs), the convincing result means we do give a shit; like the makeshift family unit itself, we're never allowed to settle in one genre for long.