Star Ratings
| | |
| --- | --- |
| | Amazing |
| | Well good |
| | Fun |
| | Meh |
| | Rubbish |
| | | |
| --- | --- | --- |
| Film review: Cloud Atlas | | |
Written by Ivan Radford
Sunday, 17 February 2013 09:16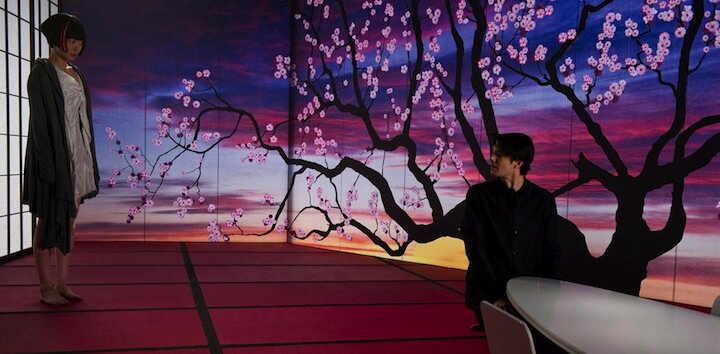 Directors:  Tom Tykwer, Andy Wachowski, Lana Wachowski
Cast: Tom Hanks, Halle Berry, Jim Broadbent, Ben Whishaw, Hugh Grant, Ben Whishaw, Hugo Weaving, Jim Sturgess, James D'Arcy
Certificate: 15
"If you can extend your patience for just a moment, you will find that there is a method to this tale of madness."
That's Timothy Cavendish speaking in 1936. He's a publisher trying to break out of a nursing home. No sooner have we acquainted ourselves with his curly hair and squawky glasses than we find ourselves in Neo Seoul, 2144, where waitresses are cloned and reared for service. Woken by a mysterious man, Sonmi-451 finds a way to escape from captivity, recruited into "the Union" to rebel against a dystopian society.
A film featuring plasma guns, hover bikes and an OAP version of The Great Escape? That's the kind of madness you can expect from the bewildering, beautiful, bonkers Cloud Atlas. As for the method, well, it's in there somewhere.
Adapted from David Mitchell's absurdly intricate novel, Tom Tykwer, Andy Wachowski and Lana Wachowski go to mind-boggling lengths to prove just how unfilmable it is. They hop between six stories (a voyage on a 1849 slave ship, a 1970s reporter investigating an energy conspiracy, a 1930s composer's quest to be recognised and a post-apocalyptic tribe's fight to survive) for three hours, cramming characters into your retinas until you can't take any more.
But somewhere along the line between Hugh Grant dressed up as a cannibal warrior and your bladder exploding, Cloud Atlas clicks – and miraculously, everything just works.
Splitting up the strands between them, the directing trio's mesmerising mosaic takes Mitchell's themes and writs them large on the screen, lightly tracing parallels between the ages. Power, freedom, love. All the big abstract words are there, spelled out by Ben Whishaw's composer, Frobisher, whose voiceover wafts in pretentious waves over your addled brain.
He's not the only thing that keeps coming back, though: so do the rest of the cast, taking on different roles for each plot-line. Hugo Weaving goes from devilish bogeyman (sporting a top hat worthy of The Mighty Boosh) to a very manly female nurse. Jim Sturgess transforms from sick heir to a slave empire into a Korean freedom fighter. Tom Hanks goes from a tribesman wearing a prosthetic nose to a 19th Century doctor, wearing an even bigger prosthetic nose.
The process may sound racist, but that's missing the point entirely: the recycled ensemble is telling the same universal struggle over and over. For fans of playing Spot the Actor, the extravagant make-up may simply distract, but the superb cast (led by a fantastic Doona Bae) do well to make you see past the surface. Even Tom Hanks' nose seems to shrink by the end of it.
For every heavy-handed stroke of the make-up brush, though, the film weaves something far subtler. Halfway through, Frobisher produces the Cloud Atlas sextet. Before we've even heard it, it sounds familiar: the haunting piano melody gently underscores the entire film, seeping through the universe in tiny, barely audible chords.
Scored by Tykwer and his band, the sublime soundtrack is just one of the ways these convoluted threads come together. Echoed by mankind's penchant for passing down tales through books and films, the swirl of anecdotes distils into a stunning, unique portrait of life. That's another big word.
"What are you reading?" Halle Berry's journalist is asked by a companion. "Old letters," she replies. "Why do you keep reading them?" She pauses. "I don't know."
The answer comes later, from Whishaw's silky vocals. "A half-finished book is," he murmurs, "a half finished love affair."
Bloated, long and completely bonkers, Cloud Atlas is a sprawling demonstration of why some books should never be filmed. But there is method in its madness: this messy thought-splurge of stories and ideas is as immersive as it is awe-inspiring. Every world we visit feels real; every character, engaging. By the time your head stops swimming, you'll be raring to watch it all over again. It's a love affair. And you'll never want it to finish.