Star Ratings
| | |
| --- | --- |
| | Amazing |
| | Well good |
| | Fun |
| | Meh |
| | Rubbish |
Cinema reviews
| | | |
| --- | --- | --- |
| Valkyrie | | |
Written by Ivan Radford
Friday, 23 January 2009 09:34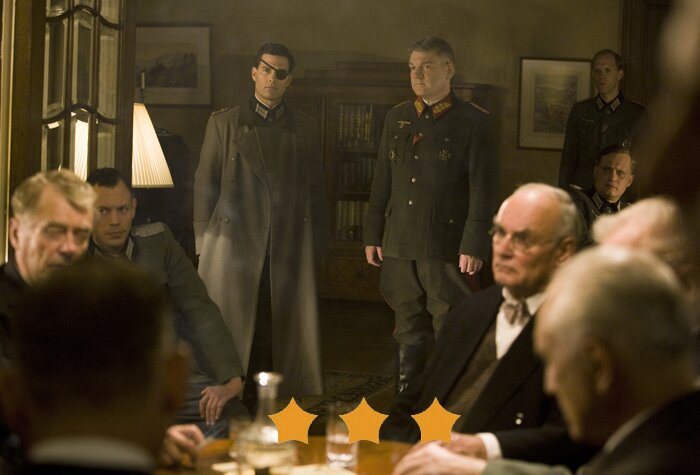 Director: Bryan Singer
Cast: Tom Cruise, Bill Nighy, Tom Wilkinson, Kenneth Branagh, Christian Berkel
Certificate: 12A
Ok, let's get this straight. Tom Cruise is not German. He does not look German. He does not sound German. He does, in fact, look and sound like Tom Cruise. So when Tom Cruise puts on his Nazi uniform (complete with eye patch and missing limb), the end result is this: Tom Cruise. In a Nazi uniform.
For convenience sake, though, let's not call him Tom Cruise. Let's call him Colonel von Stauffenberg.
Read more...
| | | |
| --- | --- | --- |
| Frost/Nixon | | |
Written by Ivan Radford
Tuesday, 20 January 2009 13:58
Director: Ron Howard
Cast: Michael Sheen, Frank Langella, Matthew MacFayden, Rebecca Hall, Toby Jones, Sam Rockwell, Kevin Bacon
Certificate: 15
Adapted by Peter Morgan from his own stage play, Frost/Nixon is a cinematic retelling of the television interviews between David Frost (Sheen) and ex-President Richard Nixon (Langella). The juxtaposition of mediums at first seems absurd; why not leave what is essentially a two-hander in the theatre, where its terse encounters can have the greatest impact?
Read more...
| | | |
| --- | --- | --- |
| Milk | | |
Written by Laura Hanlon
Sunday, 18 January 2009 13:41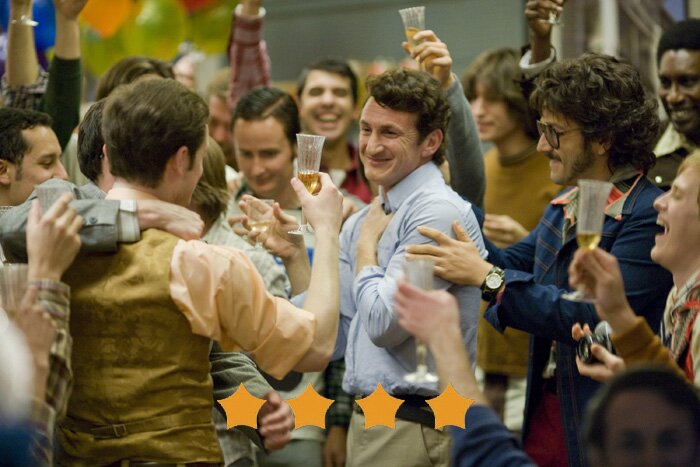 Director: Gus Van Sant
Cast: Sean Penn, Josh Brolin, James Franco, and Emile Hirsch
Cert: 15
Fresh from the Hollywood cow comes this creamy cinematic delight. It's not whole fat (that'd be overdoing it); and it isn't that horrible red-top that is so diluted it really doesn't resemble milk. No, Milk is a semi-skimmed glass of goodness that doesn't compromise on taste or your waist line. Which is great because I already scoff too many snacks at the cinema.
Read more...
| | | |
| --- | --- | --- |
| The Wrestler | | |
Written by Ameen Hojabr
Friday, 16 January 2009 00:00
Director: Darren Aronofsky
Cast: Mickey Rourke, Marisa Tomei, Evan Rachel Wood
Certificate: 12A
Remember that day when you were ten years old and you found out wrestling was fake? A spandex-fuelled sham? Well, Darren Aronofsky is about to hit your inner 10-year-old over the head with a chair; more than anything else, The Wrestler is definitely one thing: authentic.
Read more...
| | | |
| --- | --- | --- |
| The Reader | | |
Written by Ivan Radford
Friday, 09 January 2009 11:35
Director: Stephen Daldry
Cast: Kate Winslet, Raiph Fiennes, David Kross
Certificate: 15
Trailer
"If you do a film about the Holocaust, you're guaranteed an Oscar." Winslet's own words in Extras. After years of gong-less persistence, now she's taken her own advice, playing the part of Hanna Smitz. One day, she crosses paths with a young boy, Michael Berg (Kross), who is suffering from scarlet fever. She helps him. Once better, Michael seeks her out to say thank you. Naturally, one thing leads to another and pretty soon they're both naked and getting jiggy with it.

Read more...
| | | |
| --- | --- | --- |
| Defiance | | |
Written by Ivan Radford
Friday, 09 January 2009 11:20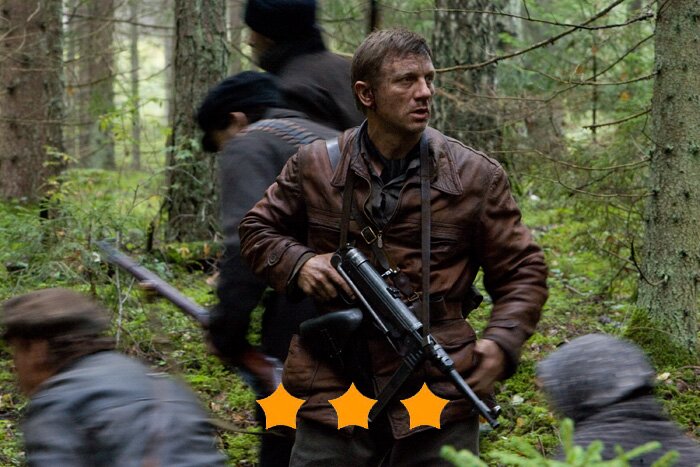 Director: Edward Zwick
Cast: Daniel Craig, Live Schreiber, Jamie Bell
Certificate: 15
Trailer
He proved it in Munich, now he's doing the same in the Belarussian woods: Daniel Craig can do a token foreign accent. Doing that Hollywood thing of playing another nationality whilst still speaking English, he is Tuvia Bielski, eldest of the Bielski clan. Leading his brothers Zus (Schreiber – the angry one) and Asael (Bell – the quiet one) into the forest, they seek a way to survive the German slaughter of WWII.
Read more...
| | | |
| --- | --- | --- |
| Slumdog Millionaire | | |
Written by Ivan Radford
Tuesday, 06 January 2009 10:38
Director: Danny Boyle
Cast: Dev Patel, Madhur Mittal, Freida Pinto
Certificate: 12A
Trailer
Who wants to be a millionaire? Pretty much everyone in the slums of Mumbai. Everyone, that is, except for Jamal (Patel). But it's this impoverished Indian answering the infamous fifteen questions. One away from the jackpot, he is arrested for fraud and savagely interrogated. How does someone like him know the answers?
Read more...
| | | |
| --- | --- | --- |
| Che: Part One | | |
Written by Ivan Radford
Friday, 02 January 2009 12:28
Director: Steven Soderbergh
Cast: Bernicio Del Toro, Demian Bichir
Certificate: 15
Trailer
The man whose face adorns a thousand t-shirts, who overthrew a dictator, and single-handedly fuelled the cigar industry in Cuba, seems like the ideal subject for a Hollywood biopic. But up to the plate steps Soderbergh, the most un-Hollywood of all Hollywood helmers. The maverick to the industry. LA's Bergerac. And so the resulting piece is something a little different to what you'd expect.

Read more...
| | | |
| --- | --- | --- |
| The Spirit | | |
Written by Ivan Radford
Thursday, 01 January 2009 23:05
Director: Frank Miller
Cast: Gabriel Macht, Samuel L. Jackson, Scarlett Johansson, Eva Mendes
Certificate: 12A
Trailer
It may seem natural that, after years of influential and masterful handiwork, Frank Miller, the visual genius behind

Batman: Year One

and

Sin City

, the Golden Palm-nominated artiste extraordinaire, should hobble home from the Hollywood party of his life and, relaxing in his ensuite facilities, squeeze out a bit of a turd. Now this is not just a turd, this is a Frank Miller turd – it is shiny, sleek and sexy, like no other turd before it, but under the seductive surface sheen, it still has the whiff of a turd.

Read more...
| | | |
| --- | --- | --- |
| Yes Man | | |
Written by Ivan Radford
Friday, 26 December 2008 00:00
Director: Peyton Reed
Cast: Jim Carrey, Zooey Deschanel, Rhys Darby
Certificate: 12A
Trailer
"Say it a million times. Say it a million more times. And the word you will have said two million times is 'yes'" – Terrence Stamp in full ham mode as Terrence Bundling, head of a cult-like self-help movement, whose members say "YES!" to every opportunity that comes their way. Into this way of life walks no-man Carl (Carrey), whose routine existence is about to be blitzed together with a potent dose of positivity.

Read more...
| | | |
| --- | --- | --- |
| Twilight | | |
Written by Ivan Radford
Friday, 19 December 2008 00:00
Director: Catherine Hardwicke
Cast: Kristen Stewart, Robert Pattinson
Certificate: 12A
Trailer
Don't you hate it when things turn out to be good? You go to the cinema, all long fringes and sappy music, mildly indifferent to the rubbish you're about to tolerate. Then it turns out to be actually very decent. So, of course, you go home and grow your fringe to compensate. And listen to My Chemical Romance. Life sucks.

Read more...
More Articles...
Changeling
Waltz with Bashir
Zach and Miri Make a Porno
<< Start < Prev 61 62 63 64 65 66 67 68

69

70 Next > End >>


Page 69 of 70