Star Ratings
| | |
| --- | --- |
| | Amazing |
| | Well good |
| | Fun |
| | Meh |
| | Rubbish |
Cinema reviews
| | | |
| --- | --- | --- |
| Film review: Whiplash | | |
Written by Ivan Radford
Thursday, 15 January 2015 09:47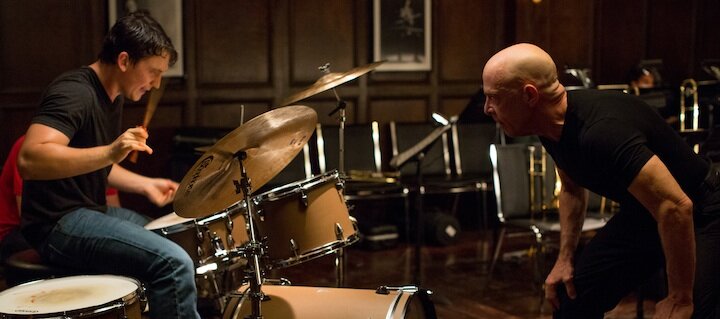 Director: Damien Chazelle
Cast: Miles Teller, J.K. Simmons
Certificate: 15
Jazz is all about timing. Many people think it's solely made up on the spot, any-which-way-you-fancy improv, but a large chunk of it is also written down. There are chord progressions, standard songs, time signatures. If you want to make it over the top - to become really, truly great - you first have to understand the rules of engagement. The question, though, is how you go about it.
No one knows the law of the battlefield like Fletcher (J.K. Simmons). The hardened conductor lords it over the Shaffer Conservatory's best big band with a fist of brass. Brass covered in blood. So when young pupil Andrew (Miles Teller) manages to sit on the group's coveted drum stool, he's determined to stay there - and Fletcher's determined to make him earn it.
How? Practice. You need to devote time so you can keep time - something that most films about music seem to forget. Usually, biopics present us with famous musicians who go through personal trials and tribulations, only to emerge the other side a fully-formed artist. It's a treat, then, to see a film about the practical nature of music, one that plays out like the messy underside of that artificial drum; the side with the snare on it.
"Are you rushing or dragging?" Fletcher interrogates Andrew, as they rehearse the titular track by Hank Levy. He asks over and over, like a drill sergeant auditioning for Full Metal Jacket: The Musical.
Simmons is terrifying, a wide-eyed brute whose foul-mouthed insults are as hilarious as they are intimidating. Anyone who has ever had a bullying music teacher - and (speaking from personal experience) they do exist, albeit not as extreme as this - will immediately recognise the fear of playing a wrong note and the disappointment of both letting your mentor down and, worse, yourself. But there is a universal intrigue to that process, the unseen way in which talent in any field develops - which, in Whiplash's hands, is arranged as a thrilling piece of physical, human drama. (In the words of Alan Partridge, crash, bang, wallop. What a video.)
Teller, who can play the drums in real life, is sensational as the eager student, a boy so focused that he shuts out all other concerns: family tensions and romantic dates are all ignored by him and the blinkered script follows suit. The only thing that matters here is the music.
Grimacing, laughing and sweating profusely, the young star is astonishing to watch in action - not only acting while playing the drums, but appearing out of sync believably enough to spark Fletcher's wrath. Together, the pair form a dazzling duet, riffing off each other, as Teller's drumming becomes tighter and their relationship changes key, from nasty humour to just plain nasty.
All the while, director Damien Chazelle keeps tempo - a breakneck metronome that, like Justin Hurwitz's score (including a selection of standards, such as Caravan), is a toe-tapping masterclass in precision. As Andrew gets better, pushed by this monster with a manuscript, Chazelle's camera shoots across the kit, bouncing off the hi-hat and toms with its own fascinating rhythm.
The pair, the screenplay reveals, are labouring under the (misunderstood) legend of Charlie Parker, who was given the push he needed to become Bird by Jo Jones lobbing a cymbal at his head. Aren't they missing the point altogether? After all, jazz needs soul as well as skill. It helps if all your body parts are intact too.
The director skilfully modulates the tone from unnerving comedy to sceptical horror, but the real crescendo occurs with the last movement, a blistering dash to the closing bar that finally throws all that rigid conducting out of the window and goes for a freewheeling rim-shot to the gut. Mention jazz to most people and they'll switch off, dismissing it as made-up noise. Whiplash, though, brings the house down every time. It's all about timing. And it doesn't miss a beat.

| | | |
| --- | --- | --- |
| Film review: Wild | | |
Written by Ivan Radford
Wednesday, 14 January 2015 13:37
Director: Jean-Marc Vallée
Cast: Reese Witherspoon
Certificate:
"Homeward bound, I wish I was… Home, where my thought's escaping. Home, where my music's playing…"
There's something about true stories of human endurance that we, as an audience, find rewarding. While those have often been tales of claustrophobic survival in extreme conditions - All Is Lost, 127 Hours - there have also been movies about personal journeys and self-imposed isolation: Into the Wild, Tracks and The Way. What's impressive about Wild is that it genuinely moves - and does so in its own way.
The film follows Cheryl Strayed, who decides to hike all the way up America's 1,100-mile Pacific Crest Trail - effectively from Mexico to Canada - on her own. Her reason? To get away from it all.
It all, we discover through a series of flashbacks, consists of everything from unwanted pregnancies and deceased relatives to failed marriages. While this litany of mistakes could be cheesy or trite, though, Nick Hornby's script - based on Cheryl's own memoirs - ensures that Wild's tale become one not of self-penitence but self-appreciation. The decision to approach her sins of the past as part of what makes her who she is in the present frames her journey as something positive and uplifting.
Reese Witherspoon delivers a career-best performance as Cheryl. She manages the physical ordeal with convincing stamina, from losing toenails right down to her ungraceful, backpack-laden walk. But it's the honesty that she brings that strikes you, managing to act half her age for flashbacks featuring sexual encounters and tragic loss - supported excellently by Strayed's own daughter as a even younger Cheryl.
Director Jean-Marc Vallée stitches together the gentle revelations and geographical progression seamlessly, balancing between stubborn independence and habitual reliance upon convenience stores. The widescreen lensing captures the shifting snowy, sandy and woodland landscapes, but the movie is powered by a fantastic use of sound and music; each time a song is hummed by the people Cheryl meets mid-walk, it triggers memories of other times when it was playing. That understanding of how a tune can get stuck in your head, not only as a temporary ear-worm but also as an accompaniment to one's life story, stops the narrative from becoming fragmented, reinforcing the catharsis of each step Cheryl takes. Homeward bound, she wishes she was. Home, where her music's playing.
The result is a moving drama that shirks corny regret for an oddly positive exploration of isolation. In a sea of mostly male stories about human endurance - and a time when actual female characters are rare in Hollywood - Wild feels empowering; a film about a woman who finishes her story without a job, money or a bloke and still finds a happy ending, in her own way. Every small success along the road is a triumph. "Now I can eat hot mush instead of cold mush!" she yells, after getting her gas stove working, to no one but herself.

| | | |
| --- | --- | --- |
| Film review: Birdman (or the Unexpected Virtue of Ignorance) | | |
Written by Ivan Radford
Thursday, 01 January 2015 12:18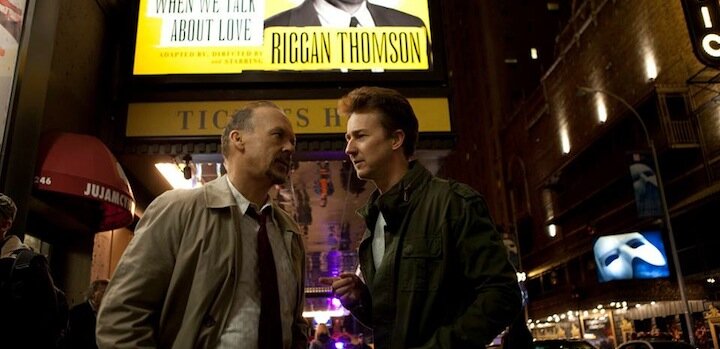 Director: Alejandro González Iñárritu
Cast: Michael Keaton, Emma Stone, Zach Galifianakis, Edward Norton, Naomi Watts, Andrea Riseborough
Certificate: 15
"You're doing this because you're scared to death, like the rest of us, that you don't matter! And you know what? You're right."
Read more...
| | | |
| --- | --- | --- |
| Film review: Unbroken | | |
Written by Ivan Radford
Saturday, 27 December 2014 18:40
Director: Angelina Jolie
Cast: Jack O'Connell
Certificate: 15
Jack O'Connell is amazing. If you've seen Starred Up or '71, you'll already be well aware of this. Now, he goes through the wringer once again for another tale of intense suffering: Unbroken. The movie, directed by Angelina Jolie, tells the true story of Olympian Louis Zamperini, who is dealt tough hand after tough hand by life's dealer, but comes out the other side... unbroken.
If the title is something of a plot spoiler, it also gives away the movie's tone: far from subtle.
Louis starts his incredible life as a young tearaway, fighting blokes, eyeing up girls and drinking booze from milk bottles. He soon learns to tear away in another sense altogether: by running around a track. Guided by his older brother, Zamperini goes on to become an Olympic runner for America, breaking records and competing in Berlin.
So far, so inspirational. But the problem isn't the story, it's the way it's told: all of the above is told to us in flashbacks, while Louis is stranded on a raft years later. Stuck there for 47 days, he and his crewmen (including a fantastic Domhnall Gleeson) struggle to survive. At one point, sharks attack them. At another, they eat raw seagull. Look at him eating puking his guts out! Jolie seems to say. Now look at that time he ran really quickly! And remember that time he was in a fighter plane that almost got shot down?
Delivered in a seemingly endless string of harrowing events, Zamperini's existence descends into a Russian Doll of torture: he's like a real life Jack Bauer, saying "This is the longest day of my life" on repeat. Then, just when you think things can't get any worse, he ends up a prisoner of war in a Japanese WWII camp, where he's tormented by the cruel chief (played with curious, wide-eyed naivety by Takamasa Ishihara, aka music star Miyavi).
Why is Watanabe so mean to his star prisoner? Their oddly homoerotic relationship could be the basis of a fascinating film in itself - and that's largely the problem. Each part of Louis' life is a satisfying, standalone narrative. Sandwiched together in laborious back-and-forths, it feels like a jumbled mess. The fact that four people all contributed to the screenplay only adds to the patchwork air. Individual moments grip, from the thrilling fighter pilot sequences to the scene where Louis must hold a plank of wood above his head for hours (complete with Christ-like iconography), but they also feel squandered and underdeveloped.
Jolie shoots the aerial stunts with aplomb and doesn't shy away from the brutality of Louis' wartime treatment, but the forceful reminders that Zamperini's spirit isn't crushed begin to grate: by the time you've seen him symbolically overtake a pack of other runners in the final lap of race for the nth time, you've got the message.
The result is a showcase for an extraordinary young man, who takes everything that's thrown at him and still shines through. Unfortunately for Jolie, it isn't Zamperini. Writers Joel Coen, Ethan Coen, P.S. I Love You's Richard LaGravenese and Gladiator's William Nicholson all line up to knock Jack O'Connell down, but he doesn't give up, even when the movie's at its most heavy-handed. "If you can take it, you can make it!" shouts his brother in one of the cheesy flashbacks. On the basis of this, O'Connell's definitely going to make it.
| | | |
| --- | --- | --- |
| Film review: The Hobbit: The Battle of the Five Armies | | |
Written by Ivan Radford
Saturday, 13 December 2014 13:04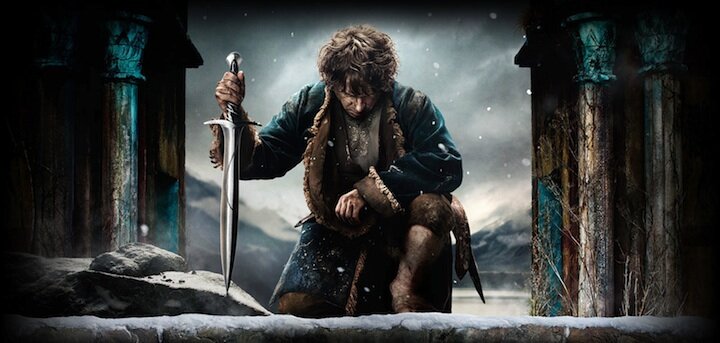 Director: Peter Jackson
Cast: Ian McKellen, Martin Freeman, Richard Armitage
Certificate: 12A
"Why does it hurt so much?" cries Tauriel (Evangeline Lilly), her face cut on the battlefield. "Because it's real," her father, Thranduil (Lee Pace), replies. That is one thing Peter Jackson has always managed throughout his epic 13-year saga: he has successfully made Tolkein's Middle-earth real. Until now.
Read more...
| | | |
| --- | --- | --- |
| Film review: Black Sea | | |
Written by Ivan Radford
Friday, 05 December 2014 14:48
Director: Kevin Macdonald
Cast: Jude Law, Scoot McNairy, Ben Mendelsohn
Certificate: 15
Earlier this year, it was announced that Dennis Kelly's TV series, Utopia, had been dropped by Channel 4. It was tragic news for fans of the show, and TV in general, as the British thriller was brutal, important viewing; not because of its nasty violence, but because it never shied away from dark social truths. It's a pleasure, then, to see his name on the script for Black Sea.
The film follows a disgruntled submarine captain (Jude Law), who takes drastic action after being fired. The plan? Round up the gang, track down an old, abandoned Soviet sub and seize the Nazi bullion left there in WWII.
Nazis? Submarines? Hidden treasure? If your mind is floating back to the days of 40s adventures, you're definitely on the right ship: Kevin Macdonald helms this with the kind of zip you'd expect from an Indiana Jones romp, not letting the pace slow below 35 knots.
But this is Indiana filtered through the dark mind of Dennis Kelly; a dystopian take on a matinee flick. That gives Black Sea its own anaerobic vibe, one that sucks out the breath of adventure with a long, wheezing dive.
Jude Law's Scottish accent may be more Shrek than Sean Connery, but he's a great fit for the obsessed captain, his receding hairline only adding to the air of failed ambition. He's supported by a fantastic crew, from Michael Smiley's typically twisted comic relief to Scoot McNairy's slippery man in a suit, whose there to bankroll the operation but doesn't have the stomach for small spaces.
That's where Kelly strikes home, in the claustrophobic contrast between the rich and the poor; the employers and the (ex-)workers. With everyone promised an equal share of the booty, that communal ideal is corrupted by individual greed, as people realise that you don't have to be a banker to be a bastard. As the tensions rub the characters the wrong way, Ben Mendelsohn emerges to steal the show. Ever since Animal Kingdom, he's perfected a certain type of unbalanced male man, but put among an emsemble of equally aggressive people, he torpedoes the lot with eye-boggling intensity.
It could descend into dumb cliche or heavy-handed Ken Loach commentary, but it's testament to Macdonald that he reins everything in, keeping things entertaining and (just) believable, even as the mildly daft final act - complete with forced familial sentiment - arrives. The result is a enjoyably old-fashioned thriller that relies on people rather than pyrotechnics. In an age of loud, bombastic blockbusters, Black Sea admirably sinks to explore the depths of humanity. Not everything it finds may be solid gold, but this is highly pressurised stuff.
| | | |
| --- | --- | --- |
| Film review: What We Do in the Shadows | | |
Written by Ivan Radford
Saturday, 22 November 2014 09:14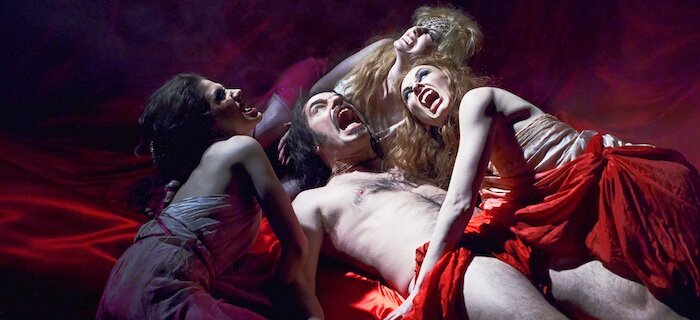 Viago, Deacon and Vladislav are three flatmates in Wellington. They wake each other up for flat meetings. They go out on the town. They get annoyed at each other for not doing the dishes. And they try not to disturb Petyr downstairs. They're just normal, typical blokes. Who happen to be vampires.
It's a simple idea behind What We Do in the Shadows - a mockumentary from New Zealand - but that simplicity makes the humour delightfully complex.
From the moment the desperately eager Viago (Taika Waititi) rouses Vladislav upstairs, only to find a hairy Jemaine Clement surrounded by naked ladies halfway up the wall, it's clear that this Kiwi comedy is taking its vampiric lore seriously. "Meeting in 10 minutes," calls Viago, after hurriedly closing the door. Vladislav apparates by the door and opens it quickly. "20."
That respect for traditions is evident at every level of the silliness, from nightclubs where they can't go in unless the bouncers invite them to the fearful opening of curtains at 6pm in case sunlight might still shine through. The result is a creative mix of old tropes and new ideas; a reviving bite to the neck for a genre that has become all too familiar in recent years. One hysterical scene featuring Viago's "Basgetti" mind control trick is worth the price of admission alone.
The cast throw themselves into it, donning over-the-top costumes and covering themselves in fake blood, but they never lose sight of the naively friendly New Zealander quality that made Flight of the Conchords so endearing. Reunited with Clement after Eagle and Shark, Waititi and his co-director/co-star clearly know their comedy games, repeatedly setting up the right buttons for the other to push. Rhys Darby, meanwhile, steals the few scenes he appears in as a highly amenable werewolf struggling to keep control of his pack. "That's a good pair of trousers ruined there," he laments, as one of them puts on jeans instead of jogging bottoms ahead of a full moon.
But what elevates What We Do in the Shadows above a scattershot spoof is the way it uses all of these elements to develop its characters. Viago, it turns out, is longing for his lost love, but in turn is the subject of unrequited feelings from his slave, who irons his frilly shirts in the hope that one day she will become immortal too. Insert a new convert who keeps bringing his human best friend round for tea and you have an awkward web of dead and undead loyalties. Into that surprisingly tender set-up flies Ben Fransham's Petyr, a Nosferatu-like monster (complete with full make-up) who sends the sentimental moments spinning down into genuinely jumpy shocks. Edited and re-edited until its scarily tight, this is a sharply tailored vampire flick that upholds tradition yet sinks its teeth into it with flair. It's moving, it's clever, it's mercilessly quick, but most of all, it's bloody funny.

| | | |
| --- | --- | --- |
| Film review: The Hunger Games: Mockingjay - Part 1 | | |
Written by Ivan Radford
Monday, 17 November 2014 08:01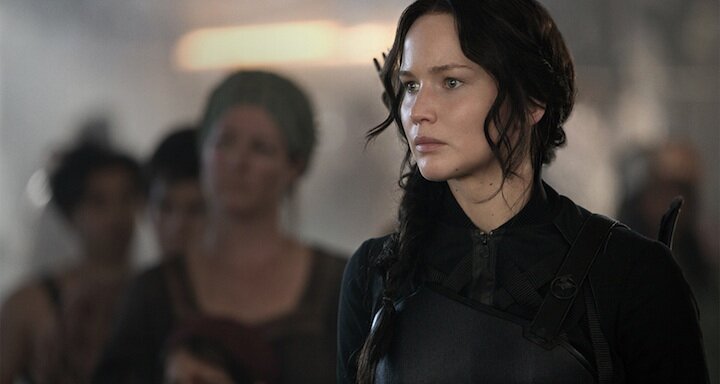 Director: Francis Lawrence
Cast: Jennifer Lawrence, Josh Hutcherson, Liam Hemsworth, Donald Sutherland
Certificate: 12A
"When has Katniss ever genuinely moved you?" asks Haymitch (Harrelson) near the start of The Hunger Games: Mockingjay - Part 1. It's a fair question: the symbol of the rebellion she may be, but she's hardly a people person. After the events of Catching Fire, though, which saw her destroy the Hunger Games arena and unwittingly lead a coup against the oppressive Capitol, she has become the most valuable weapon in the fight for freedom: a face to rally the troops.
"We need a lightning rod," points out former Gamesmaker Plutarch (Hoffman). "People will follow her." It may not sound like scintillating conversation for an action blockbuster, but that is precisely Mockingjay - Part 1's achievement: it turns a political struggle into something grippingly potent - and thrillingly personal.
The Hunger Games has always managed to weave the two closely together, ever since Katniss first pretended to be in love with Peeta (Hutcherson) for TV audiences to protect her off-screen love, Gale (Hemsworth), and family. Here, she is torn once more between the two fellas, but the stakes are higher. Waking up in the underground (and long thought destroyed) District 13 with loyal soldier Gale, she discovers Peeta is held prisoner by President Snow - Donald Sutherland, grinning like an evil Cheshire Cat - who uses him as a puppet in a series of broadcasts that leave her again caught between a screen and a horde of angry disbelievers.
The political themes of Suzanne Collins' trilogy were always destined to erupt in a blazing climax, but the final book struggled with that scale. On the page, Mockingjay was uneven, slow, missing the claustrophobic structure of the titular tournament. Chopping the novel up for the cinema might have seemed like a bad idea, but turns out to be the franchise's saving grace.
Writers Peter Craig (The Town) and Danny Strong (Danny in Mad Men) rework the story with the lightest of touches, ignoring the text's interval to find their own pace. They rely on Jennifer Lawrence to convey her character's emotional conflict while they explore this new, murky world of propaganda. And what a world it is: the new set is massive, but Collins' universe continues to be built with superb realism, from the concrete walls to the shiny attack ships.
Fittingly for a movement that prioritises people over power, every character matters, from Elizabeth Banks as Effie (who, along with Woody's rude Haymitch, lightens the mood with her attempts to sass up District 13's uniform jumpsuits) to Jeffrey Wright's tech wizard, Beetee. Julianne Moore slots right in as President Coin, ruthlessly fair, almost to a fault, her hair as straight as her blunt gaze. The late Philip Seymour Hoffman really stands out just by not standing out at all; as generous as ever, he murmurs political machinations in the background with a calculated grin before letting out a weary sigh. You could watch an hour of him debating how to make a sandwich look good and it would be fascinating.
The team resolve to send her out into the field for real to capture footage of the Mockingjay in action; footage that won't seem awkwardly scripted (what they call "propos"). And so we travel with them - and Natalie Dormer's badass camerawoman, Cressida - as their rounds descend into gun-toting skirmishes. We see planes taken down in real time; then again, edited with music and voiceover for the revolting masses. What was once a short burst of action in an uneasy novel becomes a sharp deconstruction of storytelling that takes the series right back to its reality TV roots. Francis Lawrence shoots everything with that backdrop visible; skulls and skeletons of obliterated civilians creep into the edge of the frame, while a beautiful off-the-cuff rendition of The Hanging Tree (by Katniss, with a hint of Lawrence's Winters Bone) is swiftly packaged up by the propaganda machine and turned into an earworm calling people to action. Set against brutal uprisings and even more brutal takedowns, it amplifies the importance of every single action, be it private or public, romantic or rebellious.
That savvy presentation is evident throughout, but most of all in the central set piece: an assault on the Capitol. In the books, we hear about it after the fact, but the director takes us into the heat of the moment - chopping it up, propo-style with a monologue from Hunger Games veteran Finnick. The excellent Sam Claflin laces his words against President Snow with conflict and anger, but also a knowing element of foreshadowing that ramps up the tension. And, for that moment, the boundary between the filmmakers in front of the camera and behind the camera disappears entirely - and, lit up by the lightning rod that is Jennifer Lawrence, everything feels real. A post-modern, dark, intelligent film that tackles civil unrest and propaganda wrapped up in a romantic blockbuster aimed at young adults? Mockingjay Part 1 is an exciting, emotional spectacle that isn't afraid to treat its audience like grown ups. When has Katniss ever genuinely moved you? Every second she's on screen.

| | | |
| --- | --- | --- |
| The Imitation Game - a crossword film review | | |
Written by Ivan Radford
Friday, 14 November 2014 13:51
The Imitation Game is out in UK cinemas today. To find out what we thought of the film, solve this simple word puzzle... then use the answers to fill in the blanks below.
Or, for a quick verdict, the highlighted letters can be re-arranged to form this one-word verdict:
_ _ _ _ K _ _ _!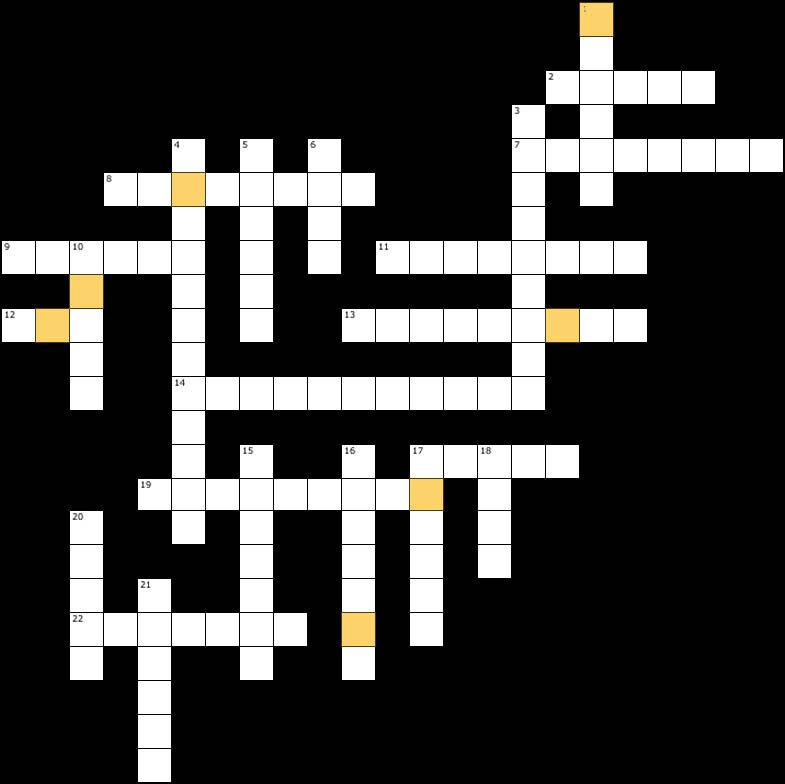 Across
2. Nobody
7. Not an insider
8. Intimate
9. Rebels against
11. The ___ - a 1963 horror film
12. Male
13. To do with the government
14. Causing astonishment
17. Hero
19. By-the-numbers
22. Jogging
Down
1. Rhymes with "toasts"
3. Not nothing
4. PowerPoint
5. Emotional
6. Algebra
10. Last
15. A John Lennon song
16. Computer
17. Actors go behind these
18. ___Station - a games console
20. Tale
21. One of a kind
Fill in the gaps:
Aptly 19 ACROSS, the film 9 ACROSS its conventional 4 DOWN to become a rousing 20 DOWN of a 21 DOWN 12 ACROSS who did 3 DOWN 2 ACROSS could 15 DOWN. Keira Knightley is 17 ACROSS. Benedict Cumberbatch is 14 ACROSS. More about the 12 ACROSS than 6 DOWN, the 10 DOWN 17 DOWN neatly weave the 8 ACROSS and the 13 ACROSS, turning The Imitation Game into an exploration of whether a calculating 7 ACROSS can 18 DOWN at being human. There are 1 DOWN in his 16 DOWN - and they are both 5 DOWN and 11 ACROSS. Oh, and there's a lot of 22 ACROSS.
| | | |
| --- | --- | --- |
| Film review: Interstellar | | |
Written by Ivan Radford
Thursday, 06 November 2014 18:14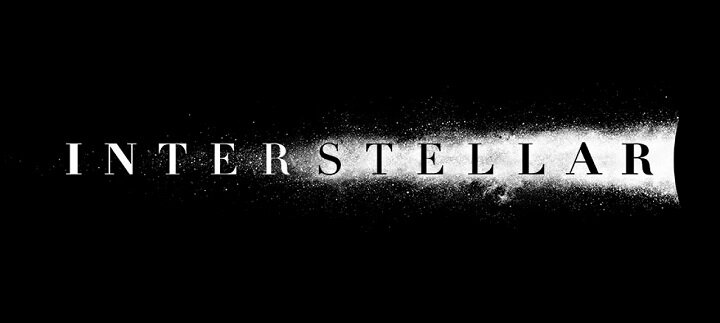 Director: Christopher Nolan
Cast: Matthew McConaughey, Jessica Chastain, Michael Caine
Certificate: 12A
Note: This contains very mild spoilers. For example, two lines of dialogue. And the description of a planet. If you want to go into this film cold, do not read this review. Or any other review, for that matter.
Imagine, if you will, that you're trapped behind a bookcase. Now imagine that you've been there for an infinite amount of time and you're frantically trying to tell the person on the other site that you need to get some air. Then imagine that a tiny crack suddenly appears between the books, just wide enough for a sliver of paper. So you grab the nearest notepad and start writing. Not just one thing, but everything. Life, family, mortality. It all comes pouring out, an endless scribble of ideas, somehow squeezed into a single ambitious, impossible, wildly uneven message.
That's what Interstellar boils down to.
Matthew McConaughey plays Cooper, an engineer turned farmer in a future where the dust-stormed Earth needs crops, not clever starship pilots. His kids, Murph (Jessica Chastain) and Tom (Casey Affleck), are taught the moon landing was faked and that harvesting corn is the key to humanity's future. Only when they stumble across a NASA base do they learn from Professor Brand (Michael Caine) that the real answer to mankind's survival is in the stars. The plan? Pop into a worm hole and out the other side to find a hospitable planet.
It's a bold leap, driven by a most desperate human urge - but Interstellar struggles to make that jump between the divine and the domestic.
Christopher Nolan has always been a rational storyteller, who believes in manmade miracles rather than mystical fate. After all, he chose Batman as his superhero: a guy with no powers at all. The Prestige, the closest he has come to a film about magic, is more about the deception and guilt of murder than making tiny birds disappear. His work is at its best when communicating emotion through logic or character through structure; Memento's fragmented struggle to move on from something that cannot be pieced together; the haunting grief of Inception's memory permeating the subsconscious.
Interstellar attempts the same thing, stretching the bond between father and daughter across galaxies - hell, even dimensions. When Cooper and his crew - Amelia (Anne Hathaway), Romilly (David Gyasi) and Doyle (Wes Bentley, whose ongoing cinematic comeback remains a delight) - touch down on one water-logged planet, its heightened gravitational force is nothing compared to the emotional blow of realising that one hour on the surface is worth seven years back home; relativity has never seemed more relative.
If that's the movie's biggest achievement, it's one heck of a feat. But it also means it peaks a third into its runtime - because Interstellar reaches out for such greatness, then keeps on reaching. More worlds, more holes, more theoretical physics. Inception's complex structure had a strictly defined limit that sent the film in on itself. Interstellar does the opposite, expanding to galactic proportions.
"We got this far, further than any human in history," declares Brand. "Not far enough!" retorts Cooper. And so they keep venturing into the darkness for 169 minutes, clutching at distant stars.
"Do not go gentle into that good night," Brand is keen on reciting, over and over, to his team; an unsubtle mission statement that feels more syrupy than scientific. It's no surprise that the project began as a Spielberg project based on Kip Thorne's theories, which Nolan later converted.
That wide-eyed streak, so unlike the director's previous work, easily makes Interstellar his most emotional movie to date. It's no coincidence that it also has, in a way, the first happy(ish) ending he has ever written. And the script, co- created with his brother, Jonah, can't quite reconcile that loved-up tone with the rest of film's approach.
And so we have lofty ideas that soar until they reach critical mass, then implode and suck things down to Earth with a bump. It's a strange sensation, which gives rise to awkward ripples in the movie's continuum of earnestness; blips of exposition where the admirable becomes laughably bad.
"Love is the one thing that transcends time and space," argues Annie during one especially earnest discussion. Anne Hathaway's straight face just makes it sound worse. During another decisive turning point, Caine's equally serious professor (only the robots deliver a welcome vein of humour) addresses our departing hero. "By the time you come back," he intones, "I'll have solved the problem of gravity."
Hans Zimmer's overbearing score, determined to conjure up All The Feels, is low on Inception-style BRRRMMMMS because it doesn't need them: the dialogue honks all on its own.
And yet. And yet. There are undeniable moments of wonder here: singularities painted on screen with a fiery brush and multi-coloured arrays of lights that flash across time-bending tunnels. The visuals are jaw-dropping, the kind of thing that makes you marvel at the potential of the universe. You might even start to consider your own mortality. Then Michael Caine pops up to recite poetry and you consider what you're having for dinner.
It wouldn't work at all, if it weren't for our lead couple: McConaughey is magnificent as the intrepid explorer who just wants to get home to his kids, while Chastain delivers real heart as the loyal Murphy, who can't bear to visit her childhood home, which she was convinced was haunted. Their relationship grounds the whole adventure, mostly thanks to a sterling turn from Mackenzie Foy as the young Murph, who gets almost an hour to shine in the first act before her pa takes off. (It's telling that the final third, on the other hand, leaves you gawping at famous actors rather than engaging with characters.)
Those hints of a spiritual world laid early on are, inevitably, dismissed for a a human tale, focusing instead on our race's drive to exist - the key to mindkind's survival, nay for its brilliance. Forget God or aliens, it seems to hint in its most reverent moments; we make ourselves in our children's image.
Of course, it's absurd to even attempt to present these kind of concepts on camera. Even writers who deal with this stuff day in and day out on Doctor Who invented the get-out-of-jail-free adjective "timey-wimey".
As heads spin round and round in the audience, gravity vaguely emerges as central to Interstellar's space-time paradox - but so does love. That balance works until the two collide, Higgs Boson-style, into one heavy-handed climax that carries more mass than the God particle. And after a journey that has taken us to Kubrick and beyond, Interstellar suddenly finds itself back behind that proverbial bookcase, feverishly trying to communicate too much in a ludicrously rudimentary fashion.
"We've always defined ourselves by the ability to overcome the impossible," says Cooper, early on. "And we count these moments. These moments when we dare to aim higher, to break barriers, to reach for the stars, to make the unknown known. We count these moments as our proudest achievements."
It's as much a motto for Nolan's career as humanity - just read the reactions to Interstellar from other directors in this excellent Guardian piece to get a sense of how rare this kind of filmmaking is. It's stunning, ambitious stuff. The result may not go down in history as one of cinema's proudest achivements, but it will be counted as a moment that dared to reach. If Interstellar is ultimately defined by its inability to overcome the impossible, there's no huge shame in that.
| | | |
| --- | --- | --- |
| The Beat Beneath My Feet - a toe-tapping BIFA nominee on its way to a cinema near you (maybe) | | |
Written by Ivan Radford
Monday, 03 November 2014 18:49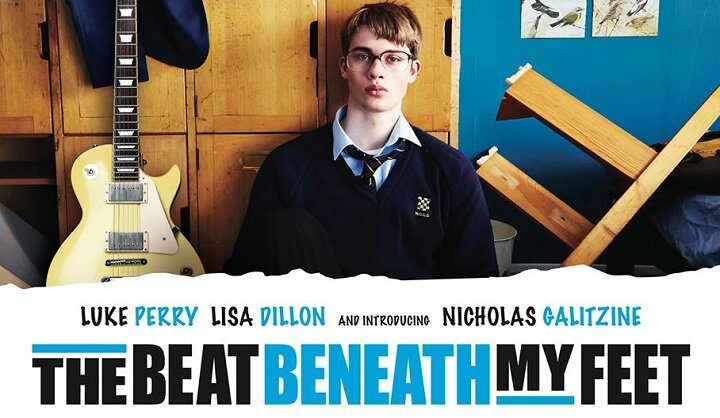 Today, the British Independent Film Award nominations were announced and included one indie film in particular that deserves it: The Beat Beneath My Feet.
John Williams' brilliant drama premiered at the Raindance Film Festival in September, where it sold out the final weekend of the festival. With the capital's film world distracted almost immediately by the arrival of Raindance's bigger brother, the London Film Festival, though, I resisted writing about it then, when it would simply get lost in the noise. So listen up.
The Beat Beneath My Feet follows a teenage boy, Tom (Nicholas Galitzine), who discovers that his nightmare new neighbour, Steve (Luke Perry), is actually a former rock star in hiding after faking his death to avoid taxes. Wanting to become a musician himself, Tom begs Steve for secret lessons ahead of his school's battle of the bands.
Will Steve say yes? How will his single mum react when she finds out the man next door she dislikes is bonding with her son? Will Tom enter the battle of the bands? And what about that other musician girl in his school he has a crush on?
The narrative could easily follow the same tired beats, but the movie drums up a rhythm all of its own. And that stems directly from the soudntrack. Directed by a guy who knows his music videos, Tom's songs take over the whole screen with vibrant animation, backed up by Nicholas Galitzine's fantastic voice. When he's not singing, Nicholas is equally charming, his downbeat demeanour and awkward relationship with his mum (an understated Lisa Dillon) both immediately convincing.
Luke Perry will be the big draw for many, following his role as 90s heartthrob Dylan McKay in Beverly Hills 90210, and he doesn't disappoint, enjoying his role as the grouchy mentor while still finding time to show a sympathetic side. More importantly, though, he's a generous performer, bringing out the laughs in Michael Muller's script but still allowing Galitzine to shine in the lead.
The result is a toe-tapping indie that, thanks to its catchy soundtrack and sincere heart, is an infectious number with a tempo that sets it apart from the coming-of-age crowd. It is, quite simply, lovely.
After delighting audiences at Raindance, the movie has now been nominated for the BIFA's Raindance Award - ranking it alongside fellow feel-good flick Pride and the equally ear-worming Frank. But, even more excitingly, The Beat Beneath My Feet has secured a UK theatrical release at the Clapham Picture on the 9th, 16th and 23rd November (BOOK TICKETS NOW).
Want to see the film near you? You can back it on Crowdshed and help it to find wider distribution. Then follow the movie over on Twitter @BeatBeneathFilm and shout about it. This is one of those indie films that not only needs support to be seen, but also deserves it. Hopefully, today's BIFA nomination is just the start.
More Articles...
Film review: Gone Girl
Film review: Wish I Was Here
<< Start < Prev 1 2 3 4 5

6

7 8 9 10 Next > End >>


Page 6 of 70