Star Ratings
| | |
| --- | --- |
| | Amazing |
| | Well good |
| | Fun |
| | Meh |
| | Rubbish |
| | | |
| --- | --- | --- |
| Film review: Birdman (or the Unexpected Virtue of Ignorance) | | |
Written by Ivan Radford
Thursday, 01 January 2015 12:18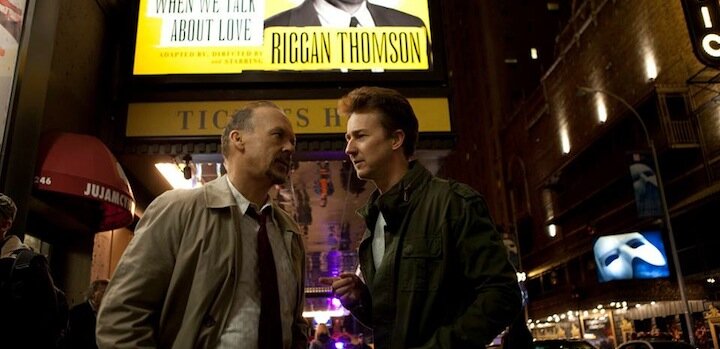 Director: Alejandro González Iñárritu
Cast: Michael Keaton, Emma Stone, Zach Galifianakis, Edward Norton, Naomi Watts, Andrea Riseborough
Certificate: 15
"You're doing this because you're scared to death, like the rest of us, that you don't matter! And you know what? You're right."
That's Sam (Emma Stone) to her dad, Riggan (Michael Keaton), a washed-up superhero movie star who is trying to prove his artistic relevance by adapting Raymond Carver's What We Talk About When We Talk About Love for the stage.
Riggan is surrounded by equally desperate creatives, from his concerned producer, Jake (Zach Galifianis), to his lover and supporting actress, Laura (Andrea Riseborough). As he rushes around backstage, things go disastrously wrong. So when an actor gets hit on the head by a falling stage light, that's the least of his worries.
Enter emergency replacement Mike Shiner (Edward Norton), partner of Riggan's leading lady, Lesley (Naomi Watts), and a performer obsessed with finding 'truth' in his work. "Popularity is the slutty little cousin of prestige," he declares smugly at the director, before swigging gin live on stage.
Norton is perfect as the pretentious ass. From his fondness of getting naked right down to his delicately coiffed hair, this is the kind of supporting role Oscars are made for. But while he - and the whole production - could settle for being a funny theatrical farce, a la Noises Off or Bullets Over Broadway, Birdman sets its sights higher.
The opening makes that clear: a long shot of Michael Keaton in his pants in his dressing room, hovering in mid-air. Remarkably, Batman floating in his undies is the least abnormal thing about it: that single take appears to unspool over the rest of the film, as Emannuel Lubezki's deceptively complex camera ricochets around the building, following every one and every thing in a seemingly improvised manner. All the while, Riggan hears a voice in his head from his costumed alter-ego (complete with beak and feathers). "You're above them," Birdman bellows, in the gruff tone of a comic book icon. Then he makes things move around the dressing room with his mind.
Alejandro González Iñárritu's script (co-written with Nicolás Giacobone, Alexander Dinelaris and Armando Bo) revels in muddying that line between fact and fiction. When one cast member reaches the end of their tether and clambers out on the roof of a building, the response from onlookers is cynicism not shock: "Is this for real or are you shooting a film?" shouts a half-bored neighbour. The ensemble lives in the void between the two extremes - between arrogance and delusion - not because they're mentally unhinged, like Riggan, but because they're in showbiz. Which, Birdman argues, is pretty much the same thing.
Led by a soaring Michael Keaton, the cast are fantastic at sending themselves up, but there are hints that the problem spreads outside the theatre: the celebrity-obsessed public are part of this hype-filled madness, whipped up by Facebook, Twitter and YouTube. So are stuffy critics, who have already made up their mind about what they're about to review. Iñárritu doesn't just stick his finger up at self-centred stars or snobby journos: he sticks his finger up at everyone in the entertainment industry. At a time where formulaic comic book blockbusters seem to be out every week, Birdman, you sense, doesn't dream of being the film Hollywood wants, but the film it deserves.
And yet all these potentially pretentious rumblings remain consistently hilarious, delivered by the director with a lightness of touch and tone. Is this really the same filmmaker who brought us the heavy-handed Babel?
As the chaos unravels, leaving us increasingly uncertain of what's actually happening, events are accompanied by an ever-evolving drum score by Antonio Sanchez. It refuses to settle into a regular pattern, at times emphasising a dramatic crash or responding to a funny joke. It's the perfect match for this bunch of thesps; self-indulgent, amusing and thrillingly unpredictable. The barmy end product is scathingly sharp but bursting at the seams with uncontrolled ideas; a satirical screenplay that echoes the meltdown of its own middle-aged movie star.
Does Birdman have all the answers, or a point beyond its own pointlessness? No, but that's all it needs to drum home its exploration of fame and prestige - and, more importantly, entertain throughout. There's so much to enjoy here that your foot keeps tapping, even as your mind is reeling. Edited to highlight its own superficial fakery, Birdman is a sublimely catchy riff on ego and art in the modern age. The rhythm changes. The beat goes on.