Star Ratings
| | |
| --- | --- |
| | Amazing |
| | Well good |
| | Fun |
| | Meh |
| | Rubbish |
Cinema reviews
| | | |
| --- | --- | --- |
| Film review: X-Men: Days of Future Past | | |
Written by Ivan Radford
Thursday, 22 May 2014 13:20
Director: Bryan Singer
Cast: James McAvoy, Michael Fassbender, Patrick Stewart, Ian McKellen
Certificate: 12A
What is X-Men: Days of Future Past? A sequel? A prequel? In case you haven't guessed from the title, it's a bit of both. Or, perhaps more accurately, neither.
It begins with a spectacular set piece that brings together a host of familiar mutant faces, plus another - Blink - who can create teleporting windows at will. Intricately designed and wittily choreographed, she sends characters under, over and back on themselves, building up momentum before they dispatch a killer blow to an army of giant robots. It's like watching someone play Portal.
Read more...
| | | |
| --- | --- | --- |
| Film review: In Secret | | |
Written by Ivan Radford
Friday, 16 May 2014 13:42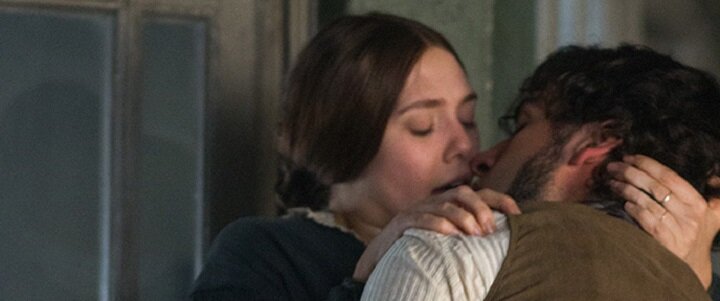 Director: Charlie Stratton
Cast: Elizabeth Olsen, Oscar Isaac, Tom Felton, Jessica Lange
Certificate: 15
It is approximately 30 minutes until the first bodice is ripped open in secret in In Secret. If the clumsiness of that sentence bothered you, take heed. If you perked up at the words "bodice" and "ripped", this is a film for you.
Read more...
| | | |
| --- | --- | --- |
| Film review: The Wind Rises | | |
Written by Ivan Radford
Friday, 09 May 2014 13:25
Director: Hayao Miyazaki
Cast: Joseph Gordon-Levitt, John Krasinski, Emily Blunt
Certificate: PG
The Castle of Cagliostro. Porco Rosso. Howl's Moving Castle. It's no secret that Hayao Miyazaki really loves his planes. The Wind Rises, then, a fictionalised biopic of aviator Jirô Horikoshi, is a fitting final film from the director. It may not be his own life story, but it's certainly his most personal movie to date.
"Artists are only active for 10 years." That's Caproni, Jiro's Italian aviation inspiration, who appears regularly to the young designer in vivid dream sequences. These literal flights of fancy aside, The Wind Rises is notable for its down-to-earth realism compared to many other Studio Ghibli adventures. Earthquakes, heartbreak and poverty all make an appearance - a far cry from the Catbus of Totoro.
Jiro, though, is unmistakeably a Hayao hero. Called up to make planes for the military, he finds himself in moral dilemma. Like Howl's Moving Castle, wanting to show off airborne conflict while condemning armies, the young engineer is caught in the director's usual struggle between good and bad, pacifism and conflict, humans and nature. It is fitting that his plans involve the Mitsubishi A6M Zero fighter, an agile bird-like sliver of silver designed to glide not drop bombs on civilians.
Competing with his ambitious friend, who has no qualms about mounting weapons on his wings, we also follow his attempts to woo Nahoko Satomi, a girl he encounters on a train. The events stretch decades of Horikoshi's life, not writ large on a kids tapestry but painted across a sweeping palette, like an epic drawn by David Lean. It's a beautiful reminder that animation is a form, rather than a genre; Disney wouldn't have the balls to make this.
It's not a completely smooth ride. The romance doesn't always work thanks to the movie's unabashed sentimentality and on-the-nose dialogue, but that's a quality that has always defined the maestro's work; an earnestness to embrace childlike imagination. That same creativity is what you presume ties Miyazaki to his protagonist. The 126-minute runtime is peppered with stunning moments that see Jiro's designs spring into the sky, detailed etchings given colour and life. Lifted by Joe Hisaishi's music, they soar as high as anything Ghibli has done.
The flight is occasionally brought back down to earth by the slightly wonky narrative, dictated by history more than Hayao's literary adaptations (this is based on his own manga about Horikoshi). That misshapen quality only makes the project feel more personal, though. The craft lacks the polished perfection of Spirited Away but has something honest that slips through the cracks in the fuselage: a glimpse of a young Miyazaki scribbling furiously as he pictures his drawings leap off the page.
"Artists are only active for 10 years," Caproni tells the young boy. "Make the most of them."
Hayao certainly has. Five times over.

| | | |
| --- | --- | --- |
| Sundance London film review: Dinosaur 13 | | |
Written by Ivan Radford
Monday, 28 April 2014 17:24
Drector: Todd Douglas Miller
Cast: Peter L. Larson
Not seen Dinosaurs 1 through 12? That doesn't matter: neither has anyone else. Until Sue was discovered by Peter Larson in the South Dakota desert, there had never been a complete T-Rex skeleton found. The dozen before it were impressive, but Sue? She was the real deal. Dinosaur 13 tells her story.
That doesn't mean CGI Jurassic flashbacks and Disneyfied voice overs: that means fossil brushes, labelled body parts and tiny hammers for chipping away at rock. Dinosaur 13 brings the dead to life without any need for John Hammond or InGen's technology. This is paleontology, baby - and if you like the sound of that, you'll love this.
It turns out, though, that the dino business is a lot more complex than just digging bones up and giving them to museums: it's an actual business. With rare fossils up for grabs, it's not just academics after them, but commercial traders too. That's where Pete and his Hill City Institute come in: they buy and sell fossils. But who has the right to own them? What happens if the bones are dug up on state-owned land?
Less Tyrannosaurus and more "Doyouthinkhe'llsueus?", Todd Douglas Miller's documentary plays like a thriller; chapter-like bursts of exposition unfold in chronological order, with knowing narration and cliffhanger reveals interrupted by repeated fades to black, all powered along by a metronome-like score.
Dinosaur 13 benefits from such an unusual subject matter, but while legal battles lead to unexpected (and shocking) places, Miller digs up the personal struggle faced by Larson and his team; this is an emotional as well as a factual excavation. Combined with some beautiful landscape shots and classily shot recreations (starring Peter's son as a younger him), the overall effect is a gripping and entertaining ride; like a low-tech prequel to Jurassic Park. If it were directed by Ross from Friends.

Dinosaur 13 is released in UK cinemas in August this year. For more information, stomp on over to http://dinosaur13movie.com/.
| | | |
| --- | --- | --- |
| Film review: After the Night (Até Ver a Luz) | | |
Written by Ivan Radford
Friday, 25 April 2014 06:35
Director: Basil de Cunha
Cast: Pedro Ferreira
Certificate: 15
"Go out during the day! Even just for a while. Among all those who've given up, you're just another face."
After the Night (Até Ver a Luz) is a thriller set in the dark corners of Lisbon. The problem is that isn't very thrilling.
Pedro Ferreira plays Sombra, a cash-strapped, dread-locked loner who slopes between the shadows of the Portuguese capital. He doesn't go out in the day. He owes a drug dealer a lot of money. And his only companion is an iguana. He sounds like a colourful chap, but Basil de Cunha's film, which follows his attempts to balance his books, is a strangely bland affair.
The film rolls around in the the grit and grime of Lisbon's slums, a world of tin roofs, collapsed walls and violent drug dealers. de Cunha shoots events with authentic immediacy, right down to using non-actors in every role. When Sombra and his aunt bicker about whether he will see a priest to cleanse him of his darkness, that semi-improvised style works. But step into the streets and the screen soon fills with a sea of gangsters, all shouting over each other in endless arguments: it may be truthful, but it's also tiring.
The use of diegetic music from local musicians, who intimidate and encourage Sombra's rogue actions in equal measure, adds to the realism - Portugal, you remember, is in the dark itself, emerging from the eclipse of the eurozone crisis. As Sombra finds himself edging into the light after the night, you get the sense that de Cunha is reaching for something deeper, but never quite grasps it.
"Among all those who've given up, you're just another face," says one hoodlum to Sombra as he passes over a treasured gas lamp. Among all those other movies that exist in the wake of City of God, After the Night feels just like that. The setting is striking, but it's telling that the location is more interesting than the characters.

| | | |
| --- | --- | --- |
| Film review: We Are the Best! | | |
Written by Ivan Radford
Saturday, 19 April 2014 11:50
Director: Lukas Moodysson
Cast: Mira Barkhammar, Mira Grosin, Liv LeMoyne
Certificate: 15
I have never been in a punk band. Neither have Bobo (Barkhammar) or Klara (Grosin). But that doesn't stop them. Heading to their local Stockholm rec centre, the young teenagers grab a bass guitar and a drum set and immediately start rebelling.
What are they rebelling against? Anything they can find. They start with P.E. classes, where the pair resent being told to join in with a game of basketball. "Children in Africa are dying / All you care about is balls flying", they declare, then giggle excitedly at their rhymes. These lyrics (including a couplet made up of "morgue" and "Björn Borg") form the basis of their signature anthem: Hate the Sport.
"Hate the sport!" they yell over and over, banging the instruments loudly. The fact that they can't play them simply doesn't matter. They sound dreadful, adorable - and 100% real.
Read more...
| | | |
| --- | --- | --- |
| Film review: Locke | | |
Written by Ivan Radford
Friday, 18 April 2014 13:55
Director: Steven Knight
Cast: Tom Hardy, Olivia Colman, Ruth Wilson
Certificate: 12A
The name Ivan Locke is said 53 times in Locke. That's almost once a minute. But while an hour and a half of Tom Hardy saying the name "Ivan" may not sound like your idea of a perfect night out, trust me (as someone called Ivan): it is. Because that's exactly what Steven Knight's film is about: one man's name.
Read more...
| | | |
| --- | --- | --- |
| Film review: The Raid 2 | | |
Written by Ivan Radford
Thursday, 10 April 2014 06:35
Director: Gareth Evans
Cast: Iko Uwais
Certificate: 15
The Raid 2 is not the greatest action movie of all time. It's not even as good as The Raid.
Gareth Evans blew people away in 2011 with his stripped-down action masterpiece. His sequel is bigger, bolder and longer - by a whole 50 minutes. As a result, it loses some of its punch.
Read more...
| | | |
| --- | --- | --- |
| Film review: The Double | | |
Written by Ivan Radford
Friday, 04 April 2014 06:24
Director: Richard Ayoade
Cast: Jesse Eisenberg, Mia Wasikowska, Wallace Shawn
Certificate: 15
Richard Ayoade captured hearts when Submarine surfaced a few years ago with a warm, funny tale of young romance. A word of warning: this is not that. Based on a Dostoevsky story of the same name, The Double sinks to much darker depths, a cooler, stylised place where things are detached and faintly surreal.
Read more...
| | | |
| --- | --- | --- |
| Film review: Noah | | |
Written by Ivan Radford
Thursday, 03 April 2014 08:07
Director: Darren Aronofsky
Cast: Russell Crowe, Jennifer Connelly, Emma Watson, Logan Lerman, Douglas Booth, Ray Winstone
Certificate: 12A
Everyone knows Noah. The tale of an ancient cataclysmic flood is embedded in civilisations the world over, regardless of creed or culture - it's a story that resonates with humanity, one that bears retelling.
Does that mean it's true? Is it a literal tale from the heavens? An account of historical fact? A metaphorical illustration produced by the church? Whose story is it? Ours? God's?
The latest interpretation from Darren Aronofsky is both, or neither. It is at once secular yet religious; faithful yet liberal.
Read more...
| | | |
| --- | --- | --- |
| Film review: Captain America: The Winter Soldier | | |
Written by Ivan Radford
Friday, 28 March 2014 07:46
Directors: Anthony Russo, Joe Russo
Cast: Chris Evans, Robert Redford, Scarlett Johansson, Samuel L. Jackson
Certificate: 12A
"Realism" isn't a word you really use when talking about comic book movies. This is a world where people shoot each other on a giant helicarrier in the sky - while other people fly around wearing robot wings. But Captain America 2 is just that.
Read more...
More Articles...
Film review: Starred Up
Film review: Under the Skin
Film review: Ironclad 2: Battle for Blood
Film review: The Zero Theorem
Start Prev 1 2 3 4 5 6 7 8

9

10 Next > End >>


Page 9 of 70