Star Ratings
| | |
| --- | --- |
| | Amazing |
| | Well good |
| | Fun |
| | Meh |
| | Rubbish |
| | | |
| --- | --- | --- |
| Taking Woodstock | | |
Written by Ivan Radford
Friday, 13 November 2009 15:08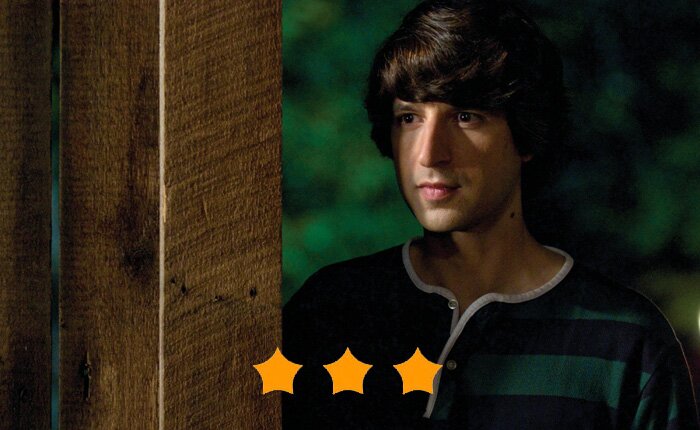 Director: Ang Lee
Cast: Demetri Martin, Jonathan Groff, Emile Hirsch, Imelda Staunton, Eugene Levy, Liev Schreiber
Certificate: TBC
It's not easy being an interior designer. Especially when you live with your parents run-down motel in White Lake. Putting bleach in the swimming pool, leaving semi-dirty sheets; these are the chores that make up the life of Elliot Tiber (Martin). Frustrated and repressed, he renews a $1 license to stage his yearly music festival (a few LPs on the lawn). Little does he know that he'll bring about a concert that will define a generation.

It all comes to pass when Michael Lang (Groff) strolls into town. Strolls in on his helicopter. Woodstock was meant to happen in Walkill, but when that fell through due to local opposition, Lang's only too happy to take up Tiber on his offer of a venue. The locals in White Lake aren't too happy about it either. Still, the plans go ahead, with Max Yasgur (Levy) and his farm leading the way. Soon, the whole Woodstock team are staying at the Tiber's El Monaco Resort, throwing money at Elliot's mother, Sonia (Staunton), and making free love all over the forest.

It's a likeable little thing, Ang Lee's latest. Reliving a time of peace, drugs, sex and music, it has loads of the first three, but misses a lot of the latter. It's never really explained why, but there's almost no music in the film at all. Flitting around behind the scenes, taking in the chaos, confusion and cute goings-on, it shirks the concert completely, leaving just a few songs on the soundrtrack. Taking Woodstock? It could easily be Taking the 1969 Conservative Party Conference.

You don't get to see the festival or hear the bands. What you do get is the hammy Imelda Staunton putting on her most Jewish accent - storing cash in the cupboard, charging extra for towels, James Schamus's script doesn't shy away from stereotypes. He even puts in your typical Vietnam vet with Elliot's friend Billy (Hirsch), who wanders around mugging at the trees and any loud noises; it's a waste of Emile, but at least he's enjoying himself.

Then, just as things look to get dull, it throws in a curveball. After the out-of-town Mafia pay the El Monaco a visit, the Tiber family are in need of security. Who are they going to call? Vilma, a gun-toting drag queen - an absolutely hilarious cameo by Liev Schreiber. Playing the part completely straight, he swaggers through Woodstock's second half in a slinky pink number, winking at Elliot's father and drinking from a hip flask. Hinting at Elliot's true sexuality, he doesn't just steal the scene, he runs off with the entire movie.

Once he's taken Woodstock away, you realise how little point the whole thing had in the first place. Ang Lee knows how to use a camera, he works well with actors, but what is an Oscar-winning director doing in the fields of White Lake? He's not making a rock and roll concert, that's for sure.

VERDICT

Taking Woodstock is the perfect tribute to the 60s; harmless, hard to remember, and heavily improved by the presence of an armed transvestite.
Your rating
( 1 Vote )
Tags:
ang lee
emile hirsch
eugene levy
festival
imelda staunton
jonathan groff
liev schreiber
music
taking woodstock
woodstock