Star Ratings
| | |
| --- | --- |
| | Amazing |
| | Well good |
| | Fun |
| | Meh |
| | Rubbish |
| | | |
| --- | --- | --- |
| 2012 | | |
Written by Ivan Radford
Friday, 13 November 2009 13:41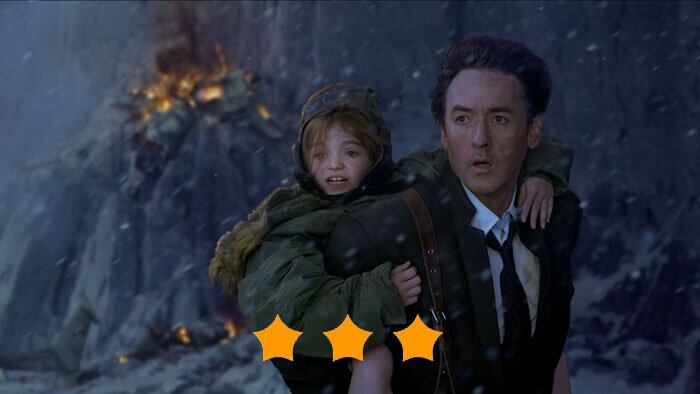 Director: Roland Emmerich
Cast: John Cusack, Danny Glover, Chiwetel Ejiofor, Amanda Peet, Thandie Newton
Certificate: 12A
Trailer/Clips
The Mayans saw it coming - the most preposterous piece of exposition ever. It works for anything. The credit crunch? The Mayans saw it coming. The X Factor? The Mayans saw that coming. Matt Smith as Dr Who? Richard & Judy? The Mayans saw them coming too. So who can blame Roland Emmerich for using that flimsy line to justify his latest piece of destructo-porn? It's 2012. Screw the Olympics. There's a new show in town. It's the end of the world.

Joining Roland for the ride are Jackson Curtis (Cusack), a loser/author whose semi-published book failed to keep his marriage to Kate (Peet) alive, Adrian Helmsley (Ejiofor), a handsome, naïve government scientist, the President of the United States (played by Danny "I'm too old for this sh*t" Glover), and his conveniently attractive daughter, Laura (Newton). Guess who'll be bunking with whom when repopulation starts.

Of course, before the free-for-all hits full swing, there's the tiny matter of global annihilation to get out of the way. That's no problem for Roland – he's king of blowing the Earth up. Throwing pixels upon pixels at his processing units, the master of CGI carnage has outdone himself here. Colossal tidal waves, collapsing skyscrapers, liquid hot magma; there's nothing quite like watching the world get wiped out by Photoshop.

That's always part of the problem: there's only so much green screen your eyes can take before you notice the shiny surfaces and the perfectly rendered corners of Emmerich's Armageddon. Sure, he dumps some humans in the way, but there's no real narrative, just a before and after sequence for every major landmark. It's an extended episode of What Happens When Buildings Fall Down; even the Sistine Chapel gets a look in.

But the effects for the most part are impressive to behold. Never backing away from atrocity, the B-movie blockbuster is bold enough to show the full scale of destruction; as planes weave implausibly between office blocks and billowing smoke, 2012 cheekily lingers to show the millions of people plummeting to their deaths.

Shoving the horror bluntly in your face, at times it's hard not to laugh as emotional phone calls keep getting cut off by screaming and loud bangs; yes, while everyone falls to their doom, the mobile phone networks are still working. Avoiding extinction? There's an app for that. Ladelling on syrupy soap opera stuff at the last minute, 2012 tries to give it all a human heart. But as the writer redeems himself and an evil rich Russian meets a hilariously sticky end, you wonder why they bother. At two and a half hours, no-one expects subtlety or substance. We just want the sheer excitement of total world demolition. And Emmerich doesn't disappoint.

VERDICT

Spectacularly brain-dead entertainment. But we already knew that – the Mayans saw it coming.
Your rating
( 3 Votes )
Tags:
2012
danny glover
john cusack
mayan