Star Ratings
| | |
| --- | --- |
| | Amazing |
| | Well good |
| | Fun |
| | Meh |
| | Rubbish |
| | | |
| --- | --- | --- |
| Gamer | | |
Written by Ivan Radford
Friday, 18 September 2009 10:02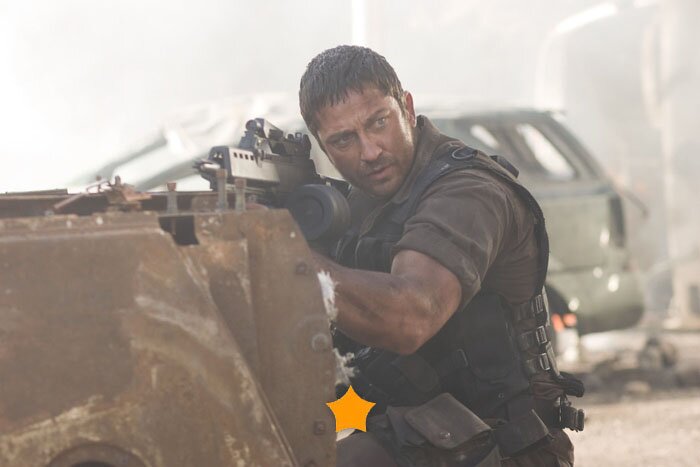 Directors: Mark Neveldine, Brian Taylor
Cast: Gerard Butler, Michael C. Hall, Amber Valletta
Certificate: 18
Taylor and Neveldine. Neveldine and Taylor. The self-styled action auteurs who brought us the ultra-violent, ultra-naked, ultra-pointless Crank 2. Now, with Gamer, even they have topped themselves. It's the near future, and thousands of death row prisoners duel in an online deathmatch, Slayers, slave to those holding the joysticks on the outside. Kable (Butler), king of the tournament, has survived 28 games. If he makes it to 30, he gets his freedom. It almost sounds like a plot.

Created by Ken Castle (Hall), the computer-based carnage has conquered the world: if you're not watching the game, you subscribe to Society, a simulation through which people can control others who have volunteered their bodies to the scheme. One such sorry soul is Angie (Valletta), Kable's wife. He wants to free her, and escape from Slayer. Oh, and he's innocent, too. Is that enough character stuff for you?

It is for Neveldine and Taylor. Ripping off Rollerball, Death Race, and even The Matrix, Gamer is their unique take on everyone else's ideas. Who else would show close-ups of nude women in between bits of bloody violence? Neveldine and Taylor would. Who would mash all this crap together, cramming it into your eyeballs at lightning speed? Neveldine and Taylor would.

At the front of it all, Gerard Butler is in manly mode, growling and growing facial hair whilst shooting people in the face. "Who aims? The player or the Slayer?" asks a prison guard. "I'm just the hands. Someone else is the eyes." It's less acting and more grunting, really. As for the dance sequence dust-up, in which Dexter's Hall does I've Got You Under My Skin, that's just weird. But it's all par for the course for the directing duo.

Taking a topical trend and treating it with sex, bloodshed and Very Loud Music, you can see what they were trying to do: make a rubbish movie. And crash my PC, what do you know? They succeeded. This is 95 minutes of mindless, un-satirical faeces. You'd have more fun if you covered a PS3 in vaseline and rammed it up your rectum. The slimline version, that is.

VERDICT

Gamer follows the formula for Neveldine and Taylor's high-concept creations: big guns, big noise, big breasts. Big pile of shite. 
Your rating
( 1 Vote )
Tags:
crank
crank 2
death race
dexter
gamer
gerard butler
guns
michael c hall
neveldine
player
review
slayer