Star Ratings
| | |
| --- | --- |
| | Amazing |
| | Well good |
| | Fun |
| | Meh |
| | Rubbish |
| | | |
| --- | --- | --- |
| Fish Tank | | |
Written by Ivan Radford
Friday, 11 September 2009 16:24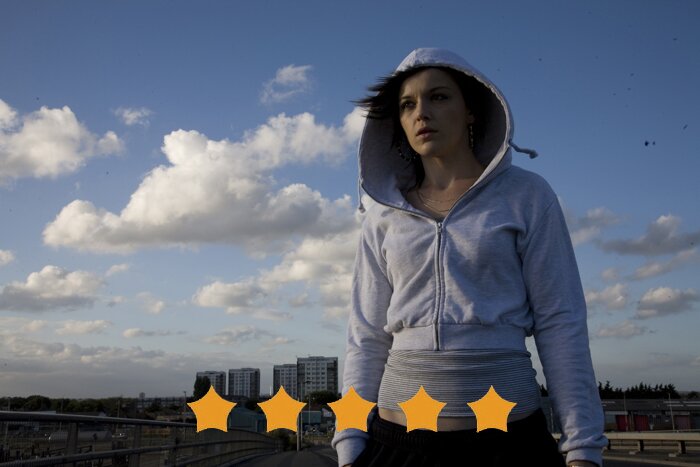 Director: Andrea Arnold
Cast: Michael Fassbender, Kierston Wareing, Katie Jarvis, Charlotte Collins
Certificate: 15
If it's one thing British cinema is good at, it's kitchen sink dramas. But as our auteurs age with time, who in this modern society can take up the mantle? Step forward, Andrea Arnold, Oscar-winning Brit with a taste for the grit - if you want the kitchen sink, you bet your life she'll throw one at the camera.

Trapped in a tower block off the A13, Mia's (Jarvis) boxed in broken family are too busy bitching to bond with each other. When it comes to feelings, hatred is the order of play. Drinking comes a close second. So when mum (Wareing) brings home a new boyfriend, Connor (Fassbender), the 15 year old's response is pretty much a given - she hates him. Except for one thing: he's actually rather nice.

Sweary, sensitive and ruggedly handsome, it's hard not to fall for Fassbender's fella. Mia certainly does. Rooting through his wallet, she finds something that stops her search dead - a paycheck. This man, a father figure for the teen, has a proper job. Will he bring her a proper family too?

Encouraging her to dance, he takes an interest in what she does, even if it is inappropriate ("You dance like a black girl. That's a compliment.") By the time they're fishing feet-first in the river, the pseudo-paternal sexual tension has got a strong current of its own. Splashing around in the mud off the motorway, it's a moment of near-sensual awakening. As he tends to her cut ankle, you can tell it's only a matter of time before it all comes to a head.

Subtly acted by a striking ensemble, the screenplay's natural tone is befitting of the next Ken Loach. Apparently Andrea found Katie Jarvis shouting at a train station - the sincerity of her anger is never lost on us once. It's shot beautifully as well, the Constable-esque countryside of Essex contrasting wonderfully with the closed-in council flat. Taking a dark unexpected turn in Tilbury, this is a captivating tale of a working class clash. It's so real, it's like watching a documentary - one by a seasoned, mature director. Not someone's second feature. Behind the lens, Arnold easily proves she's a phenomenal film-maker.

VERDICT

Incredible talent makes this a brilliant British film. Fish Tank is something you'll want to stare into for hours.
Your rating
( 2 Votes )
Tags:
academy award
andrea arnold
british
elektra complex
essex
father
fish tank
flat
katie jarvis
oscar
review