Star Ratings
| | |
| --- | --- |
| | Amazing |
| | Well good |
| | Fun |
| | Meh |
| | Rubbish |
| | | |
| --- | --- | --- |
| Broken Embraces | | |
Written by Ivan Radford
Friday, 28 August 2009 16:54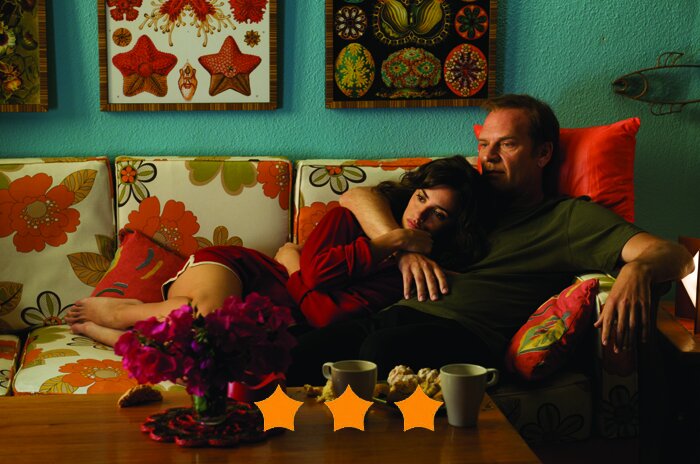 Director: Pedro Almodóvar
Cast: Penélope Cruz, Lluís Homar
Certificate: 15
Pedro's back, as is Penélope, as the man and his muse bring us a tale of a director and an actress who fall in love. Didn't see that one coming. A slow-burning, sensual story, Broken Embraces is a showcase for Spain's superb talent. It's just a shame neither are at their best.

Harry Caine (Homar) is a blind screenwriter, troubled by a past shrouded in his pseudonym. When the son of deceased acquaintance Ernesto Martel turns up on his doorstep, demanding that he make his film, Harry's hidden life resurfaces, revealing a romance gone wrong. An affair with actress Lena (Cruz), on the set of Girls and Suitcases, back when he was a director known by another name: Mateo Blanco.

A sad tale of a lost life and love, Broken Embraces has an engaging, if unsurprising, plot. Looking back at their fling, we see the fractured life Lena leads, torn between Ernesto, her benefactor husband, and the fiery filmmaker, Mateo. Caught on camera by Ernesto's son, documenting the making of Suitcases - a playful reworking of Almodóvar's own outrageous black comedy, Women on the Verge of a Nervous Breakdown - the shoot is sabotaged by Ernesto, who completes the project with the worst of each take.

Visually sumptuous with stellar performances, Almodóvar's movie takes Hollywood history and wallows in it. But for all the shades of Douglas Sirk and Hitchcock, it's let down by its self-indulgent script. Clocking in at over two hours, the flashback framework is sophisticated, if convoluted; a neater present-day would have let the lead story light up the screen even more. As it is, the minor revelations, when they come, are sadly predictable. A man with a hidden past that's not well hidden, a secret identity that everyone seems to know - the mystery he crafts in the enigmatic opening is a little underwhelming.

Still, the connection between his central couple is undeniably engrossing. As the love affair continues between director and leading lady, it's hard not to be absorbed - this is Cruz at her most adorably vulnerable. Returning to the rushes of their failed film, Mateo's longing for a restored history is a touching tribute to the potential that film has. As with many directors of a certain age, Almodóvar's latest is in many ways a love letter to cinema. But unlike Women, or the masterful Volver, this has no tightness of structure. Beautifully shot, with a sombre streak, this melancholic movie is at times magical, and at times meandering.

VERDICT

A wandering, wonderful piece, which runs too far from its own reach. But for all its flaws, there's no denying: looking through Almodóvar's lens, Penélope is an absolutely gorgeous actress.
Your rating
( 1 Vote )