Star Ratings
| | |
| --- | --- |
| | Amazing |
| | Well good |
| | Fun |
| | Meh |
| | Rubbish |
| | | |
| --- | --- | --- |
| Adventureland | | |
Written by Ivan Radford
Friday, 11 September 2009 12:43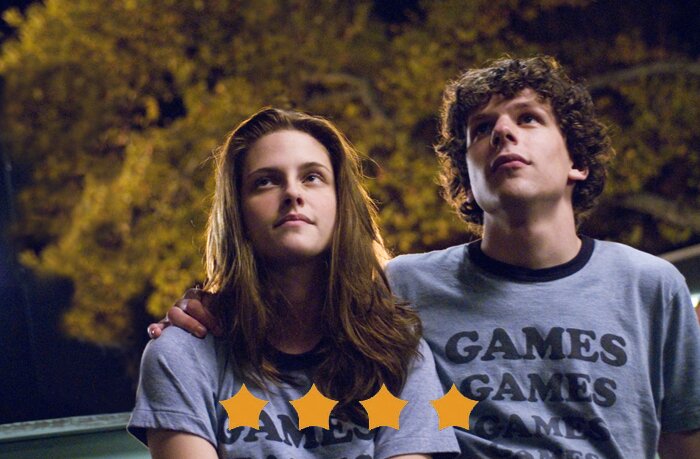 Director: Greg Mottola
Cast: Jesse Eisenberg, Kristen Stewart, Bill Hader
Certificate: 15
Trailers / Clips

You ever get the feeling that a film is completely based on your life? No surprises, then, that Adventureland was based on Greg Mottola's own coming-of-age experiences. His last film, Superbad, was a shallow, sex-driven cock-fest. Out of Judd Apatow's shadow, his own writing, thankfully, is far more mature.
It's your standard geek-gets-girl set-up, a la usual Apatow fare. But unlike 40 Year Old Virgin or Knocked Up, these people are actual geeks. The type who say things like: "You don't want 'virgin' to be your signifier" "You only took 3 semiotics classes!" This is the kind of territory where people have a degree in Renaissance Studies, and "Nimrod" is a valid insult.
Recent graduate James (Eisenberg) is in for a culture shock, then, when his plans for a Europe trip fall through, leaving him with one choice: a summer job. Cue a stint in the shoddy theme park, Adventureland. He's not cool enough for the "Rides", but he gets his own "Games" booth. So does Em (Stewart), a cute, well-off grad from NYU, who still works there each summer. At which point, a predictable romance rears its head.
As the two twenty-somethings circle each other, James gets increasingly anxious. But the focus is never on popping his cherry; rather, Mottola's script sculpts fleshed out characters for his quality jokes. So we get Bobby (Hader), the barmy amusement park head, the nerdy, pipe-smoking Joel (Starr), who reads Gogol, and the wife-cheating Mike (Reynolds), who's having an affair with Em.
Mottola's funny fairground is a messy place, not just because of the corn dogs and dried vomit. Hormones run amok, especially when James breaks out his mini-stash of joints. The incredible thing? It's all believable. Kristen Stewart oozes angst and sex appeal as Em, pouting without ever putting it on. Jesse Eisenberg, meanwhile, follows up Squid and the Whale with another nuanced turn – he's an actor who's always worth watching.
Led by its likeable couple, Adventureland's wit works because of its wonderful cast; delivering depth as well as decent laughs, they're all spot-on as the saddened slave force: "The wages are terrible." "Don't forget we are doing the work of pathetic lazy morons". Even Ryan Reynolds is impressively low-key, playing a part with more pathos than the sum of his career so far.
Drawn together by a talented director, Mottola makes this a masterful tale of growing up – away from Superbad's restrictive screenplay, he equals his work on Arrested Development, conjuring an intimate, honest depiction of one dork's days in love. The 80s soundtrack may be twee, but the emotions are definitely not.
VERDICT
Affectionate and enjoyable, Adventureland does away with grossout gags and rom-com clichés. A genuinely lovely film.
Your rating
( 1 Vote )