Star Ratings
| | |
| --- | --- |
| | Amazing |
| | Well good |
| | Fun |
| | Meh |
| | Rubbish |
| | | |
| --- | --- | --- |
| Mesrine: Public Enemy No. 1 | | |
Written by Selina Pearson
Friday, 28 August 2009 12:58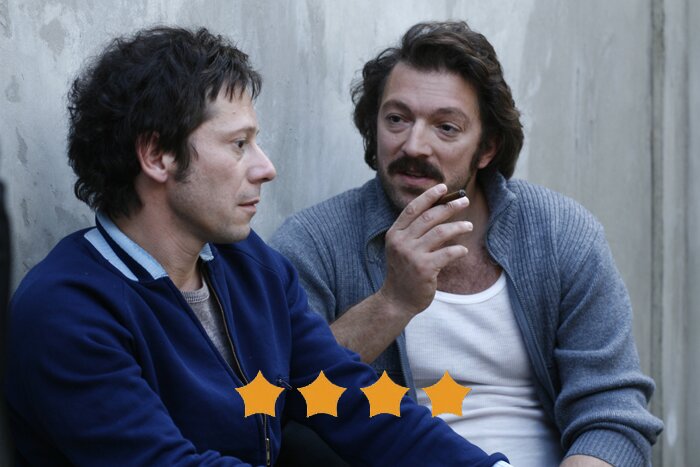 Cast: Vincent Cassel, Mathieu Almaric, Ludivine Sagnier
Director: Jean-François Richet
Cert: 15

Public Enemy No. 1 is the second part of Richet's two-part biopic of infamous French criminal, Jacques Mesrine. Like the first film, the opening scene is the ending; the audience is left in no doubt over the protagonist's fate, as the police take him down permanently.
The film then picks up where Killer Instinct leaves off. Mesrine is back in France after his Canadian escapades. He falls in with a new gang and goes back to robbing banks, shooting policemen and escaping from prison. He does a lot of escaping.
The numerous arrests are fun, each one unique. In one instance he greets the arresting officer with champagne. He picks up fellow con Besse (Almaric) in prison, a new girl (Sagnier) at a bar, and a new BMW at the dealership. He basks in his life as a fugitive with money. While in prison he writes his book L'Instinct de Mort, and his obsession with publicity takes hold. His shameless self-promotion continues throughout the film; in the press, he defends his life of crime and calls himself a revolutionary, but brutally beats a journalist who publicly mocks him. Tough critic.
The film continues the gritty realism laid out in Killer Instinct; at times Mesrine is pleasantly human and at others his brutality re-emerges. Almaric's Besse, who aids in one of Mesrine's audacious prison breaks, is a much subtler character. Disapproving of Merine's flamboyant way of life, Besse stands in stark contrast to his charismatic comrade. The end piece is a delicate balance of the two male outlaws.

VERDICT
Cassel struts his way onto the screen, oozing machismo. It's impossible to take your eyes off him; he's outstanding from beginning to end. The two films are a masterpiece, and Cassel makes it so.
Your rating
( 1 Vote )