Star Ratings
| | |
| --- | --- |
| | Amazing |
| | Well good |
| | Fun |
| | Meh |
| | Rubbish |
| | | |
| --- | --- | --- |
| The Final Destination | | |
Written by Ivan Radford
Friday, 28 August 2009 11:06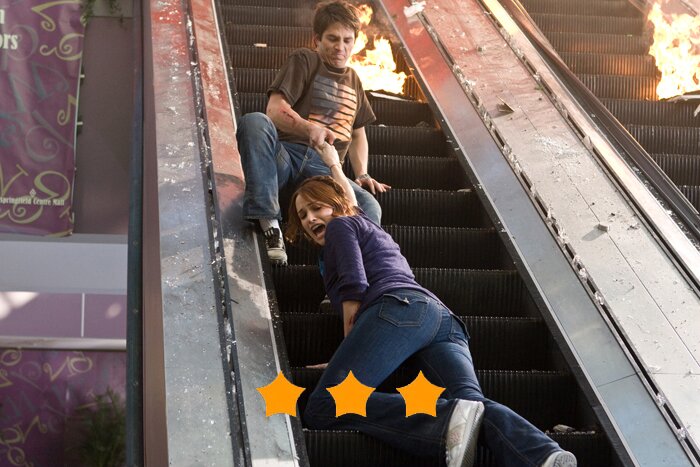 Director: David R. Ellis
Cast: Bobby Campo, Shantel VanSanten, Mykelti Williamson
Certificate: 15
It's here again, that horror for the hormone-ridden, now with added definite article. Yes, Death is back to petrify the pubescent in a series of grisly (and hilarious) killings. But take note, oh terror-struck teens, because this grammatically-enhanced franchise has a definite purpose: to throw things in your face. That's right, The Final Destination is in 3-D, giving us all manner of lethal flying objects. Immersive? The future of cinema? Death's having none of that. Screw James Cameron. This is shallow, gimicky and completely without artistic merit. It's possibly the best 3-D movie I've ever seen.

It all kicks off with a NASCAR pile-up, tyres and exhaust pipes flung every which way from the explosions. It's not as thrilling as a plane or a rollercoaster, but it builds up nicely for what follows: a brilliantly crap credits sequence. As the titles zoom out at you, we get a sort of highlights package from the previous three films, in x-ray form. 3-D skeletons get repeatedly impaled on pipes, decapitated by shrapnel - it's like Crash Dummies meets Match of the Day. Accompanied by Very Loud Music. It's almost a short film in its own right.

Then we get to our main victims; a brand new bunch of fearful younglings, all of them destined to meet a sticky three-dimensional end. Head of the walking dead is Nick (Campo), the boy who starts seeing things. But rather than lock him up, or have him arrested by the FBI, the script sees him stumble from one murder scene to the next. His girlfriend, Lori (VanSanten), tags along, hoping to avoid unfortunate accidents and break Death's chain before it's too late. Their friends, meanwhile, freak out: "You know what this stuff does to me!" shrieks one of them. No we don't. And we don't care. Now go and die in a car wash like a normal girl.

There's no real explanation of what's happening to them, or any exploration of fate or paranormal behaviour. Things just blow up, and people cop it. That's about it, plot-wise. Then again, this is a franchise with no continuity; each film sees a wave of fresh characters up for the chop in some brutal display of Darwinism. Throw in the director of Snakes on a Plane and you've got an even more brainless pile of butchering.

As they run about, trying to work it all out (without any success, or dialogue, to speak of) we get the occasional hint of a storyline. Best of all has to be George the Security Guard (Williamson). He's black. And his wife died in a car crash. So he drinks. We can tell this from the way he reads a thick book with "Alcoholics Anonymous" written on it in Big Capital Letters. Then that other guy, who called him a nigger (yes - that word was used seriously in a 15 certificate film), gets dragged down the street by a flaming truck. Lori turns on the news the next morning: "Now that racist guy is dead!" You can tell a lot of thought went into it.

It takes a certain amount of ingenuity to engineer this stuff. From swimming pools and sharp fences to escalators - yes, escalators - The Final Destination still finds original ways to bump people off. By the end, they're all sitting in a cinema to watch a 3-D film, which is about to burn off their faces. It never quite feels like that's going to happen, but you can tell they tried their hardest; the visuals are impressive, from CGI fire to fake splattered blood. You won't be ducking out the way, but you will be laughing your head off.

VERDICT

Horribly witty and with no sense of fear, The Final Destination knows its novelty factor inside out. Much like the rest of the series, it's not scary, but it sure as hell is fun.
Your rating
( 1 Vote )