Star Ratings
| | |
| --- | --- |
| | Amazing |
| | Well good |
| | Fun |
| | Meh |
| | Rubbish |
| | | |
| --- | --- | --- |
| Funny People | | |
Written by Ivan Radford
Friday, 28 August 2009 09:08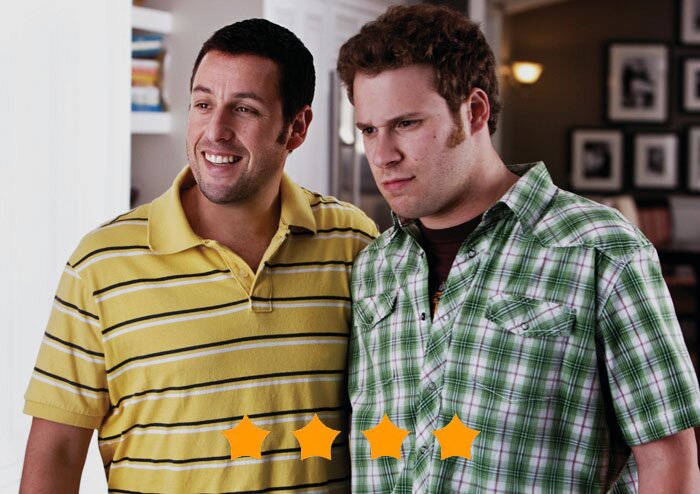 Director: Judd Apatow
Cast: Adam Sandler, Seth Rogen, Jonah Hill, Jason Schwartzman, Eric Bana, Leslie Mann
Certificate: 15
Two and a half hours. Judd Apatow does like his long films. He also likes shallow, crass comedy with fewer characters than cock jokes. He proved most people wrong with Knocked Up, a sentimental story of fat-man-knocks-up-hot-girl. But with his latest, Judd's just hit one out of the park. This lengthy tale of funny-man-gets-cancer is entertaining, moving, and affectionate. It also has cock jokes.

George Simmons (Sandler) is a comedy legend. The kind of guy everyone knows, loves and laughs at, even when he sells out to Hollywood to make crappy movies - for example, MerMan, the tale of one man in a city full of business, who has to hide his gigantic fishy appendage. But when he's told he has cancer, George winds up hiring wannabe-comic Ira (Rogen) to write gags for him; a dream come true for any stand-up starting out. Especially when he lives with two jealous flatmates, Leo (Hill) and Mark (Schwartzman), who makes money from a sitcom, Yo Teach!

As the two guys work the circuit, they gradually become friends, a chance, George hopes, to start sorting out his sham of life. Enter the one who got away ("guys have that and serial killers have that"), Laura (Mann), now married and mummed-up with crazy Australian Clarke (Bana). No guesses what happens there. But in between lawn punch-ups and rekindled emotions, there's some mature material in here, and Apatow is keen to explore it.

Sure, Simmons spends his time mocking his doctor's accent ("does it annoy you that you died right at the end of Die Hard?"), but his death-ridden angst is actually affecting; alongside Punchdrunk Love, Sandler has produced the best performance of his career, nuanced, honest and never annoying. Seth Rogen, too, comes into his own, cementing his characteristic lack-of-charm into a turn with some wonderful timing. Together, this is more than a "bromance", this is a brolationship; there's a genuine connection between the two men, which runs deeper than gags about someone's penis.

The support acts are superb, too, with Schwartzman and Hill confidently churning out one-liners throughout. Leslie Mann, or Mrs Apatow to her husband, sinks her teeth into a female part with some substance to it, while still showing off her sense of humour. Even Eric Bana is having a laugh, returning to his roots of raw humour with real relish. The total ensemble is expertly matched; they're a group of people who definitely are funny - a relief, given the film's self-proclaiming title.

At the helm, Apatow is all over this. The script, perfectly balanced between structure and improv, feels tight and well-woven. Coaxing quality out of his cast, the result is a steady, freeform piece, which lives up to his "half-assed Mike Leigh" approach. The camera work, too, is effective, with some solid cinematography from Janusz Kaminski adding a suitable sheen to the show.

And that's what most of this is: a self-aware shake-down of the showbiz industry, replete with obligatory cameos from famous folk. Marshall Mathers whines about his life ("I can't even go to Chuck E Cheese anymore") before insulting Ray Romano ("What? I thought everybody loved you Raymond!") but nothing can top the appearance of James Taylor, an inspired piece of orchestration that gets one of the biggest laughs of the film.

Yet, with all its knowing irony and self-indulgent banter, Funny People never comes across as smug or complacent. Its only flaw is the runtime, which, although well-paced, still clocks in just past butt-numbness. Winding down into an anti-climactic (and, of course, feel-good) ending, Funny People loses its edge slightly come the finish. Still, it's a natural, endearing and often-funny look at what are clearly bits of Apatow's own life.
VERDICT

Before the steam runs out, Apatow's energetic, sympathetic efforts build an unstoppable comedy machine. One powered not by money, but by sincere laughs and serious man-love. And the occasional cock.
Your rating
( 2 Votes )