Star Ratings
| | |
| --- | --- |
| | Amazing |
| | Well good |
| | Fun |
| | Meh |
| | Rubbish |
| | | |
| --- | --- | --- |
| A Perfect Getaway | | |
Written by Ivan Radford
Friday, 14 August 2009 12:17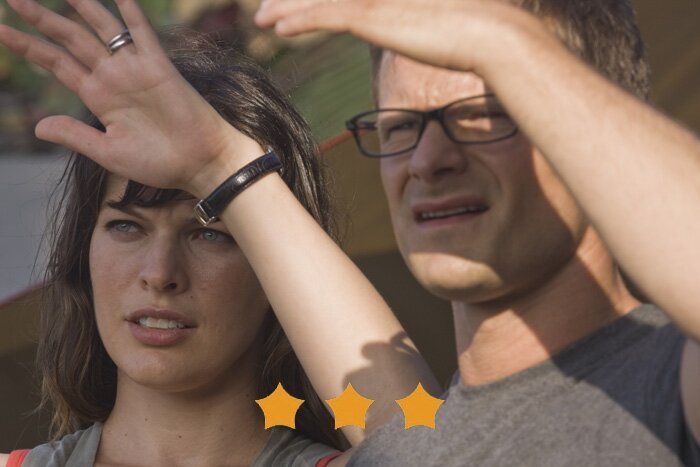 Director: David Twohy
Cast: Steve Zahn, , Milla Jovovich, Timothy Olyphant, Kiele Sanchez
Certificate: 15
Honolulu. Say it slowly. Honolulu. Sounds gorgeous, doesn't it? But wait. One more time. Honolulu. Sounds a lot like death. One more time. Go on, spell it. D-e-a-t-h. Honolulu. The perfect spot, then, for a murder-free honeymoon. Right? Wrong.

Cliff (Zahn) and Cydney (Jovovich) are newlyweds, in love with the view as much as each other. He's a screenplay writer. He writes films - "actually, we just call it screenwriter". Bespectacled and bumbly, Cliff's your perfect pick for a hubby. But as they hit the trail, news reaches them of some gruesome killings in the area. The victims? Couples on their honeymoons.

Fearing their nuptials could turn nasty, they plough on to the next beach, winding their way past waterfalls, videocamera in hand. Enter Nick (Olyphant), a rough and ready rambler armed with knives, axes and a whole heap of horrific stories from Iraq. Perhaps Cliff will write a film about him. Nick's girlfriend, Gina (Sanchez), certainly hopes so. Sticking together for safety, the foursome continue down the coast, wary of another odd couple following them through the forests.

As glorious sunsets come and go, the heat begins to rise. So does the tension. "The only way off this island is by helicopter or kayak. It's worth remember that", says their tour guide, smiling. The way things are going, they'll be lucky to get off at all. Shot and scripted with a nail-biting simplicity, A Perfect Getaway unfolds as a thrilling, solid B-movie.

Then comes the 3rd act. Letting go with a ridiculous revelation, it's here that the film loses track. But this is in the hands of David Twohy, a decent director who knows how to handle hackneyed horror (he helmed the wonderful Pitch Black). With him onboard, the production stays tight, using adept editing to produce a brilliant on-foot chase at the film's close; thanks to David, even the schlock is suspenseful.

Accelerating into daft gear with a confident pace, Twohy teases top-notch turns from all his cast - in particular, the ever-watchable Steve Zahn, who hogs your attention from the outset. Timothy Olyphant, too, takes pleasure in teetering on the edge of psychotic without overacting. Together they create a decent double-act, which doesn't lose its credibility, even after the screenplay has.

VERDICT

With its beautiful locations and stripped-down scares, this B-movie is as cheap and compelling as they come. Quality of the highest sub-standard.
Your rating
( 0 Votes )