Star Ratings
| | |
| --- | --- |
| | Amazing |
| | Well good |
| | Fun |
| | Meh |
| | Rubbish |
| | | |
| --- | --- | --- |
| The Ugly Truth | | |
Written by Ivan Radford
Wednesday, 05 August 2009 15:42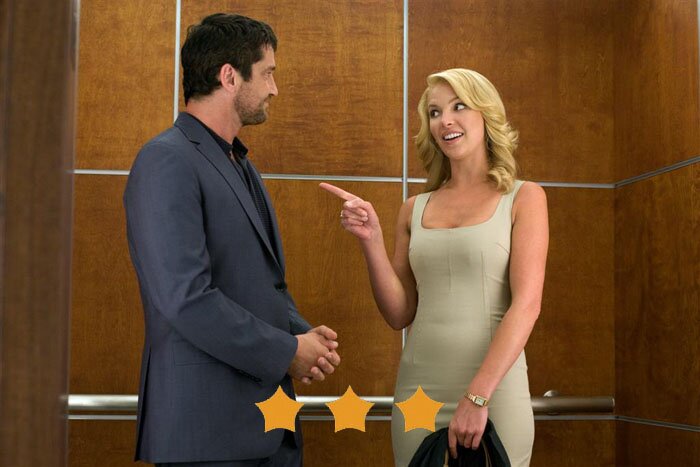 Director: Robert Luketic
Cast: Gerard Butler, Katherine Heigl
Certificate: 15
Trailer

It's so nice to see a romantic comedy without a 12A certificate. None of that semi-naked Sandra Bullock bollocks for my imaginary 7 year old. But when that hypothetical kid hits their teens, he/she will get to guffaw at the gross gags on offer here. For The Ugly Truth is exactly that: coarse, crass and completely unafraid to be so. Smut doesn't get more cocky than this.

And what a cock for a lead: Mike (Butler) is a straight-talking girl-baiting guy who has his own daytime TV segment (named after the title), which sees him offering candid advice for all the men out there looking for love. Yes, Mike basically gets to swear for a living. And he's loving it, despite his control-freak producer, ___ (Heigl), who also happens to be hankering after some humping. But hers is of the more sophisticated kind - a doctor, don't you know.

Cue Mike's coaching abilities, as he steers her towards snaring her perfect man. Naturally, though, things go awry - insert a joke about vibrators here - and, surprise, surprise, he and her get it on. That's not ruining the ending, by the way; it's pretty clear what's going through Robert Luketic's mind the whole film: sex. Sex, sex, sex. Sexy sex. Preferably between his two sexy leads.

The bumpy build-up to this inevitable bedding is, surprisingly, rather entertaining. The foul-mouthed froth flies between them with obvious enjoyment; this is a couple who clearly have chemistry. It's no wonder, really: Heigl's hot and engaging, and Butler's gravelly and instantly charming. Butler can sing and dance, lead a Spartan army, and twinkle with the best of them. A poor man's Hugh Jackman, he's like Russell Crowe, but better.

A shame, then, that the script (written, bizarrely, by three women) simply strings together cliches from better comedies, giving the couple little to work with. They work so hard to generate sexual tension that after the explosive release of lust in the lift, it all goes a bit limp. Raunchy and racy, and a bit run-of-the-mill, The Ugly Truth uses its pretty cast to good effect. If only the writing was more attractive.

VERDICT

The Ugly Truth is mildly good-looking, but you wouldn't take it home to your mum. It's got sass and sauce to spare, it just needs a script to dunk it in.
Your rating
( 1 Vote )