Star Ratings
| | |
| --- | --- |
| | Amazing |
| | Well good |
| | Fun |
| | Meh |
| | Rubbish |
| | | |
| --- | --- | --- |
| The Taking of Pelham 1 2 3 | | |
Written by Ivan Radford
Friday, 31 July 2009 11:58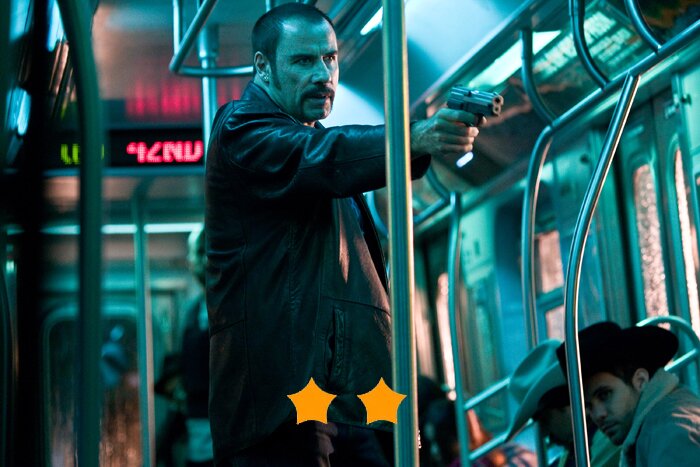 Director: Tony Scott
Cast: Denzel Washington, John Travolta, James Gandolfini
Certificate: 15
Trailer

That's not to say it doesn't have merits. It has two of them: Walter Garber (Washington) and Ryder (Travolta). Garber's a family man, a married train official, who works the radios. Ryder is a nutjob. So when Ryder hijacks a train - travelling from Pelham at 1:23, don't you know - on Garber's shift, you bet some static electricity's gonna fly between them. That's what happened in Sargent's original thriller. Here, not so much. The chemistry is there, but the dialogue's terrible. Thanks to Brian Helgeland's sloppy script, we get sparks with no real fuel; the cinematic equivalent of that GCSE science smell of rotten eggs.

The two lead actors are more than capable of holding the frame up. But nobody told Brian that, so he sets up some back-stories - just in case the two A-Listers have no character building skills themselves. A bit harsh, really. After all, Denzel does the put-upon everyman with ease, and Travolta always makes for a great psycho.

Sadly, though, this villain has no real purpose. Picking up the mic, sporting his Mexican porn moustache, Ryder swears, shouts and threatens to shoot hostages. Then he starts harping on about fate. Can you say Michael Mann? Brian can't. And if that wasn't enough, he shoves some lines about Catholics in there too, just for good measure. The result is a messy mish-mash of man-to-man banter. The only reason it's marginally entertaining is that it's spoken by Denzel Washington and John Travolta. Still, at least we get a neat turn from the New York City Mayor (Gandolfini). As cops storm the streets with bags stuffed with cash, he's the one to point out the obvious: "Why didn't we use a helicopter?"

The action zooms past with all the noise and grace of a speeding train. But this is no Speed. As cars crash overground and guns fire under, Tony takes his usual trademarks to the max; jolty cameras, pounding music, quickfire cuts. He even freezes the action every 2 minutes to tell you how many minutes have passed. That gets annoying. Especially if you already know how to count.

The result is a disappointing (and pointless) update of Pelham's old-school action. Gone are the days of low-fi crimefighting. Here, we get webcams, wireless connections and a laptop hooked up to Operation Grandslam. And a fat lot of good it does anyone. Next time round, they should get in Paul Greengrass - now there's a Brit who knows how to helm - scrap the New York angle, and set it in London. With the Central Line at a standstill and terrorists on the loose, it falls to Underground Ernie to save the hostages and deliver the money. The best bit? Boris Johnson's inevitable cameo. It would be a great way to promote 2012.

VERDICT

This on-rails ride is in sore need of improvement works. Only the cast help Pelham keep up the pace.
Your rating
( 1 Vote )