Star Ratings
| | |
| --- | --- |
| | Amazing |
| | Well good |
| | Fun |
| | Meh |
| | Rubbish |
| | | |
| --- | --- | --- |
| Brüno | | |
Written by Chris Keane
Friday, 10 July 2009 13:00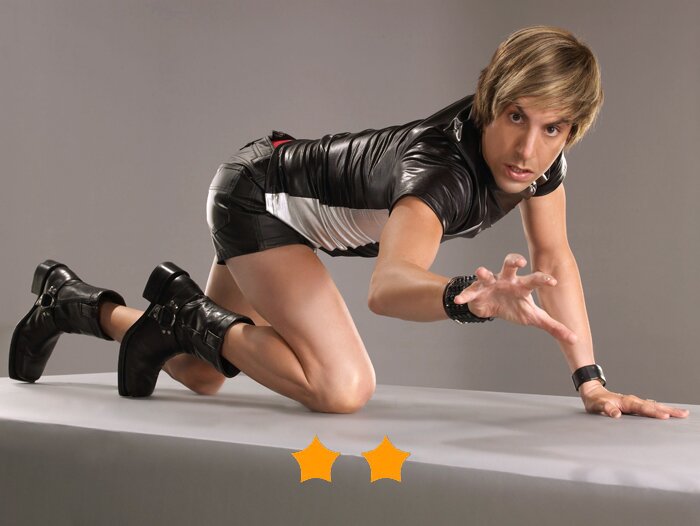 Director: Larry Charles
Cast: Sacha Baron Cohen, Gustaf Hammarsten
Certificate: 18
Cohen back with a bang? More like a faint knock on the door. Brüno follows the story of a "19" year old, Austrian fashion presenter named Brüno (Who'd of thunk it?). Brüno is on a quest to become the biggest Austrian superstar since Hitler. After being fired from fashion show Funkyzeit, he and his idolatrous assistant's assistant Lutz (Hammarsten), head to LA like everybody else and their mother.

Pushing limits once again, Sacha Baron Cohen fires on all cylinders, from trying to bring peace to the Middle East, to attempting to make scandalous sex-tapes with former presidential candidates. It has some hilarious moments,but this film seems to lack the charm of Borat. This may be because a lot more of the action seems scripted; it lacks in the improv department, in which Cohen shines. While his performance in the role is strong, one cannot help but get the feeling that he is trying too hard to deliver the funnies.

On top of the scripted action, the film is spoiled by big black censoring blocks and editing. I don't know what the focus groups told the producers when shown this - maybe that it was worse than cancer - but it makes the whole thing feel slightly disjointed. It is an 18, for Raptor Jesus' sake! If you are seeing this film, you are probably aware that it will feature crude, nude and outrageously offensive material.

VERDICT

Wait for the DVD, and hope for an "Unrated/Uncut" version that delivers what this film could have been. Brüno had potential, but it leaves you feeling half-empty. Borat was so 2006? Get me to the Delorean, please.
Your Rating:
( 1 Vote )