Star Ratings
| | |
| --- | --- |
| | Amazing |
| | Well good |
| | Fun |
| | Meh |
| | Rubbish |
| | | |
| --- | --- | --- |
| Ice Age 3: Dawn of the Dinosaurs | | |
Written by Ivan Radford
Wednesday, 01 July 2009 10:52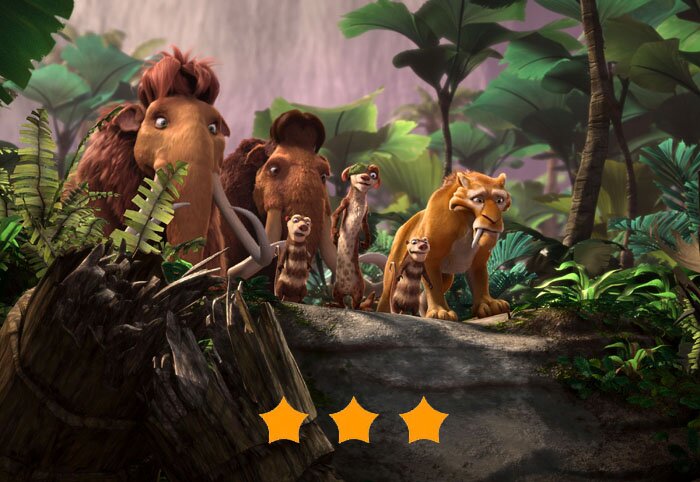 Director: Carlos Saldanha
Cast: Ray Romano, John Leguizamo, Denis Leary, Queen Latifah, Simon Pegg
Certificate: U
Trailer/Clips

"We've been living above an entire world, and we didn't even know it!" Yes, in the second sequel of this ongoing franchise, a bunch of ice-dwelling creatures find a luscious, lava-laden, tropical landscape just sitting underneath the snowy surface. With dinosaurs. But then, science was never really a major part of Ice Age 3: Dawn of the Dinosaurs. The title itself is a complete contradiction. At least Jurassic Park had mosquitoes, or something.

It all kicks off with baby troubles. Ellie (Latifah), the most annoying trunk in the movie business, is preggers. No wonder Manny (Romano) is freaking out. But what about Diego (Leary), the sabre-toothed predator who doesn't want any of that domestic scene? Sid (Leguizamo) has a solution: the sloth finds himself some dino eggs and adopts them as his own.

Fast forward 15 slow minutes (if only we actually could), and the rescue mission is on its way down south to rescue Sid from the jungle lair. A rescue mission? Why, that should surely include some form of chase! And boy, it does - in true franchise tradition, the chase-joke-chase-joke sequence is totally transparent. And rather tiring. The only difference comes from the 3-D visuals; a chance for Fox to show off their commercial credentials. The fur and fuzz flies with some flair, but can it really make up for such shoddy scripting?

With its annoying characters and repeated lectures on child-rearing (a strange topic for a kid's film), Ice Age 3 is a cold-blooded beast. Thank heavens, then, for Simon Pegg as Buck the weasel - a one-eyed weasel, at that. Swinging from tree to tree with a dagger made from a tooth, this crazy Captain Ahab is consistently entertaining: "Let me tell you about the time that I used a sharpened clam shell to turn a T-Rex into a T-Rachel!" With Buck on board, this bloated beast becomes a lot more bearable.

And word must go to Scrat, of course - the prehistoric squirrel who is still chasing that acorn. Enter Scratte, a female who's all-too-happy to snap up Scrat's nut. Oo er. From moonlight tangos to cliff-diving chaos, their short sketches once again trump the rest of the film. When two silent animals have the best chemistry in the cast, you need to start shutting up the others. And that means Ellie. Hopefully her kid won't live that long - survival of the fittest, after all.

VERDICT

It's better than the 2nd and the 3-D is fun, but Ice Age is nearing extinction. Once again, it's all about the squirrels.
Your Rating:
( 1 Vote )