Star Ratings
| | |
| --- | --- |
| | Amazing |
| | Well good |
| | Fun |
| | Meh |
| | Rubbish |
| | | |
| --- | --- | --- |
| Last Chance Harvey | | |
Written by Ivan Radford
Friday, 05 June 2009 12:23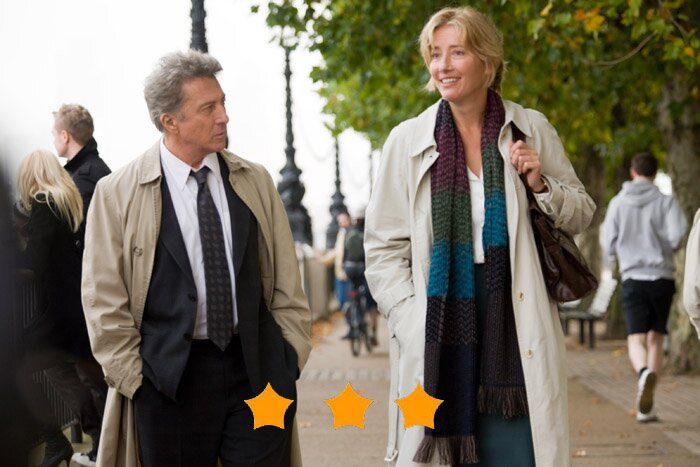 Director: Joel Hopkins
Cast: Dustin Hoffman, Emma Thompson
Certificate: 12A
There's an unspoken rule in cinema, that as soon as two people narrowly miss each other (usually when getting in or out of a cab), they are destined to be soul mates. Not friends, or acquaintances; full-blown lovers. When these two people are played by Dustin Hoffman and Emma Thompson, it's clear they'll be getting off with each other very soon. By the time the taxi turns up, it's destiny.

Harvey Shine (Hoffman) is on his last chance. A divorced, ageing man who writes jingles for a living, he's passed over at his daughter's wedding, because she'd rather her step-dad give her away. Then, he misses his flight back to L.A., only to get fired. Poor old Harvey.

Kate (Thompson) is a lovely lady, a self-effacing, cultured Brit who (for some reason) doesn't have a bloke in her life. She's not that old but is, apparently, out of sync with those around her. Oh where will her dashing knight in shining armour come from? Why, of course, it's the greying geezer from America who she chances upon one day. This pairing of the characters is strange, almost forced, with no motivation behind their relationship other than the fact that the script says they'll get together. But then the cab thing happens and all is right with the world.

Despite the occasional hole in the script, the romance becomes quite endearing as it lilts on through the tourist spots of London in its cosy, predictable way. There aren't many laughs, but you can blame the marketing for that one; this is less of a rom-com and more of a rom-dram, and a tender one at that. Why? Because of the actors. Never have there been two such charming leads - even with the height difference, their chemistry is wonderful to witness, from the quiet moments of anguish to the twinkly-eyed smile of old Dustin. You may question Kate's motives, but you have to admit: he's one hell of a grey fox.

VERDICT

Sentimental and obvious, Last Chance Harvey lets its leads shine with a delicate glow. Not that they needed any help from the script.
Your rating: 
( 1 Vote )