Star Ratings
| | |
| --- | --- |
| | Amazing |
| | Well good |
| | Fun |
| | Meh |
| | Rubbish |
| | | |
| --- | --- | --- |
| Tormented | | |
Written by Ivan Radford
Friday, 22 May 2009 11:30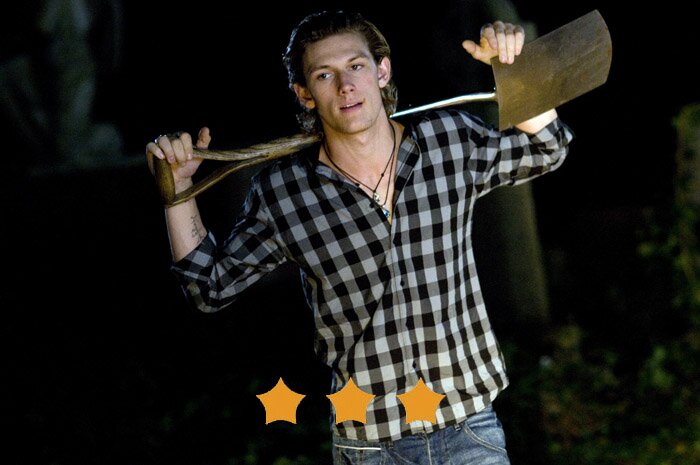 Director: Jon Wright
Cast: Alex Pettyfer, Tuppence Middleton, Calvin Dean, Dimitri Leonidas
Certificate: 15
As anyone who's ever slipped on the TV remote and switched to Skins by accident knows, it's quite common to then sit there wishing death upon its annoying cast. Well, Tormented does just that: bump off every last short-skirted, pimple-popping one of them. Well, the nasty ones anyway.

Meet Justine (Middleton). She's Head Girl. A good pupil, accepted by Oxford, the usual. Meet Bradley (Pettyfer). He's a git. A loud-mouthing, self-loving prick. No surprises, then, that he got his kicks picking on poor old Darren Mullet (Dean), who had the hots for Justine. What might surprise you, though, is that Darren's back from the dead and dishing out bloody revenge on Bradley and his bullying buddies.

Set in a school full of sex and scandal, Jon Wright's slasher takes the usual American scenario to Britain and runs with it. Casting Stormbreaker's heartthrob Alex Pettyfer as its chief villain, Tormented is clearly aiming at the teenage girls, with enough gossip and gore to entertain them. But with wit-free dialogue and no real sparks to speak of, Fairview High is a fairly humourless place. Even with the likeable newcomer Middleton succombing to the influences of the cool crowd, particularly the confused Alexis (Leonidas), there's something lacking in the classroom.

As the second half starts up, the killing starts to kick in, with bizarre, bully-themed murders, some more effective than others - wet towel-whipping and literally sitting on someone in a swimming pool are laughably awful. But satisfying as it is to see Skins' starlet April Pearson dispatched with a spade, it's never quite clear how serious it intends to be. In between each death, nasty texts abound - a threatening nod to social networking? Who knows

VERDICT

Tormented is hardly sharp teen satire, but it's certainly a lot of fun. And it raises one important question: do zombies really need asthma pumps?
Your rating:
( 0 Votes )