Star Ratings
| | |
| --- | --- |
| | Amazing |
| | Well good |
| | Fun |
| | Meh |
| | Rubbish |
| | | |
| --- | --- | --- |
| Night at the Museum 2 | | |
Written by Ivan Radford
Wednesday, 20 May 2009 12:21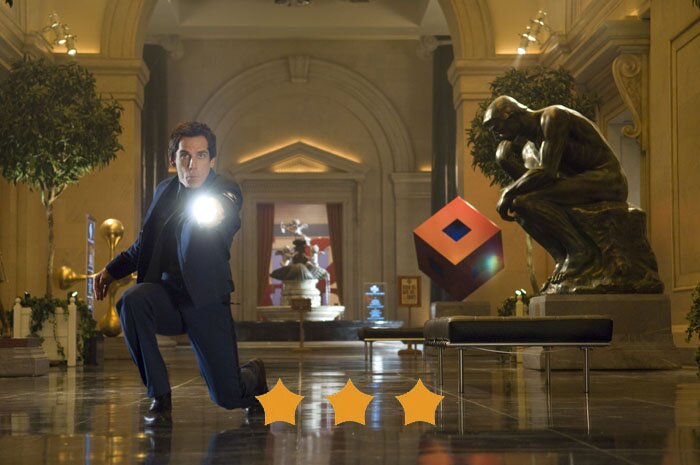 Director: Shawn Levy
Cast: Ben Stiller, Amy Adams, Hank Azaria, Owen Wilson, Robin Williams, Steve Coogan
Certificate: PG
Trailer

Does bigger mean better? Money-wise, maybe, but what if we're talking giant spiders with mandibles the size of a Vauxhall Zafira? Gigantic arachnids really aren't better. Unless you're an oversized wasp. The point is that Night at the Museum 2 is exactly that: bigger, but not better.

Shifting the action to the Smithsonian Institute, Shawn Levy's sequel simply multiplies everything by 10. Cramming in as many artefacts as possible – from Jeff Koon's inflatable dog to an Al Capone waxwork – the theory is presumably that if enough things are waved in front of our faces, we won't notice that someone lost the only copy of the script.

What they just about managed to remember was that the Natural History Museum has been closed, leading to the exhibits being shipped off to Washington. But when that flipping monkey (more on him later) steals the magic tablet of Ah Mun Rah, everything over there comes to life. Including Ah Mun Rah's evil brother, Kah Mun Rah (Azaria), who plans to kill Ben Stiller (who, for some reason, everyone calls Larry) and all his little museum friends – namely, Roman General Octavius (Coogan) and cowboy Jedediah (Wilson).

The basic premise is just an excuse for lots of gags and spectacular CGI; mathematically speaking, there are more jokes, so it's an improvement. But there's no plot, which leaves it pretty much on a par with the first outing.

As Ben Stiller runs around trying to save the world, accompanied by Amelia Earhart (the chirpy Amy Adams), the film turns into a checklist of cameos. Jonah Hill, Hank Azaria, Christopher Guest? Funny. Einstein, Jonas Brothers, the monkey? Forget it.

VERDICT

A bland, but enjoyable sequel, Night at the Museum 2 is mostly harmless. It may not be better, but you can bet its box office will be bigger.
Your rating:
( 1 Vote )