Star Ratings
| | |
| --- | --- |
| | Amazing |
| | Well good |
| | Fun |
| | Meh |
| | Rubbish |
| | | |
| --- | --- | --- |
| Film review: Brooklyn | | |
Written by Ivan Radford
Friday, 06 November 2015 13:06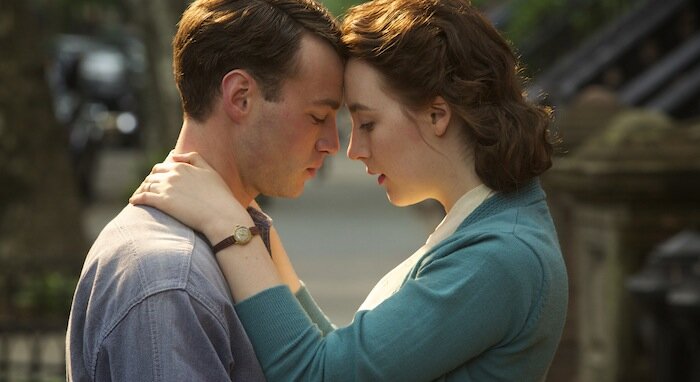 Director: John Cowley
Cast: Saoirse Ronan, Emory Cohen, Domhnall Gleeson, Jim Broadbent
Certificate: 12A
How do you build a life in a new country? That's the question facing Eilis (Ronan) in Brooklyn - until it's replaced by another, equally tough question: what if you then realise you could have an equally perfect life back where you came from? Brooklyn manages to answer both, along with another, equally challenging question: how do you make a film about a place without actually filming there?
The visuals are carefully assembled, but the script is the key. Nick Hornby adapts Colm Toibin's novel for the screen with typical wit and heart, creating a story that manages to be full of both cheerful hope and painful nostalgia. Saoirse Ronan shines in the lead, the excellent make-up and costume team making her as plain and blank as possible against the vibrant, colourful New York scene. Her face, which so subtly shifts between emotions, is perfect for the conflicted part - ably matched by Cohen's swoonsome suitor, who, unlike our heroine, never feels less than certain about his feelings. You suspect Emory is one smile away from heartthrob stardom.
Cohen is as charming as Domhnall Gleeson's boy back in Ireland is polite - between Star Wars and Ex Machina, Gleeson is on roll right now. Spending as much time with each of the men, we feel Eilis' torn affection mentally as well as emotionally; as soon as we've gotten used to one romance, the plot wrenches us away to admire another. The jolt is smoothed by Julie Walters' hilariously uptight landlady, who also helps to juggle the simultaneously cheerful and sad mood.
It's the understanding of what makes a home, though, that gives Brooklyn its old-fashioned magic. Director John Crowley shoots the tranquility of Ireland's Wexford with a twinkle in his lens - there's no faking that genuine location - but it's the gradual assembling of clothes, cosmetics, work colleagues and confidence that convinces. That attention to period detail, the act of reconstructing New York in Montreal, becomes an intrinsic part of Eilis' journey; her character is pieced together in the same way that each part of her life falls into place. As Eilis looks more and more American, she feels more and more real - and her tale becomes more and more moving. The result is a funny and unabashedly sentimental tale of identity, belonging and starting over. It doesn't matter where you watch Brooklyn: you'll cry many times.