Star Ratings
| | |
| --- | --- |
| | Amazing |
| | Well good |
| | Fun |
| | Meh |
| | Rubbish |
| | | |
| --- | --- | --- |
| Film review: The Lobster | | |
Written by Ivan Radford
Sunday, 25 October 2015 14:10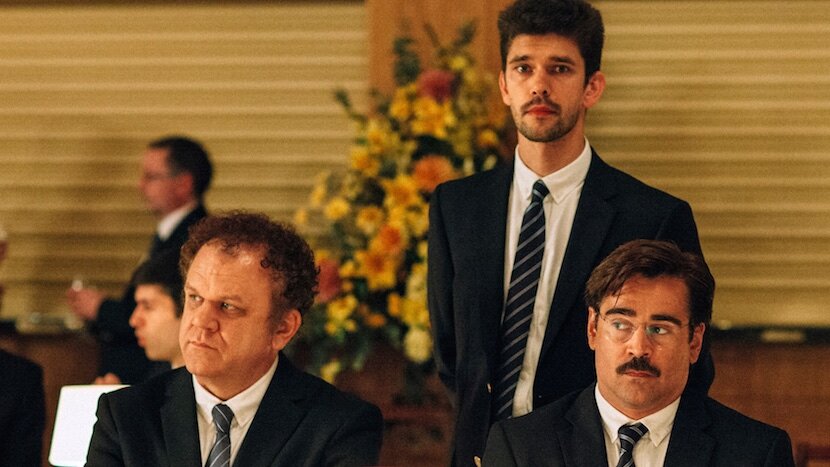 Director: Yorgos Lanthimos
Cast: Colin Farrell, Rachel Weisz, Olivia Colman, John C Reilly, Léa Seydoux, Ben Whishaw
Certificate: 15
Quiet, painful and occasionally funny, being single sucks. Well, it does if you exist in The Lobster. Director Yorgos Lanthimos' comedy is as darkly spiky as its name suggests.
The film is set in the near-future, where being single is illegal. Not coupled? Then you have to check in at The Hotel, where you have 45 days to find a mate. Succeed and you're moved to a yacht for a honeymoon before being sent out into the wider, married world. Fail and your stay comes to an end. Oh, and you're turned into an animal of your choosing.
It's an inspired conceit, cutting right through society's attitudes towards relationships; being in one is accepted as the end goal for all people, while those without partners are considered somehow abnormal. Writers Lanthimos and Efthymis Filippou tease out the tyranny of romantic conventions, forcing their hotel guests to fill in a form detailing everything about them. Homosexual or heterosexual David (Farrell) is asked, as he checks in with his dog. No, you can't put both.
As he mingles with the other inmates, that desperate need to pair off and put everyone in boxes turns them into walking checklists of likes and dislikes. With such a short window to find someone suitable, even physical traits become fair game: if you have a limp, your soul mate would obviously have one too, right?
The film takes its cool logic to bleak, hilarious extremes. Ben Whishaw's guest ("The Limping Man") starts injuring other parts of his body to much other people's ailments, while the ever-brilliant John C Reilly ("Lisping Man") is all too eager to join in the regular hunts, which earn guests an extra day's breathing space for every runaway or single person they can shoot in the surrounding woods.
The whole enterprise is overseen by Olivia Colman, who lords it up with deadpan restraint; even when she starts singing a duet with her husband, the mood is as unamorous as could be. The rest of the ensemble is equally understated, reinforcing the confined claustrophobia - a vacuum of affection that makes every laugh (and there are many) as amusing as it is heartbreaking.
Outside of the hotel, a gaggle of Loners try to overthrow this monogamistic monopoly. Led by the intensely brooding Léa Seydoux, they prove just as uselessly oppressive, demanding no bonding at all between members. Amid the clash of courting traditions, Farrell (who is at his best when playing such pathetic, vulnerable humans) and Rachel Weisz's "Short Sighted Woman" emerge as a cry for genuine intimacy. And yet even their sweet chemistry is undermined by the fact they both need glasses - a common affliction of which the hotel would no doubt approve - and Weisz's wonderfully blunt narration.
In an age of online dating, where we're encouraged to scour the world for potential matches using data and facts, The Lobster reels in these social rituals and catches how absurd they really are. It's a shame, then, that the second half sees the prickly clarity of its message become muddled and lost in the woods. Farrell's choice of animal is the eponymous crustacean, which lives forever and always remains fertile. It's a smart choice, not just for a new form but for the film's title: like its namesake, The Lobster is at its most satisfying when contained inside its shell.