Star Ratings
| | |
| --- | --- |
| | Amazing |
| | Well good |
| | Fun |
| | Meh |
| | Rubbish |
| | | |
| --- | --- | --- |
| Film review: Song of the Sea | | |
Written by Ivan Radford
Thursday, 09 July 2015 17:24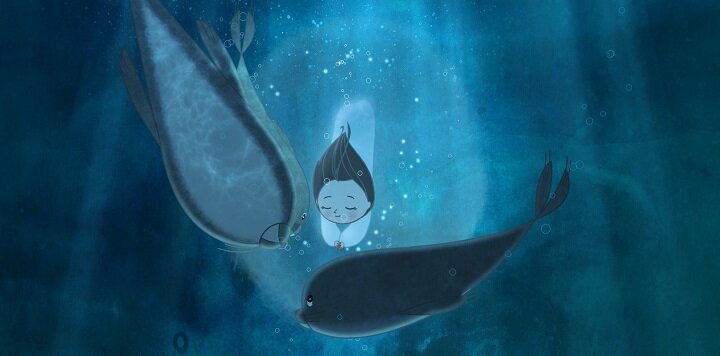 Director: Tomm Moore
Cast: Brendan Gleeson, David Rawle, Lucy O'Connell
Certificate: PG
Hey, kids! Who fancies a story about death? That's the kind of question that would get a children's entertainer fired, but it's also what makes Irish animation studio Cartoon Saloon so special. Unafraid to raise such serious subjects with its young audience, the studio's latest - Song of the Sea - is an astonishing animated gem.
Like all good kids' stories, it involves a lighthouse. That's where Ben (an irrepressible Rawle) lives with his mum and dad, Connor (a heartbreaking, gravelly Gleeson). But when his sister, Saoirse (the charmingly bright O'Connell), is born, he loses his mother - a departure that changes everything. Even at the age of 10 (and Saoirse six), he still it holds against her. His depressed dad, meanwhile, has turned to the drink to get by. So far, so gloomy.
His mother, though, tells him a bedtime story before she slips away: an Irish folk tale about a giant, Mac Lir, who was turned into a stone island by a fiersome owl-witch called Macha. It's a stunning moment of beauty amid the tragedy: a kaleidoscope of colours and cultural history that could have even the grumpiest of adults enchanted and ready for some shut-eye.
That balance between real life and fantasy is central to Song of the Sea's charm. The heartfelt command of magical realism puts Tomm Moore's work comfortably alongside that of Studio Ghibli. Combined with his own studio's signature hand-drawn animation, he's every frame the Irish Hayao Miyazaki. The Peppa Pig-like images are simple, but used in bewitchingly complex ways: people and backdrops layer up like a collage of your favourite picture books; an effect that feels more immersive and multi-dimensional than any 3D blockbuster.
The pace of a gentle page-turner seeps into the tale too: this the kind of lilting narrative that seems designed to slow kids down from their hyperactive existence, encouraging them to take time and absorb the small details.
There is certainly no shortage of them: the screen's concealed depths, which lie in the edges and shadows of each object, are not just visual, but emotional too. As Saoirse is revealed to be a selkie, a mythological seal-like creature, the theme of farewells and family runs right through the core of her and Ben's adventure, which carries them from mundane towns and quiet forests to cavernous lakes and flying animals. Throughout, loyal sheepdog Cú is on standby, a cute sidekick, but also a force that brings the siblings together.
Is what they're experiencing real or make-believe? The parallels between the literal and literary pile up like sheets of sugar paper, but as we dive into impossibly deep waters and hold our breaths for longer than any human could, such concerns float to one side. Instead, there is a childlike wisdom to the story's logic: one set piece, which starts out scary, drifts subtly into cathartic waters, as we discover that Macha turns people to stone by sucking away their emotions. Unlike the unhappy adults around them, these kids realise that embracing the pain and sorrow of grief are part of getting older.
There is a trust implicit in conveying such a message in a kids' film, which goes hand in hand with the gentle speed and blurred reality: like the best children's movies, Song of the Sea has faith in its audience to be mature in everything but imagination.