Star Ratings
| | |
| --- | --- |
| | Amazing |
| | Well good |
| | Fun |
| | Meh |
| | Rubbish |
| | | |
| --- | --- | --- |
| State of Play | | |
Written by Ivan Radford
Wednesday, 22 April 2009 10:00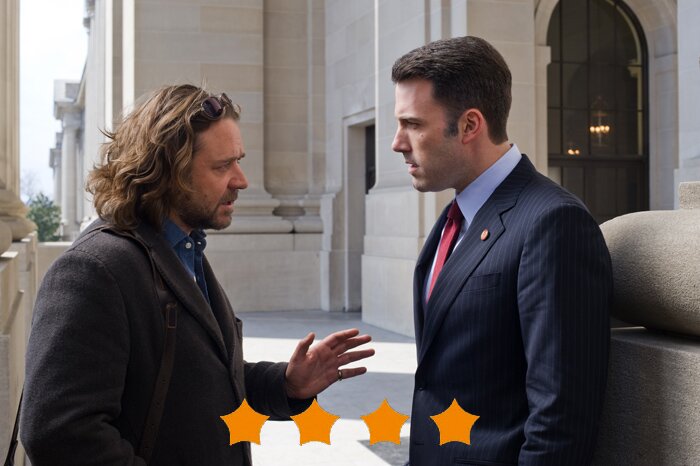 Director: Kevin McDonald
Cast: Russell Crowe, Ben Affleck, Rachel McAdams, Helen Mirren
Certificate: 12A
Trailers / Clips

Back in 2003, the BBC produced a veritable masterpiece of conspiracy, sex, murder and journalists. Lighting up the gloom between public and private politics, it was a six-part scorcher of good television. The best TV series of the decade? Not The Wire – you want State of Play.

Fast-track 6 years and here comes the Hollywood version, trampling over the tapes of televisual past. But the footsteps tread lighter than you think; daintily picking his way through the original show, director Kevin McDonald is as sure-footed as ever, piecing together the complex puzzle with a polished sense of pace. It's just a shame that the script has to be so streamlined.

The story starts with death, namely that of Sonia Baker, researcher for Congressman Stephen Collins (Affleck). But it turns out that there was something going on behind closed doors. Not just sex, but a cover-up from security giant, Pointcorps.

Uncovering the whole affair is dogged journalist Cal McCaffrey (Crowe). He's got long hair. And a belly. He's old school. Della Frye (McAdams) is of the new school – all blogs and no pens. Up the food chain, hard-nosed editor Cameron (Mirren) tries to balance the two, all three caught between corporate pressure and moral conviction. As the presses start to print, bullets begin to fly, and the whole thing comes crashing into daylight.

Condensed into 2 hours, the series' story makes for a gripping thriller, but over 6 you get a lot more character and a lot less cliché. Having 3 co-writers to adjust one man's work doesn't help matters; the new location (Capitol Hill instead of Westminster) works well on the big screen, but the depth of the people within it is lost.

The cast are all solid – Affleck's woody plank is as sturdy as an Ikea wardrobe – each making their inherited roles their own. But it's hard to believe Collins and Cal were once roommates (the original back story of Cal being Collins' campaign manager was far more convincing). Robin Wright Penn's wife, meanwhile, is sadly shunted to the sidelines. And with Russell Crowe and Ben Affleck on the poster, why, oh why, did they have to give Bill Nighy a sex change? No disrespect to the Dame, of course, but Bill had far bigger balls.

But with suspense and intrigue by the bucket-load, you'll soon stop caring; Kevin's confident helming makes for one classy movie. It's not as good as the TV series, but then what is? Certainly not The Wire, that's for sure.

VERDICT

Stripped down and scaled up, State of Play suits the big screen. It might be sliced and sprinkled with cheese, but it's still a compressed can of cracking cinema. The end credits alone are awesome.
Your rating:
( 1 Vote )