Star Ratings
| | |
| --- | --- |
| | Amazing |
| | Well good |
| | Fun |
| | Meh |
| | Rubbish |
| | | |
| --- | --- | --- |
| Film Review: Love Tomorrow | | |
Written by Ivan Radford
Monday, 04 November 2013 17:09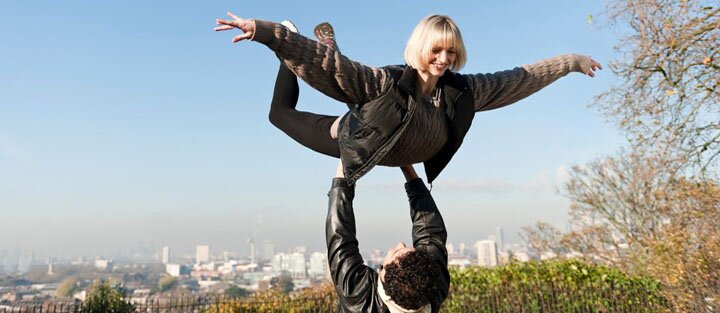 Director: Christopher Payne
Cast: Cindy Jourdain, Arionel Vargas, Max Brown
Facebook page
Dance movie. Those two words struck dread into me four years ago. Well, before I saw StreetDance. But even after that decent British effort, along came StreetDance 2. And Step up to the Streets 3D. And before you knew it, all those old fears were back. Thank goodness, then, that Christopher Payne is out there: his tale of ballet on the streets, Love Tomorrow, reclaims the words "dance movie" back from the money-churning crowd, producing a charming, character-driven piece. The good news? It's now got itself a cinema release.
It starts, like all good things, on the Northern Line. After making eye contact on the escalator at Camden Town, a woman (Jourdain) finds herself pursued by Oriel (Vargas). She wants to be alone but he insists on buying her a drink. Is she a dancer? Oriel thinks so. She won't say. One mojito later and they're backstage watching ballet - the start of a whirlwind 24 hours.
Let's not beat around the bush. Love Tomorrow is no Before Sunrise or Before Sunset. One character's back-story is revealed through sudden, black-and-white flashbacks that do nothing for the film's subtle tone, but Jourdain and Vargas (both professional dancers) invest their romance with an understated realism.
Each given a chance for their ballet shoes to shine, they express emotions through the film's dance sequences, which also progress the plot; when the rough and ready Vargas waltzes alone up and down a dimly lit pavement, his smouldering steps are surprisingly gripping stuff. Combined with Payne's knack for off-the-beaten-track locations and some sublime music and lighting, you could watch him dance for hours.
But we're never asked to: clocking in at a sweet 80 minutes, Love Tomorrow knows just when to stop – and leave you wanting more. When was the last time a dance movie made you feel like that?

Love Tomorrow is showing at the Greenwich Picturehouse on Friday 8th November with a Q&A with the director. You can buy tickets here.