Star Ratings
| | |
| --- | --- |
| | Amazing |
| | Well good |
| | Fun |
| | Meh |
| | Rubbish |
| | | |
| --- | --- | --- |
| Crank 2: High Voltage | | |
Written by Ivan Radford
Friday, 17 April 2009 11:40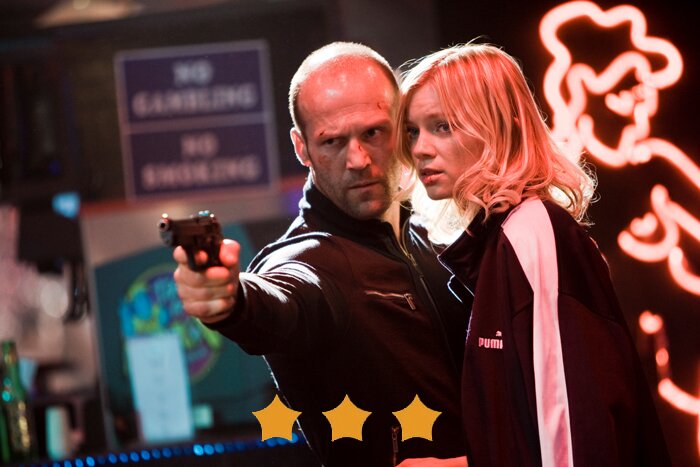 Directors: Mark Neveldine, Brian Taylor
Cast: Jason Statham, Amy Smart
Certificate: 18
Trailers

Crank was so bad it was great. Crank 2 is not as good as being bad. Which makes it worse. The first film came out of the blue, a relentless assault of hysterical, madcap nonsense. The second time round, we know what to expect: Chev Chelios (Statham) was last seen falling 50ft from a helicopter to his certain death. Needless to say, he got better.

The Stath, in fact, wakes up to find himself heartless (i.e. he has no heart). In its place is a battery. Which needs to stay charged. As The Stath runs around like a heartless chicken with a taste for the juice, he wires himself to half the city in an attempt to stay alive.

On the way, he smashes cars, fries bad guys and, naturally, has sex with his girlfriend (Smart) on a racetrack. In the middle of the race. At one point, someone in the audience throws a cowboy hat towards them. He grabs it and starts waving it around, rodeo-style – Crank 2 is, if anything, more bonkers than the first.

There are still a lot of laughs, what with traumatised old women appearing on TV and the overuse of stereotypical cockney ("Where the f*ck is my strawberry tart?"); the absurdity reaches its best when, at the climax, a punch-up transforms into a Godzilla-like showdown, with two papier-mache giants smacking each other round the head outside a tiny model power station (complete with shocked model workmen).

But the OTT soon goes overboard, with pointless side-characters (an English-speaking Chinese hooker complete with subtitles) and full-on nudity in unnecessary volumes. Who needs to see a prostitute shot through the silicone up close? Or a man chop off his own nipples? It's this excess of excess that ruins the original spirit of the franchise; when they go so far for the Nuts crowd, they lose focus on the fun. Better call it a day, boys: we don't need a 3D outing just yet.

VERDICT

An exhiliariting rush of the ridiculous, High Voltage gladly shocks with its poor taste. Offensive can be fun, but far is sometimes too far.