Star Ratings
| | |
| --- | --- |
| | Amazing |
| | Well good |
| | Fun |
| | Meh |
| | Rubbish |
| | | |
| --- | --- | --- |
| Let the Right One In | | |
Written by Ivan Radford
Friday, 10 April 2009 13:02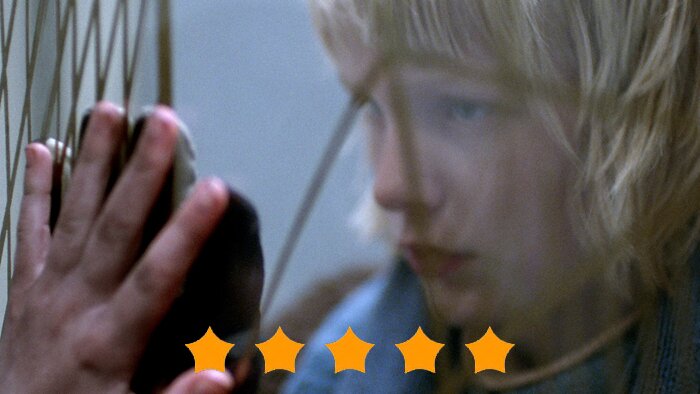 Director: Tomas Alfredson
Cast: Kare Hedebrant, Lina Leandersson, Per Ragnar
Certificate: 15
Trailer

Fangirls of Twilight flee; the fangs on display here are far from Edward Cullen's. They belong to Eli (Leandersson), a 12-year-old who's been 12 for a very long time. Living with an older man, Hakan (Ragnar), she lives off the drippings of dead people that he collects in a bottle.

Not your first choice for a friend, perhaps, but that doesn't stop Oskar (Hedebrant). A solitary half-pint of pale pre-pubescence, he cuts a lonely figure in the Stockholm snow. Bullied by bigger boys, he's the unfortunate fallout from a split home, reduced to sitting in his room, cutting out newspaper stories about murders.

When the two eventually meet, Oskar is drawn to her alienated, anaemic aura. The affection appears to be mutual and an eerie bond develops, the unspoken bloodlust a disturbing, chilling undercurrent; this is no Stephanie Meyer romance. This is a dark, melancholic piece of tender poetry.

As Eli lets Oskar into her twilight, she must be invited into his. What happens if he refuses? The horrific answer is a crucial moment of trust that transforms his life, possibly for the better. The ambiguity of John Ajvide Lindqvist's novel is never sacrificed for his own screen treatment; director Tomas Alfredson seeps everything in a nightmarish shade of grey, from the relationship between Eli and her father-like Hakan to the local pub regulars, permanently at risk of death or infection. Low key and restrained, the young cast are enchanting in their vulnerable desire to not be alone, whatever the consequence.

Amidst its understated narrative of passion and longing, single events jump out: a night-time visit to a hospital window; the ferocity of a feline when faced with fear; a swimming pool drowned in blood. Such bizarre moments border on the darkest comedy, but never unsettle the unnerving, gentle balance of emotion and terror. This is the beauty of Lindqvist's inspired creation: a love story shot through with absolute horror.

VERDICT

A haunting meditation on desire and devotion, Let the Right One In is a work of art, both sinister and sweet. Terrifyingly brilliant.
Your rating:
( 1 Vote )