Star Ratings
| | |
| --- | --- |
| | Amazing |
| | Well good |
| | Fun |
| | Meh |
| | Rubbish |
| | | |
| --- | --- | --- |
| Film review: The Hangover: Part III | | |
Written by Ivan Radford
Friday, 24 May 2013 09:39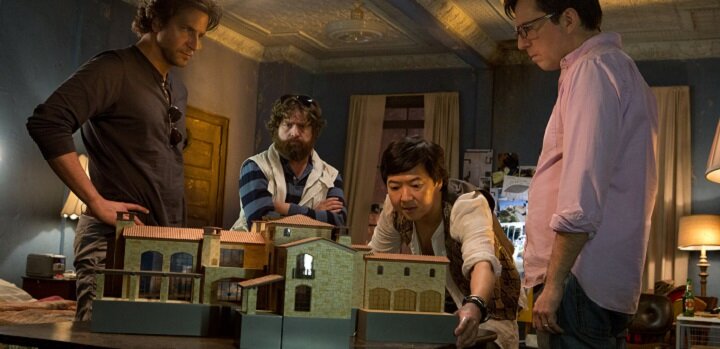 Director: Todd Phillips
Cast: Bradley Cooper, Ed Helms, Justin Bartha, Zach Galifianakis, Ken Jeong
Certificate: TBC
Trailer
"Who gives a fuck?" That's Academy Award nominee Bradley Cooper after a giraffe gets killed in The Hangover Part III. Then he laughs. You'll have exactly the same response to the film. Except for the laughing part.




 

Cooper returns as Phil, leader of The Wolfpack, made up of instantly-forgettable Doug (Justin Bartha), always-outraged dentist Stu (Ed Helms) and brainless beardo Alan (Zach Galifianakis). But with no weddings and no drinking to happen the night before, Todd Phillips' sequel takes his men out of their morning-after comfort zone and puts them in a heist movie instead.

 




In itself, that's no bad thing: if there's one thing this increasingly poor-taste franchise needed, it's a change of direction. The problem is that this isn't even a good heist movie. It's a badly-written mess that builds up to one set piece then finds an excuse to repeat the same plot points for another 20 minutes. That and them walking down corridors in slow-motion.




Even worse, away from the staple formula of collective amnesia, it becomes glaringly obvious that these people aren't characters at all: they're wafer-thin cut-outs, clippings from Nuts magazine whose only defining trait is occasionally waking up with a really bad headache. Doug contributes no more than three words to the whole endeavour, while Stu's hysterical reactions lost their novelty years ago. Galifianakis manages to raise a few smiles, but nothing more amid the clunky plotting. On the plus side, Phil's stopped being racist after Part II's unexpected bout of xenophobia - when a film's good qualities include being "slightly less racist", you know there's a problem.




That problem is summed up by Ken Jeong's Mr Chow, a creation so devoid of any redeeming features that you do a little sick in your mouth every time he appears on screen. "I love cocaine!" he yells while parachuting from the top of a Vegas hotel. In another scene, he suggests that Stu can smell gold from several feet away. "It's funny because he's Jewish," he adds, explaining the anti-Semitic statement for everyone watching. This is the level that The Hangover Part III works on: it's dull, crass moviemaking that treats its audience as dull, crass human beings.




As these unsympathetic men traipse from one unenjoyable plot point to another, The Hangover Part III swiftly dismisses any remaining goodwill from the brilliant first entry in the series. If it were funny, gripping, annoying - engaging on any level - that would be something, but all this banal sequel manages is to be less anger-inducing than the last one. It may not be offensively bad, but it's still bad. And killing an animal for giggles doesn't make you give any more of a damn. After all, there are so many things to care about more in this world: salmonella, poor quality masonry, the varying sensitivity of Oyster card readers on the London Underground. All of them are more interesting than this bland piece of nothing.




Unfunny, unlikeable but mostly just plain unmemorable. Who gives a fuck?