Star Ratings
| | |
| --- | --- |
| | Amazing |
| | Well good |
| | Fun |
| | Meh |
| | Rubbish |
| | | |
| --- | --- | --- |
| Film review: In the House | | |
Written by Ivan Radford
Friday, 29 March 2013 16:00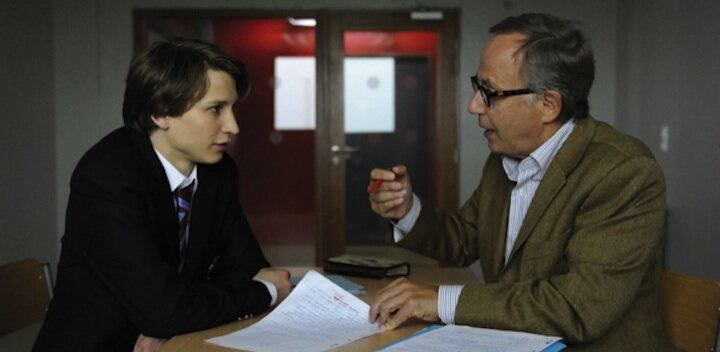 Director: Francois Ozon
Cast: Fabrice Luchini, Kristin Scott Thomas, Ernst Umhauer
Certificate: 15
There's nothing like a good page-turner - and that's exactly what Francois Ozon has created in this adaptation of Juan Mayorga's play. Secondary school English teacher Germain (Luchini) is handed an essay by eager student Claude Garcia (Umhauer), who weasels his way into fellow student Rapha's home - and then writes it up with scornful excitement.
"The room was full of the scent of middle-class woman," he snarks, half judgmental, half aroused by his classmate's mum. Germain can't get enough of it, holding him back after class to give him tips on how to improve his writing - and, at one point, even compromising his job to make sure he gets the next chapter. 
Innocent yet manipulative, Umhauer is fantastic as Claude, coyly smiling at his clueless teacher. Luchini, meanwhile, reminds us why he is one of French cinema's top comedic actors, balancing the absurd with Ozon's nail-biting tension; he's the best failed on-screen writer since Jeff Daniels in The Squid and the Whale. But Kristin Scott Thomas is perhaps the one who really impresses as Germain's overlooked wife - a quiet role that proves Thomas' comic timing and understated pathos, which have made her immune to cinema's usual void of roles for middle-aged actresses.
She, too, is sucked in by Claude's seductive voiceover, which whispers while the camera slowly tiptoes round Rapha's compromised home. Then, as the tale takes an unexpectedly dark turn, the frame suddenly zooms in on her face - a raw demonstration of the power of Ozon's measured direction.
The director enjoys teasing us as much as the young pupil. But while many will compare this audience-driven tale to Hitchcock's Rear Window, this wry satirical drama is less about voyeurism and more about story-telling itself. Cinema can do voyeurism with its eyes closed; but what In the House nails is the unique literary bond between reader and writing, that unspoken urge to look at the other side of the paper to find out - and bring into existence - what happens next. As the tale unfolds, Germain starts to pop up in passages of Claude's homework, simultaneously both an agent in the story and the person experiencing it afterwards, powerless to stop it.
The final chapter may feel like a let down, but that's a natural part of the film's cliff-hanging structure. In the House is that rare thing: a cinematic page-turner. And every time the cruel narrator ends a paragraph with a tantalising "To be continued...", it leaves you scrabbling to find the corner.