Star Ratings
| | |
| --- | --- |
| | Amazing |
| | Well good |
| | Fun |
| | Meh |
| | Rubbish |
| | | |
| --- | --- | --- |
| Film review: Red Dawn | | |
Written by Ivan Radford
Thursday, 14 March 2013 20:38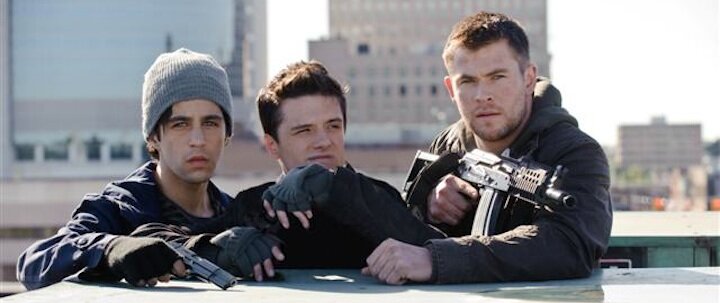 Director: Dan Bradley
Cast: Liam Hemsworth, Josh Hutcherson, Josh Peck, Isabel Lucas, Connor Cruise
Certificate: 15
Do you ever stop to think about North Korea? You know, the bit of Korea above South Korea? After all, who knows what they're up to?
Red Dawn does. In fact, it dares to ask that question in the most unsubtle way possible - in the opening credits. Hastily chopped together political speeches and news reports make North Korea sound like a Death Star-sponsored colony on Earth, while ominous music plays over the top. It's a bizarrely awkward spurt of exposition that does everything to paint North Korea as bad guys short of literally shouting "WHAT IS NORTH KOREA UP TO?" at the audience.
Then it does that anyway.
Once the credits are over, things get even less subtle. The Wolverines are playing their last football game of the high school season, only for Harry (Peck) to throw away a victory by refusing to play as part of the team. His older brother Liam (Hemsworth), just back from Iraq, is none too impressed. So, when North Korea invades America, who do you think will take charge of a rag-tag bunch of teen insurgents? What do you think they'll call themselves? Who do you guess will try to play the hero, putting everyone's lives in danger in a crucial second act plot point? And most important of all, what IS North Korea up to?
Let's not beat around the bush. Red Dawn is not very good. An arguably pointless remake of a minor cult favourite starring Patrick Swayze, it's join-the-dots filmmaking at best. And after sitting on the shelf for so many years, the stale, underwhelming result feels more like a remake of Tomorrow When the War Began – an Australian teen series suspiciously similar to the Swayze flick – than Red Dawn. When a remake is competing with a rip-off to see who can be the most mediocre, it's never a good sign.
The young cast does their best with the cardboard stereotypes – Liam Hemsworth and Josh Hutcherson both come out smelling of roses - while director Dan Bradley creates some decent action sequences, using locations, handheld cameras and sound to draw us into the incompetent heroes' chaotic battle.
But every time one of these characters open their mouth, any chance the film has of being good goes down the drain. Predictable plot aside, the dialogue is howlingly naff. "Out in Iraq we were the good guys keeping order," huffs Hemsworth with a straight face. "Now we're the bad guys causing chaos."
A little nuance or humour would go a long way. Instead, we're left to laugh at the unintentionally silly screenplay. "Give us the bread!" The Wolverines yell as they raid a Subway restaurant mid-shootout. "Which kind?" stutter the nervous employees. The terrorists panic. "Honey oat!"
If that's the kind of thing you watch movies for, then Red Dawn is up your street like a foreign invader from Foreign Land, Invasionsville. (And is best watched drunk on DVD for maximum hilarity.) Otherwise, this is bland and boring fare. The only truly original thing about it is that they digitally changed the bad guys from Chinese to North Korean in post-production – a curious decision that raises all sorts of questions. Questions like: "Why does this film exist?" "When will it end?" And, of course, "What IS North Korea doing?"