Star Ratings
| | |
| --- | --- |
| | Amazing |
| | Well good |
| | Fun |
| | Meh |
| | Rubbish |
| | | |
| --- | --- | --- |
| Film review: Welcome to the Punch | | |
Written by Ivan Radford
Monday, 11 March 2013 12:24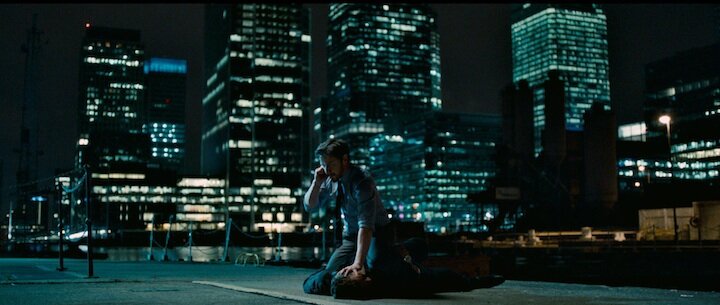 Director: Eran Creevy
Cast: James McAvoy, Mark Strong, David Morrissey, Andrea Riseborough, Peter Mullan
Certificate: 15
Welcome to the Punch trailer
A group of men walk out of an anonymous glass building. That's criminal mastermind Jacob (Strong) and his crew. They speed away on motorbikes. A car starts to follow. That's Max (McAvoy), the determined cop tracking him down. The drivers slip through the city's metallic shadows, moving faster and faster. Then, they all stop. And wait. And listen.
It's a bold decision from director Eran Creevy – the first of many. Once your brain gets used to the idea of a stationary car chase, another one hits you: that cool, futuristic metropolis on the screen? That's London.
Yes, the home of Mary Poppins and Notting Hill just got a makeover. "Welcome to the Punch," the capital seems to say, then smacks Richard Curtis in the face with an Uzi. Blue filters, white glows, jet blacks, gunmetal greys – DoP Ed Wild lights up the city like something out of a sci-fi movie. And Creevy prowls through his world like the bastard son of John Woo and Michael Mann, towering over the streets with a brooding menace.
That glossy sheen saturates the big sequences too. Guns obliterate hotel rooms and blow up docks, while macho men glide through nightclubs in graceful formation. 
But who exactly are they? Amid the moody production design and the relentless cat and mouse formula, the people don't get much of a look-in. It's a surprise given Creevy's character-driven debut, Shifty, but his script's lack of depth is mostly covered up by a stellar cast.
Mark Strong's Sternwood glowers like a pro, while McAvoy does a good job of screwing up his boyish face to play down-and-dirty detective. As his boss, a slimy David Morrissey raises some (intentionally?) uneasy questions about gun crime, while a wasted Andrea Riseborough makes the most of her role as a token sidekick. But it's Johnny Harris' edgy assassin who steals the show. His jumpy intensity sets up a showdown in his grandma's living room, an edge-of-your-sofa set piece shot through with unexpected humour.
That's where this thriller ultimately finds its identity: somewhere between American and English; indie and blockbuster; Heat and The Sweeney. But this is something that feels new, a British blockbuster unafraid to think big - without any trace of Guy Ritchie.
It's a play upon archetypes rather than a fully-rounded classic, but Welcome to the Punch packs a satisfying wallop of action that really hits the spot - then shoots it with a shotgun.
More than anything, though, it's the calling card of a director with Tony Scott-levels of ambition. The kind of filmmaker who's confident enough to blow up Canary Wharf, but also freeze a car chase halfway through. That in itself is exciting to witness. You'll leave thinking two things: 1. London has never looked so good, and 2. You can't wait to see another film like it.
When was the last time you felt either after watching a British gangster flick?