Star Ratings
| | |
| --- | --- |
| | Amazing |
| | Well good |
| | Fun |
| | Meh |
| | Rubbish |
| | | |
| --- | --- | --- |
| Hitchcock and Hedren: Why I like BBC/HBO's The Girl (film review) | | |
Written by Ivan Radford
Wednesday, 26 December 2012 20:08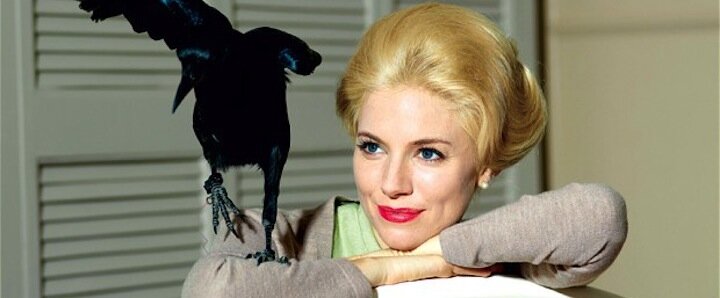 In 1962, Alfred Hitchcock put a woman in a room and threw birds at her. The result was a terrifyingly real horror flick and a behind the scenes scandal that became Hollywood legend.
Julian Jarrold's The Girl stirred up that controversy all over again when it previewed at the BFI earlier this year. It'll probably do the same thing tonight when it airs as part of BBC 2's stonking new drama season.
 A Q&A at the BFI event saw writer Gwyneth Hughes and the director set upon by several members of the audience who accused them of a hatchet job of one of cinema's greatest filmmakers. Its depiction of Hitchcock as a sexual, as well as psychological, tormentor of his leading lady Tippi Hedren was inaccurate, they said. Quotes were taken out of context, conversations out of sequence, when really his crude advances and harsh comments were just to get her in the right frame of mind for the next shoot.
 It's a fair criticism of a factual biography, but that's not what this is. This is a version of events – a dramatised fiction created by Jarrold and Hughes – based on Donald Spoto's book, Spellbound by Beauty. That novel, in turn, is based on Hedren's own reports of that shoot. In short, this is as biased as an account of abuse gets. If you can accept that, The Girl is something really quite fascinating.
 "There was a young lady from Trent
Who said she knew what she meant
When asked to dine
In private rooms, lots of wine,
She knew – oh, she knew – but she went."
 That's the first thing Hitch says to Hedren. And boy, does he say it. Toby Jones' portrayal of the director nails his Cockney drawl, that nasty humour he was known for. (Compared to Anthony Hopkins' voice in the trailers for Sacha Gervasi's Hitchcock, Jones has won this one.) The equally famous infatuation with blondes isn't far behind. "They're like virgin snow that shows up the bloody footprints," the film quotes at the beginning. You can almost hear the menacing smile.
 Compare it to the younger Hitch, winding up his starlet Anny Ondra on the set of Blackmail, and there's really not much difference between them.
An elegant Sienna Miller, meanwhile, hammers home the plight of her victim, before impressing with her resilience under his intense gaze. Jones has that down too, by the way. Staring with a dead-eyed expression, the rejected suitor watches from behind the camera as those birds peck and scratch away with almost a cruel curiosity.
 "Alfie and Tippi," he murmurs, more to himself than anyone else. But while Hitch superficially comes across as a pervert, Jones adds a subtle note of pathos to this dark portrayal that gives it an intriguing depth; reliving his own Vertigo-esque affair, Alfie comes across not as a predator, but an impotent man lost in his own confused obsession, trying to impose desires upon an imagined, unobtainable ideal.
 "As soon as she dropped her skirt, you'd run a mile," shoots his wife, Alma, played with understated presence by Imelda Staunton. The Girl may not rush to defend The Director, but it certainly highlights the importance of women in his career. "I'm lost without her," splutters Hitch at one point. He's not talking about Hedren.
 Shot with class by Jarrold (a staircase here, a shower head there) and soundtracked by Phillip Miller's cool blues, this isn't a comprehensive documentary of historical fact. But the truth is that there is a grey area; many devoted fans will argue this mythologised abuse did not happen, but we don't know for sure. Assistant director Jim Brown (who also appears in the film) was interviewed by Hughes to research her non-Tippi scenes, while it is unfair to Hedren to dismiss her infamous claims outright - at the very least, this is a valid dramatisation of her emotional experiences on set. 
And so, taken with a large fist full of salt, The Girl is an interesting exploration of an artist's dark side - a reminder that not all of our cultural icons were saints. Without Jones, it would be salacious and shallow bumpf, but his performance, coupled with Staunton's support, redeem this TV movie from its sensationalist, gossipy potential. It may drag in the second half, but The Girl is a nonetheless absorbing recreation of a twisted 1960s world, where The Master of Suspense was mastered – and, judging by his face as Tippi walks off his set for the last time, never really got back in control.
As for those who can't see past the scandal to appreciate the rest of this, well, they can just have pigeons chucked at them all day.
 The Girl is on BBC 2 on Boxing Day at 9pm – and is released on DVD on Monday 7th January. (More on that in a couple of weeks' time.)
For more on Hitchcock and females, read The Master of Women? at Little White Lies.