Star Ratings
| | |
| --- | --- |
| | Amazing |
| | Well good |
| | Fun |
| | Meh |
| | Rubbish |
| | | |
| --- | --- | --- |
| Film review: Grabbers | | |
Written by Ivan Radford
Monday, 24 December 2012 12:07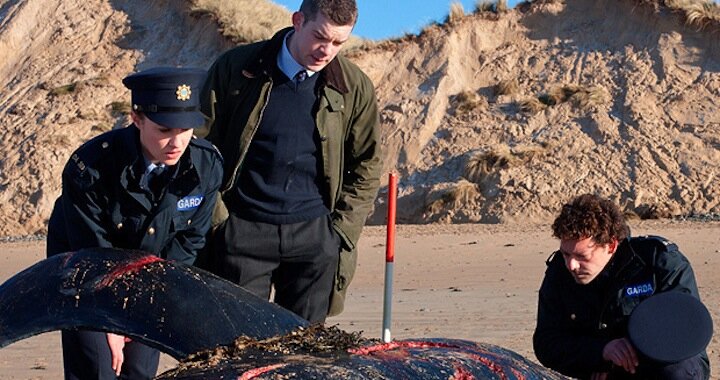 Director: Jon Wright
Cast: Richard Coyle, Ruth Bradley, Russell Tovey
Certificate: 15
Trailer
Who would win in a fight between a drunk Irishman and an alien? Finally, we have an answer.
Grabbers is a warped, alcohol-fuelled horror film about a warped, alcohol-fuelled Irish village being attacked by unknown creatures. No one really knows what they are, but they have a lot of tentacles. More importantly than that, though, they have a massive intolerance of booze - great news for the local population, whose diet seems to be 90% liquid and 10% pork scratchings.
"Tis no feckin' lobster!" says one mildly inebriated villager, who decides to keep it in his bathtub. A few minutes later and it's trebled in size. And so have the chances of his liver damage.
Into this dangerous cocktail strolls goody-goody Garda Lisa (an adorable Ruth Bradley), hired to watch over Erin Island for a few days, much to the annoyance of the local copper Ciarán (a grouchy Richard Coyle). Will she learn to relax? Will the aliens kill the whole town? Will our two officers of the law fall for each other?
Kevin Lehane's script answers all the obvious questions with one simple answer: by getting everyone as sloshed as possible. Don't worry, though. While people pretending to be pissed on screen can sometimes be a drag, Grabbers is anything but: Bradley's imbibed bumbling is up there with Withnail and I levels of hilarity, while the rest of the village - armed with super soakers, a particularly lethal bottle of moonshine and, in one hysterical showdown, a rolled up newspaper - keep producing the one-liners with scary precision. Then, just when you think things can't get sillier, up pops Russell Tovey as an excessively plummy doctor. "She's beautiful!" he coos at a dead creature, then turns to Lisa. "Are you related?"
There are no points for guessing how it all unfolds, but Wright's direction is note perfect: scenes never go on for too long, the landscape is shot with a pleasantly sun-soaked tint, and Hollywood-rivalling CGI makes sure that the shocks are as solid as the laughs. And with Coyle in the lead, even his character's sudden transformation from loser to hero can't upset the happy vibe of an extremely good-natured drunken outing. Soused Boys vs Aliens? This is one all-night bender you'll want to remember.
Grabbers is out in UK cinemas on Boxing Day. Go and see it. Ah, go on.

Trailer